About Our ECMO Program
Multiple specialists make up our physician team, including experts in critical care, neurocritical care, pulmonology, anesthesia, and trauma surgery.

A dedicated physician assistant offers additional continuity among provider staff.

Multiple layers of nursing experience and support care for every ECMO patient.

We focus resources where needed and will flex our support at the bedside depending on patient acuity.

Every staff RN receives introductory ECMO patient care training and orientation.

ECMO Specialist 1 training gives RNs basic circuit safety and emergency training.
ECMO Specialist 2 training builds skills in multiple circuit management and procedure assistance.

ECMO Primers are not only responsible for circuit priming and ECMO initiation, but also for all circuit procedures and troubleshooting. These RNs lead our ECMO nursing team and are onsite 24/7.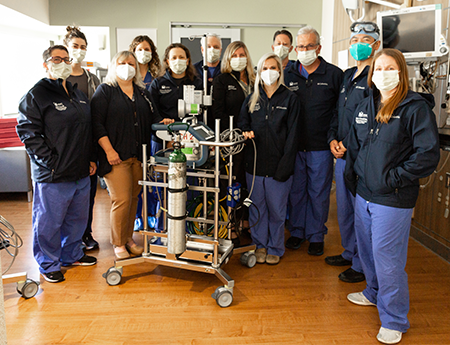 Meet Our ECMO Team
Joseph Deng, MD - Adult ECMO Medical Director
Robert Brookshire, DMSc, PA-C - Adult ECMO Associate Medical Director
Ron Barbosa, MD
Brian Beldowicz, MD
Frederic Cole, MD
Lindy Craft, DO
Jordan Fein, MD
Vikas Grover, MD
Megan Lundeberg, MD
Ari Tallen, MD
Luke Parr, MD
Kartik Ramakrishna, MD
Aaron Spaugy, DO
Shannon Shambley, RN, MSN, CCRN - Adult Clinical ECMO Manager
Chelsea McMahon, MBS - Adult Non-clinical ECMO Coordinator