All candidates who accept a position with Legacy Health must have received the complete dosing regimen of one of the COVID-19 vaccines currently authorized by the U.S. Food and Drug Administration (FDA)
CAREERS IN NURSING
The central focus of Legacy Nursing care is our patients and their families. As a nurse, you know exactly what that means because you live it every day. You respect and honor patients and are committed to act in their best interests with integrity and compassion. You are an advocate. You are the kind of person we want on our team. At Legacy, we meet patient needs through interpersonal teamwork aimed toward the achievement of common goals. That's why we strive to create an ideal work environment with opportunity, support and great benefits.

Upcoming events

More events coming soon!
Explore our opportunities in Adult and Pediatric Care:
Acute Care (Med/Surg, Intermediate Care)
Ambulatory Care
Certified Nursing Assistants
Critical Care (Med/Surg ICU, Neuro Trauma ICU and Cardiovascular ICU)
Emergency and Trauma
Family Birth Center
Procedural Areas (Cath Lab, Endoscopy, Imaging)
Perioperative Services (OR, PACU, Pre-Surgery)
Psychiatric Care
Specialty Care (Rehabilitation, Oregon Burn Center)
what we value
Culture of Support
Our Stories
CAREER Development
Make a Difference
DIVERSITY AND INCLUSION
Diversity is a moral, social and business imperative for us, and we place a high priority on building a culture that values diversity across all aspects of our organization.


HIGH STANDARD OF CARE
Legacy is the leader in both quality and safety. Here, you can thrive in an environment committed to the highest level of patient care as well as the health and safety of our nurses.


GROWTH OPPORTUNITIES
We value personal and professional growth, and our nurses have expansive opportunities to achieve both.
COMMUNITY INVOLVEMENT
Our employees feel a tremendous sense of pride in Legacy's dedication to the community. It's one of our core values.



LOCATION
Our region holds recent titles as one of the best cities for nurses as well as millennials. Considering all there is to see, do and achieve, it's not hard to see why.



Nurses have a voice
Our nurses feel comfortable speaking up. Legacy leaders listen and make changes. Nurses have input on policy, scheduling, equipment and medical protocol.
CULTURE OF COLLABORATION AND RESPECT
An Open-Door Approach
Our experienced team works together to provide the highest standard of care. Our open-door policy empowers our nurses to directly contribute to the success of themselves, their team, and Legacy as a whole.
TEAM SUPPORT
We want our nurses to spend their time focusing on their patients. So we've designed processes to minimize administrative work and maximize direct care. We've also worked hard to cultivate a culture of collaboration and respect across our entire health system.
SHARED GOVERNANCE
Through shared governance, Legacy nurses are valued and committed partners in developing clinical policies, input on staffing and scheduling, and evaluating clinical care.
WORK / LIFE BALANCE
Our nurses are driven and dedicated, but every life needs balance. This means providing adequate holiday, vacation and sick leave, utilizing self-scheduling at many facilities, and carefully monitoring schedules across the board.
Competitive pay
We offer fair and competitive pay. We review pay each year and make adjustments as needed to keep up with the market. We also provide equity adjustments for long-term nurses.
COMPREHENSIVE ONBOARDING
We owe you a great start. That's why we've continually refined our onboarding and training process to provide our new team members a clear and direct path to success.
Recognition and Appreciation
Our nurses work wholeheartedly, and that doesn't go unnoticed.
RAPID RESPONSE TEAMS (RRT)
These teams of critical care specialists are available to work side-by-side nurses and providers to help give critical patients the right care when they need it.
The right tools
We value innovation. We provide the equipment necessary for our caregivers and patients to have great experiences. This includes safety support measures like e-lifts to reduce back strain as well as electronic communication boards to improve efficiency.
EMR INTEGRATED SYSTEM
Our integrated inpatient and outpatient system (Epic) provides better input and quicker access to critical health information—leading to better results.
Medication management system
Our medication management system assists nurses in delivering medications to their patients accurately and on time—integrated with each patient's electronic medical record.
KIRSTEN BOYD, R.N., RECOVERY ROOM SERVICES
LEGACY MOUNT HOOD MEDICAL CENTER
A nurse in one of the metro area's busiest ERs, Kirsten Boyd deals with emergencies big and small, all day long. "People say I am pretty calm by nature," she says. It also helps that Kirsten is a runner with a slow, steady pulse.

What makes her work meaningful? "It's often the little things, like seeing a patient leaving with a smile on their face, or enjoying my wonderful coworkers who make this busy department so successful.

"This job can be hard," Kirsten says, "but I like it."



MARIAH KEANE, R.N., NEUROTRAUMA ICU

LEGACY EMANUEL MEDICAL CENTER

"I joined the Legacy system as a new graduate RN resident, through the residency program. There isn't a single day I come to work that I am not proud of the team I get to call my co-workers. I work with brilliant, hard-working, compassionate, dedicated patient advocates and caregivers, and I am inspired daily with how they go above and beyond to not only give their patients the best possible care, but also to help their co-workers as team players. There are also always educational and professional development opportunities to engage in here. From monthly unit education events and Legacy wide conferences, to shared governance events, quality improvement projects, and certification prep courses, I find meaning in getting to develop professionally as a Registered Nurse here at Legacy."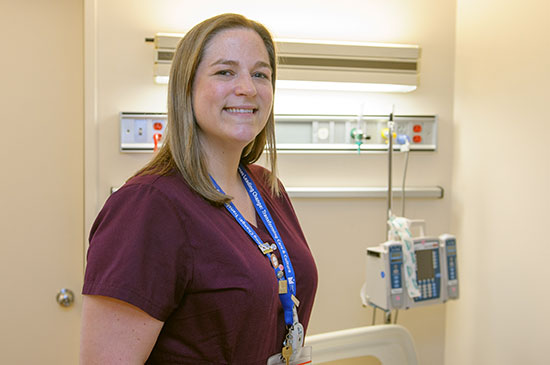 KIM ORCHARD, R.N., MEDICAL TELEMETRY
LEGACY EMANUEL MEDICAL CENTER
"We see people often at their absolute worst, and I believe it's okay for us to do almost anything to help them," says Kim Orchard, who works with patients suffering from health issues such as stroke, heart attack and lung problems. "Sometimes I realize that the best thing I can do is just sit there and hold the patient's hand."

As a resident of the community, Kim often sees former patients around town. "People come up to me and thank me," she says. "I am so grateful I am able to help."


PRIYA MEYER, DNP-C, MSN, R.N., PCNS-BC, CLINICAL PRACTICE SUPPORT

LEGACY HEALTH SYSTEM

"Legacy has afforded me with some of the most brilliant — both intellectually and emotionally — mentors of my career. My orientation to the system at Randall Children's Hospital exceeded my every expectation of nursing leadership. My clinical practice support colleagues inspire and motivate me every single day to be the best I can be in support of excellent clinical care and patient outcomes. I feel honored to be on team Legacy."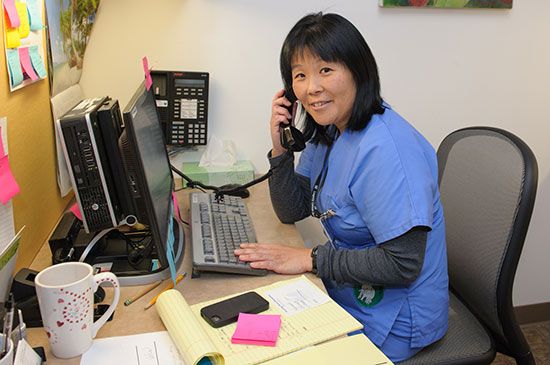 MIKA SUNAGO, R.N., MEDICAL ONCOLOGY
LEGACY GOOD SAMARITAN MEDICAL CENTER
Mika Sunago was born and raised in Brazil to Japanese parents. A classically trained pianist who has performed worldwide, Mika didn't enter nursing until after she turned 30. "Sure, my background is a little different," she says with a laugh.

A supervisor on the cancer unit, Mika says she learns from the patients every day. "It is an honor to help people at their most vulnerable time," she says. "It is inspiring when I hear their stories. It helps me be a better person."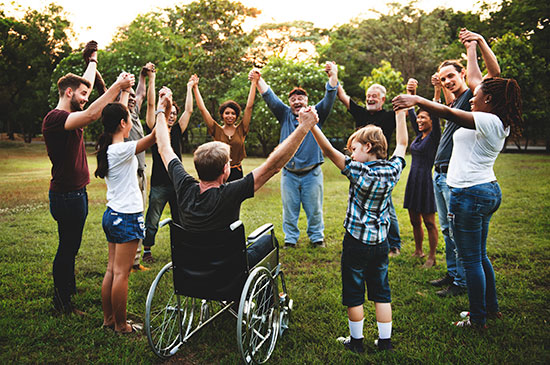 MAKE A DIFFERENCE
Working for a health system committed to the highest standards of care means that every day, you're making a difference in the health and lives of people in your own backyard.
We also make a big difference in our community, and our employees love that about us. We have more than 13,000 team members, including 3,000 registered nurses, in the Portland-Vancouver area and the Mid-Willamette Valley. We provide much-needed care for all, including those who can't afford it. We offer services to help others find affordable health coverage. And we work with local leaders and agencies to find creative solutions to social issues facing our communities.
ON-GOING CAREER DEVELOPMENT
SUPPORT FOR FUTURE AND NEW NURSES
Preparing STudent nurses
We support 14 regional schools of nursing and more than 1,400 nursing student placements each year. We are committed to providing an optimal learning experience and we assist students in preparing for their clinical placement.
Preparing graduate nurses
Designed by clinical experts and nurses, our unique R.N. Residency Program prepares new graduate nurses by organizing and overseeing all aspects of their transition.
orienting new nurses
Every new nurse at Legacy takes a six-day General Nursing Orientation. Led by current staff nurses and clinical experts, nurses learn Legacy's philosophies, policies and protocols.
individualized PRECEPTORSHIP
Every new nurse is assigned to a nurse preceptor who helps them transition into their role and
serves as a role model and resource.
This customized one-on-one preceptorship is tailored to meet each nurse's clinical practice learning needs.
simulation training
Simulation training allows new nurses to experience varied clinical environments and scenarios. Our state-of-the-art simulation lab includes high-fidelity adult simulators, a birthing simulator and a child simulator.
REady to create your legacy? Right this way, please.
View our anti-retaliation notice