Legacy Health Partners - News & Updates
Delivering value and improving health
Legacy Health: The region's most five-star hospitals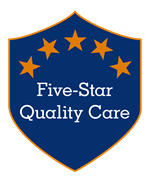 Coming out of the COVID-19 pandemic, Legacy Health achieved something that no other health system in the region can match. The federal government awarded three Legacy hospitals for delivering five-star quality care to our communities, giving Legacy the most high-quality hospitals of any system in the region.
Legacy Good Samaritan Medical Center in Portland, Legacy Meridian Park Medical Center in Tualatin and Legacy Salmon Creek Medical Center in Clark County, Wash., were all recognized for their five-star quality care.
"This recognition shows how essential Legacy and our 17,000 employees and medical professionals are to the health of our region," said Kathryn Correia, Legacy's president and chief executive officer. "Our teams bring their best to work every day, to provide exceptional care for our patients."
Centers for Medicare & Medicaid Services, a division of the U.S. Department of Health and Human Services, published the overall hospital quality star rating in April. The agency tracks quality across five categories with 37 specific measurements. The five categories are: mortality, safety of care, readmission, patient experience, and timely and effective care.
Across Oregon and Southwest Washington, 11 hospitals earned five stars and three of them are Legacy hospitals. Nationally, about 10% of the 4,580 eligible hospitals achieved five-star ratings. The five-star rating reflects Legacy's mission of good health for our people, our patients, our communities and our world, and supports our objective to deliver safe, high-quality care.
We appreciate the incredible work done by all the LHP members who work in and support our hospitals and have helped us achieve this recognition. It's another positive reminder that providers can have confidence when referring to Legacy hospitals.