Legacy Health Partners - News & Updates
Delivering value and improving health
E-prescribe update: Legacy aims for 100% adoption rate by Oct. 1
Legacy Health is getting closer to its goal of 100% e-prescribing, which is required for all providers by Oct. 1, 2021. The initiative has gained momentum over the last few years, and by the close of 2020, e-prescribing accounted for three quarters of all prescriptions written across Legacy. Thanks to early adopters, Legacy has been able to hone processes while building a strong foundation ready for expansion.
E-prescribing is faster, safer, and greener than the former paper method. It removes barriers for patients and minimizes risks for the prescribing provider. As we roll into the second half of 2021, new federal regulations, as well as an uptick in regional DEA fraud cases, are accelerating our transition to 100% e-prescribing.
Our phased approach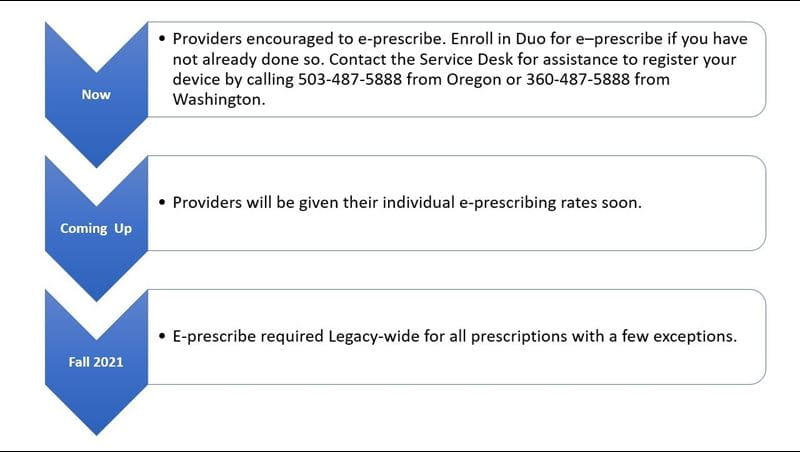 A better experience in partnership with Legacy Pharmacies
To assess additional ways to ease the transition to e-prescribing for providers, we're working with our pharmacy colleagues to expand services, hours, and convenience at Legacy pharmacies. As Legacy continues to push to become the top choice for care in our community, we need to give our patients a fast, friendly, and convenient experience. Consider your local Legacy Pharmacy the next time you write a prescription and look for more news on expanded pharmacy services, such as mail order services, which are already available for your patients.