Legacy Health Partners - News & Updates
Delivering value and improving health
The search for Legacy's next CMO/CNO: Recruiting transformational leaders
By Kathryn Correia, President & Chief Executive Officer

As you likely read in this recent piece in Legacy's Front Page, we are moving forward in our efforts to recruit Legacy's next chief medical officer (CMO) and chief nursing officer (CNO). While our COVID-19 response slowed down our recruitment efforts, the process is accelerating as we recruit these essential clinical executives.
We are looking for candidates who are collaborative, inclusive, and bring clinical credibility and the ability to quickly build relationships and trust with clinicians and other key partners inside and outside of Legacy. These two leaders will leverage and build on our exceptional physician and nursing leadership teams to support our increasingly complex clinical enterprise across the continuum of care. Of upmost importance, both of these executives will continue bringing the clinicians' voice into strategic and operational conversations at the highest level.
Multiple stakeholders from across the organization including LHP board members and physician leadership met with our executive recruiting firm, Furst Group, to shape the position profiles and job descriptions. Throughout the process, we will continue to involve stakeholders from a broad range of disciplines to ensure we find the best clinical executives to fill these roles. The plan is to finalize and interview candidates in March and April and fill the positions in May. Executive recruitments are highly confidential, by necessity, to protect the identities of potential candidates, so anyone interested in these positions should contact Bob Clarke or Jessica Homann at Furst Group to learn more.
I am excited by the prospect of welcoming two new clinical executives to lead Legacy now and into the future, and I hope you are too.
COVID-19 vaccine news round up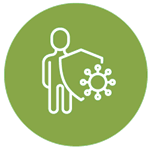 When the first COVID-19 vaccine shipments arrived in December, the planning brought hope and optimism for a return to normalcy in our hospitals, clinics, and communities. The path to normal life, though, will not be a short or straight line for leaders or for teams working to ensure safety, equity and speed when thinking about vaccination plans. While pathways have been difficult to navigate, your patience and understanding have been paramount in the success of the vaccine deployment.

With vaccine supply so limited, Oregon and Washington state public health officials are focusing their supplies on mass vaccination sites. Legacy leadership continues to monitor distribution trends with a close eye on changes that may impact or vaccine operations at Salmon Creek, Silverton and Woodburn.
Status by location
Multnomah, Washington, Clackamas and Columbia Counties: The COVID-19 Mass Vaccination Site at the Oregon Convention Center that has been open since mid-January started welcoming Oregonians age 75 and older to schedule vaccine appointment this week.
Clark County: Legacy Salmon Creek Medical Center continues to serve employees, health care workers and older Washingtonians.
North Marion County: Legacy opened a vaccine clinic at Woodburn Health Center last week to address a gap in access faced by the region and to provide a much-needed service to the community. More than 500 community members in eligible groups received their first dose vaccine in the first two days of operations. The vaccine clinic at Legacy Silverton Medical Center will continue to administer second dose vaccines for those who already received a first dose at LSMC, however all first dose vaccine appointments will be scheduled at the Woodburn Health Center location.
Quick reference guide

A quick reference guide to many available resources that providers, care teams and clinic staff may find helpful in addressing patient and public inquiries about COVID-19 vaccinations is now available. Please share this resource with your team.

Legacy is committed to equitable vaccine distribution

As many of you have read in the news, we have seen unfortunate examples of health system donors and board members who have gained priority access to COVID-19 vaccines. At Legacy, we are committed to strictly following the state phasing guidelines to ensure safe, fast and equitable vaccine distribution in our communities. That means Legacy will not provide priority access to people outside of state phasing guidelines. We will continue to keep our workforce, our patients and our communities informed of vaccine distribution plans.

Feedback from our members

We always welcome your feedback and wanted to share a bit of positive reinforcement we heard from one of our members about our COVID-19 vaccine communications efforts to keep our practices and providers informed.

"I greatly appreciate the communication from Legacy around COVID-19 vaccinations. I receive frequent communication from many sources—OHA, the state, other health systems, and all payors. I skip right to Legacy's communication because it's clear, concise and provides me with the information I need when I need it." - Practice Administrator, LHP member clinic
Announcements and Reminders
Welcoming our new members
A few new practices have joined LHP in recent months including The Portland Clinic, Nerve and Pain Institute, and Golden Dawn Clinic. Welcome! This is also a great reminder to utilize the LHP Provider Directory available in the LHP Reporting Suite in PowerBI to view all active providers and practices in the LHP network. This listing is helpful for keeping referrals in the network, enhancing clinical collaboration, and managing total cost of care.
New badge swipe technology will speed clinical access at many workstations
Technology known as Tap & Go will soon enable Legacy clinicians and others to swipe a badge for quick access to Epic and Office 365 from auto-logon stations throughout the system. Clinicians, ancillary and support staff using this type of workstation will be able to use Epic, Webmail, Teams and other Office 365 products without multiple logins per day.

Tap & Go is operational at Legacy Silverton and Meridian Park medical centers and Legacy Medical Group clinics in those areas; a phased rollout will continue to all sites through May. Read the project fact sheet for a schedule and more information.
Clinical Integration Education launches this Spring
LHP is busy producing this year's Clinical Integration Education and Provider Learning Modules. Both curriculums for 2021 will launch near the end of March and we will let you know as soon as they are available to view in E+.