Legacy News
Cyber sleuth says 'aloha' to former coworker
October 22, 2018
Rhiannon Henning loved her team at Legacy Health, but left when an opportunity opened at a startup in downtown Portland in January of 2016. When the startup started to implode, she "bailed," and needed a job again a couple years later.
She turned to her friend Robert Koenig, with whom she'd worked with in Information Services (IS) at Legacy's system offices. The two had kept in touch and she liked what she heard about improvements and growth in the department.
Positive direction
Koenig recommended her for a cyber security engineering job through the employee referral program. Henning did her homework, talking with him and others over coffee, about the positive direction the department was moving in and she was excited to return. "Robert was a big help," she says.
Henning and Koenig work for the cyber security team, a small but mighty group that fights off computer hackers and cyber attacks. Their team works hard to keep Legacy's computers, network and data safe.
Fighting hackers
Information security is more important than ever, as hackers target companies, especially in health care, in greater frequency and sophistication than ever before. The last five years have seen a surge of attacks on health care organizations, with the largest breaches impacting as many as 80 million people, according to Forbes. Recently, hackers gained access to the data of 75,000 users on healthcare.gov.
Koenig has worked at Legacy for four years, moving from Hawaii in 2014. He's brought his friendly, open personality with him and has worked hard in various roles before becoming a cyber security engineer.
Fast and focused
Henning says when she returned, she noticed the team was more focused and moving faster with a clearer vision from leadership than she'd experienced when she left. But she said though the "wheels moved faster" she appreciated that it wasn't "hyper-fast" like the start-up so that the team had time to think about things. She said she's a lot happier at Legacy.
Koenig says a lot of the ideas the two used to talk about are now happening. He immediately thought of Henning when the department formed. He appreciated her level-headedness and says she's even-keeled, which is an important personality trait in their work.
Besides the joy of knowing he helped a friend, Koenig received a small bonus and was one of the quarterly winners of the Legacy referral program drawing. About 50 people a quarter are hired through the program.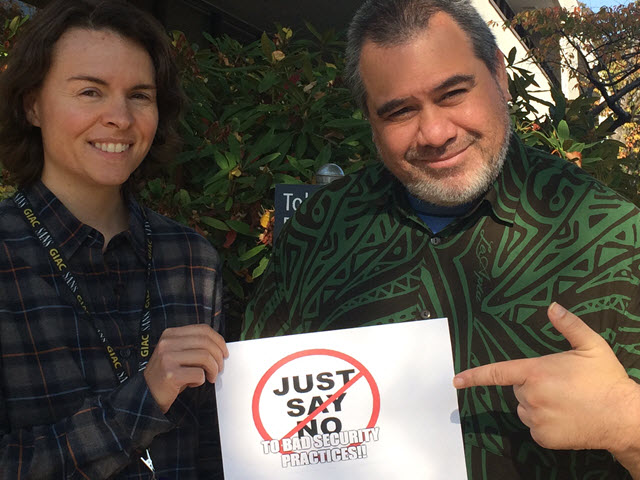 Share Your Story
Sign up for our email newsletter