Legacy Health Partners - News & Updates
Delivering value and improving health
Providers encouraged to explore transparent data on LHP dashboard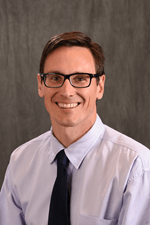 Dr. Nick Kashey, Interim Vice President, Population Health
In the spirit of sharing and learning, Legacy Health Partners has now added more information to the LHP dashboard to increase transparency in performance – an essential addition in service of quality improvement and even better care for our patients.
After several discussions, the LHP Board endorsed building upon data transparency, focusing on quality performance for primary care and your attributed patients. This new view of your data is not meant to point out problems, but instead to build upon our networking, sharing, and process improvements.
Practices are 'unblinded' in this new report, providing comparative data to encourage the sharing of best practices among clinics and support field operations advisers in facilitating connections among practices for opportunities to learn from high performers who have found success with certain improvement strategies. This additional tab, rich with data points for 25 measures, shows rankings throughout the calendar year, rather than once at the end of the performance year.
In addition, your field operations adviser and LHP team will work with you to provide additional resources and improvement support if you are not performing as well as you would like to be. At the end of the year, providers' LHP incentive funds are based on their performance on these metrics.
We realize it's an incredibly busy time. Primary care providers and administrators are encouraged to review this new data when opportunity arises and use it to your advantage. Once you've had an opportunity to dive in, tell us what you think. Share a success story and details on how you're utilizing the data. We'd love to hear about it and share your success stories!
Steps for logging in to the LHP Reporting Suite:
On the Microsoft Power BI homepage, enter your Legacy credentials with "@lhs.org" at the end. Like this – username@lhs.org. If you are logging in from outside Legacy, an additional step to verify your identity may be required. Validate your identity using the mobile or landline device you have enrolled in Password Plus (powered by Duo). If you have not yet enrolled, you will be prompted to enroll a device at this time. If you forgot your password or continue to have trouble logging in, call the Legacy IS Service Desk at 503-415-5888 (Oregon) or 360-487-5888 (Washington).
Once your Clinical Integration dashboard opens, navigate to the "Practice performance standings" tab in the left-hand menu. Here, primary care providers and administrators will see where their practice ranks among their peers for each measure they are responsible for in the Clinical Integration Program.