Legacy Health Partners - News & Updates
Delivering value and improving health
E-prescribing update: Action needed now to reach goal of 100% usage by Oct. 1.
As we move into October, Legacy Health's e-prescribing rate stands at 90%. If you are below 100% e-prescribing, we ask that you take steps now to increase your rate to meet Legacy's standard of 100% by Oct. 1. This includes e-prescribing to onsite apothecaries.

Please visit our e-Prescribing site on the Just for Physicians MyLegacy page for instructions, tip sheets and FAQs. Note that DUO enrollment is required to prescribe controlled substances.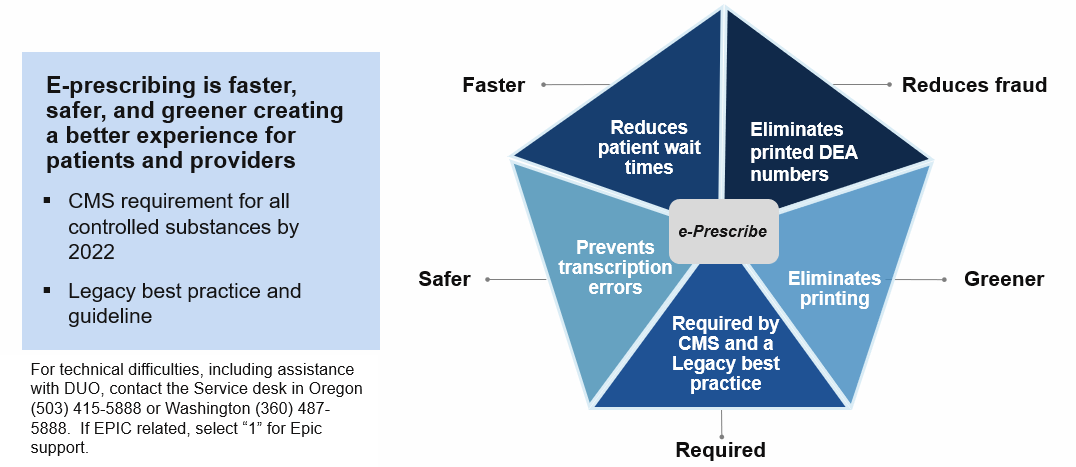 While there are a few approved
exceptions
to CMS' e-prescribing mandate, we don't expect you to frequently encounter these exceptions.
To make e-prescribing easier, we are working to reduce the time it takes for providers to verify a patient's preferred pharmacy. To date, we have made changes to the scheduled surgery pharmacy verification workflow for surgeons and nurses in the short-stay unit. Click
here
to learn more. In the coming months, as we move past the COVID-19 surge, we will be making additional changes in other workflows such as discharge to SNFs.