Legacy Research Institute
Transforming medical care through science, technology, and innovation.
LEGACY INSTITUTE FOR SURGICAL EDUCATION & INNOVATION
Improving surgical outcomes and patient care through innovative research, simulation, education and training.
Legacy Research Institute Education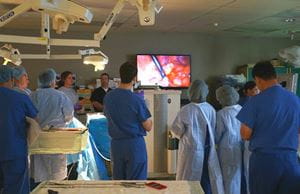 The Legacy Institute for Surgical Education and Innovation (LISEI) provides a state-of-the-art surgical training center with advanced equipment, highly trained, experienced staff and the capability to broadcast training to other sites, among other features.
A wide range of learner groups can be accommodated for:
International, regional and local courses
Small group industry education sessions
Industry surgical training for employees
Contact for your surgical training center needs: Rachel Morris, email: rmorris@lhs.org


Surgical bioskills lab

High fidelity cadaveric and animate surgical models:

individual surgical stations in fully equipped operating rooms
mimic robotic trainer
2 C-arms
6 fully-equipped HD endoscopy towers
suction/irrigation
insufflators and CO2 tanks
25 lead aprons/vests, dosimeter badges
arthroscopic and laparoscopic scopes
Stryker power tools - drills, shavers, high-speed burr drivers, sag saws, osc saws, recip saws, trinkles, reamers, needles and wire drivers
laparoscopic instrumentation
general surgical dissection instrumentation
FLS trainer boxes and related training material
cold tissue storage on-site
all surgical PPE and scrubs are available for each event
3 65" flatscreen TVs and web streaming capabilities
4 Ethicon endo-surgery harmonic scalpel consoles

Conference rooms with state-of-the-art AV equipment:

multiple conference rooms with seating up to 50
can webstream in and out of conference room and lab
multiple breakout rooms
free wifi

Vicinity

Centrally located in the Rose quarter

With easy access to and from:

Portland International Airport
MAX light rail lines
downtown Portland
Moda Center
Oregon Convention Center
hotels
restaurants
breweries
coffee shops
driving distance to scenic Columbia River Gorge, Oregon beaches, and Mount Hood