Legacy News
Legacy Emanuel launches Schwartz Center Rounds for compassionate care
February 11, 2019
In the middle of the afternoon, about 60 Legacy Emanuel physicians, security officers, nurses, therapists and more gathered for the inaugural Schwartz Center Rounds. A palliative care physician warmly greeted attendees followed by co-facilitators who explained usual ground rules of confidentiality, listening without judgment and silencing pagers and cell phones, to focus on being together and creating a safe place to share the challenges of caring for patients.
The three panelists chosen included a physician, a nurse, and an occupational therapist. Each provided a brief answer to the question, "Who is the patient you'll never forget?"
The physician set the stage for what was to become an hour of open and honest discussion. He led with a story about a young, otherwise healthy, woman who was on the cusp of dying from an embolism. He recalled feeling powerless but how hospital staff worked feverishly to save her life. She survived. Later he remembered seeing her father's face and thinking, what if I had to tell him his young daughter had died. Being a parent, he witnessed the love of a father who vigilantly camped by his child's bedside until she was clearly out of the woods. The physician will never forget.
The Schwartz Center for Compassionate Healthcare is a national leader in the movement to make compassion a vital element in every patient-caregiver interaction. The work was inspired by Ken Schwartz, a Boston healthcare attorney who died of lung cancer at age 40. He wrote about his experience and what made the unbearable bearable was the compassion shown by his doctors and other health professionals.
The Schwartz Center was created more than 20 years ago to ensure that all patients and families are treated with compassion. Compassionate care is talking, emotional support, mutual trust and respect and involving the patients and family in decision-making.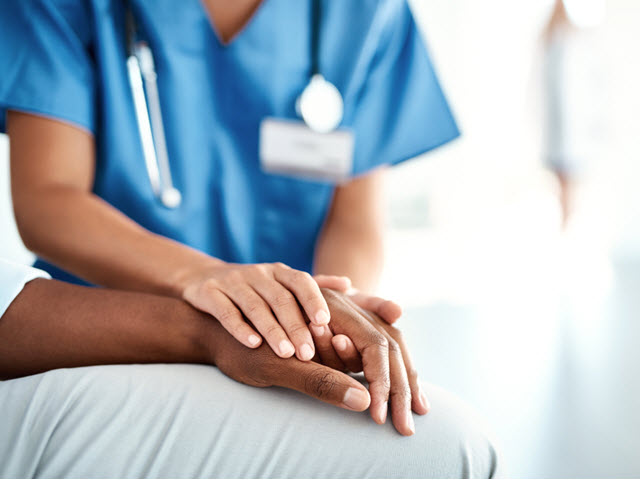 Katie Beam, DNP, director of Patient Care Services, brought the Schwartz program to Legacy Emanuel. "As healthcare becomes increasingly complex and fast-paced, all those who work with patients and families find less time to replenish themselves," says Beam. "We cannot consistently offer compassion to others if we ourselves are depleted."
Schwartz Rounds provides provide a safe space where staff can come together and reflect in community about the work we do, to listen, to offer, and receive support."Legacy Emanuel joins Legacy Good Samaritan Medical Center and more than 440 other healthcare organizations throughout the U.S. and world who recognize the critical role of compassion in improving quality, reducing costs and improving patient satisfaction.
After the panelists shared, a co-facilitator passed a wireless microphone around the room, giving others a chance to share their experiences. Others listened intently, some dabbed moist eyes with the tissue pre-set on each on each table.
Beam says Legacy Emanuel plans to hold Schwartz Rounds every other month at the hospital. "I don't believe there will ever be a shortage of topics and stories to share. This is, after all, the kind of care each of us want when the time comes, and the capacity to provide such care is what draws us to the work in the first place."
For media inquiries, contact Vicki Guinn.
Share Your Story
Sign up for our email newsletter