Legacy News
Reflecting on a year of COVID-19
March 25, 2021
One year ago today, Legacy Health began caring for its first COVID-19 positive patient
Oregon's first case, a Lake Oswego elementary school worker, arrived on Feb. 28. Legacy's first patient arrived at Legacy Meridian Park Medical Center 10 days later. The last year has been filled with isolation, loss, stress, exhaustion, and grief for every community across Oregon.
As the pandemic's first year comes to an end, a cautious optimism is returning as COVID-19 cases decline and the vaccination process speeds up.
Here at Legacy, we have gathered stories from six of our workers, each of whom played a central role in the early days of the pandemic. In their own words, they shared their perspectives and experiences about the pandemic and life at Legacy—as well as memories that carried them through the crisis and the life lessons they learned.
"I went to my huddle and my charge nurse told me I would be taking care of Legacy's first COVID-19 patient"—Kayla Huntley, Intensive Care Unit nurse, Legacy Meridian Park Medical Center
"It was hectic at first. My manager and charge nurse were down in the COVID-19 unit guiding me on how to keep my patients and myself safe. Then we had to figure out how to discharge the patient—how they would get medication, food, how they would get home. It felt like everything was changing every day. But I knew it wouldn't be that way forever. Nurses are really resilient and good at handling pressure. Looking back a year later, I am proud of how well we handled everything. It was really hard when families couldn't visit, especially for dying patients. Patients and families had to say goodbye on Skype and our staff was there to support them so they wouldn't be alone. A year later it is much better. Families can visit patients. People are getting vaccinated and hospitalizations are dropping. There is so much hope."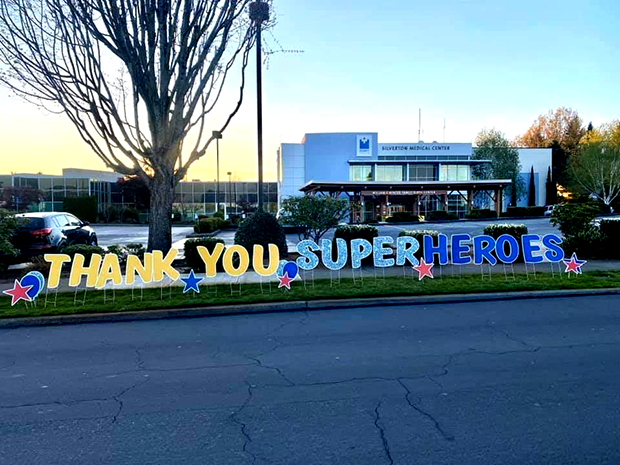 "It felt like the world just got flipped over"—Eric Chang, M.D., Medical Director, Infection Control
"Gov. Kate Brown had just announced at her press conference on Feb. 28 the first case of COVID-19 in Oregon. I felt a terrible sinking feeling (and rising dread) that we were heading rapidly into the dark, dangerous unknown. It was pretty emotional. I remember telling my son, 'I'm going back to work, and things are about to get real weird.' [The staff] assembled in the HR conference room and worked late into the night that Friday and all through the weekend deciphering public health recommendations and developing guidance as best as we could. It was a little scary and a little exciting. Legacy is full of good people and that's what pulled us through. We have a team that we can depend on each other. Since the beginning, Legacy has been able to pivot more rapidly to adapt to changing environments and this ability has kept us moving forward."
"We have the best people here who would stop at nothing to fulfill our mission and values"—Angela Heckathorn, Manager, Environment of Care
"We knew it was coming and it wouldn't be like anything we had experienced before. This was not a two-hour drill or a short-term emergency; this would be a marathon. We united with a common goal: keeping our staff and patients safe while being able to support our communities by continuing to provide exceptional care throughout the crisis. Everyone was there for one purpose and this was the most important task at hand. So many amazing staff and leaders rose to the challenge, making countless sacrifices. Many worked six and seven days a week for a very long time until things got more organized and stable. There were so many heroes who did extraordinary things and came up with creative ideas to make it happen. Everyone's experience, work and options mattered. People felt valued and gave of themselves in order to make a difference. At the same time, we were dealing with chaos every day. We also sought some sense of normalcy. We hung thank you cards we received to keep us motivated and grounded. We celebrated birthdays complete with decorations and cupcakes. I would be lying if I didn't tell you that there were some exhausted tears shed and some doubt at some points throughout our response. But I will also tell you we have the best people here who would stop at nothing to fulfill our mission and values. Even though the days were very long and very challenging, it was all worth it."
"We learned to adapt and be more resilient"—Susan Diskin, R.N., CIC, Manager, Infection Prevention and Control
"The early days in the Emergency Operations Center were incredibly stressful. We were there from dawn to dusk, with every new decision as important as the last. There was so much we didn't know—we had to rely on what we did know and use our collective brainpower. Through this, we learned to adapt and be more resilient. This was challenging, but we stepped into it. We also learned about going slow to go fast: If you act without pausing to think of the full impact, it may not work out. To make a good decision, it's important to stop, think and talk to people. My most meaningful memories were seeing our Biological Isolation Contamination Unit staff utilized for their expertise during our early response. I remember feeling overwhelmed with gratitude about what they were doing."
"Our colleagues strode into the response despite personal fears and fears for family"—Bryan Goodin, R.N., Manager, Employee Health
"I feel like many of us were drawn closer together by this shared tragedy. Early on, it was controlled chaos. But our colleagues strode into the response despite personal fears and fears for family. I am also thrilled with how much more attuned we are to PPE and fit testing, eye protection, and sanitation. I hope we can keep our vigilance even after COVID-19. In recent weeks, it has been great to bring hope to our colleagues and others with COVID-19 vaccines. My favorite memory is from the night we had to recruit arms for shots about to expire. We made the day for a small family at the bus stop at 9 p.m. one night. That felt like real public health—protecting people while stewarding a precious resource."
"We had no idea what to expect"—Ginger Henry, Vice President, Supply Chain Solutions
"I remember feeling a pit in my stomach of just the 'unknown.' Very early on there were reports of expected supply shortages due to the expanded need in China and because so many medical supplies are manufactured in that part of the world. My team and I started calling contacts we have in the Seattle area when the virus hit there, and started problem solving. We've been problem solving ever since! Legacy was in a much better position than many other health systems because we had a safety stock of critical supplies in our warehouse that carried us through the beginning of the pandemic. Hospitals using 'just-in-time' supply provisioning ran out of PPE rapidly. The collaboration here at Legacy around supply shortages has been amazing. My favorite memory was going over to Legacy Good Samaritan Medical Center with Dr. (Lewis) Low and others to test some substitute PAPR shields (lenses) from Nike. There was so much hope and excitement that day."
Share Your Story
Sign up for our email newsletter