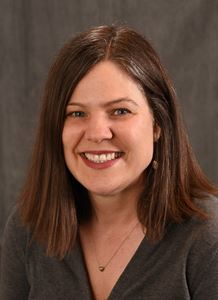 Call to Schedule
Julie Yeggy, MD
My Specialties:
Internal Medicine, Board-certified
My Areas of Focus:
Diabetes, Complete Women's Health
Languages:
English, Interpreters available for other languages
Affiliations:
Legacy Health Partners
Where I see patients
Where I see patients
503-413-4898
Monday-Friday, 8 a.m.-5 p.m.
About Me:
Dr. Yeggy is recognized by the National Committee for Quality Assurance (NCQA) and the American Diabetes Association (ADA) for providing quality care to her patients with diabetes. Dr. Yeggy is currently not accepting new patients.
Year I Started Practice: 1995
Hospitals Served: Legacy Emanuel Medical Center
Patient Rating
Legacy wants every patient to have great care, every time. To help measure and improve patient satisfaction, we send surveys to randomly selected patients after their appointments. We use this feedback from the surveys to improve and enhance the care we offer. Learn more about our surveys & ratings
Average Rating: 5.0 out of 5.0
---
Nov 1, 2023
Due to masking, had a hard time understanding some of the medical assistants/support personnel. Clear masks would have been helpful.
---
Oct 31, 2023
Dr. Yeggy is a great doctor and always gives the best of care.
---
Oct 31, 2023
I really like the suggestions posted on e chart for how to prepare for your visit with your physician. I tried to write down 3 things I wanted to discuss but it ended up being 5. Doctor Yeggy listened patiently to my questions and gave me thorough answers and follow-up plans for anything we were going to change. She always makes me feel as though I'm part of the decisions about my health care but I'm also confident that she knows her stuff. She has made excellent referrals for me and follows up with all the Physicians and or services that she referred me for. She seems to remember everything but I know she does a thorough review of the chart before she sees me. Doctor Yeggy is an excellent teaching doctor; educating patients how to care for themselves. She's personable and caring and definitive about my role in my own health care. Your organization is lucky to have her.
---
Oct 31, 2023
I Dr. Yeggy!
---
Oct 17, 2023
I have been seeing Dr. Yeggy for 13 years and I am so glad she is my PCP.
---
Oct 10, 2023
Always good for last I believe about 20 years. Dr Yeggy is a physician who tries very hard to keep me healthy. She is amazing!
---
Oct 3, 2023
Dr Yeggy is spectacular. It is my good fortune to have her as my dr.
---
Sep 29, 2023
The office is extremely professional and I have had negative experiences with other Doctors. This office should be used as a training program as everybody is as close to prefect as can be expected. This office should be very proud as I am usually very critical.
---
Sep 20, 2023
Dr Yeggy is thee absolute best. Coming from me with my fear of Drs that says a lot!
---
Sep 12, 2023
Pcp for several yearsothers I see on her team are very professional and experienced..
---
Aug 18, 2023
Dr. Yeggy is very thorough and an outstanding physician. Her attention to detail and suggestions for preventative maintenance of health is very much appreciated!
---
Aug 16, 2023
They LISTEN are empathetic and kind
---
Aug 16, 2023
I love Dr Yeggy I have been seeing her since 2001
---
Aug 15, 2023
Dr. Yeggy consistently provides exceptional, compassionate and efficient medical care grounded in recent research with thoughtful consideration of each patient as a unique individual.
---
Aug 11, 2023
This was my second appointment with Dr. Julie Yeggy, and I have never been more impressed with a physician. With a very impressive and personable manner, Dr. Yeggy was very thorough and comprehensive in her exam-during my initial physical exam with her, she reviewed all my medical history and issues thoroughly, asking numerous follow up questions to make sure all aspects of my health were thoroughly addressed (including even examining my ears and when ear wax was found having a P.A. Remove the ear wax by Irrigating the ear). She then scheduled a follow-up exam two months later to further ensure that my health concerns were dealt with, and it appears that this kind of approach is used for all her patients. I am very grateful to have her as my PCP.
---
Aug 9, 2023
CC, the MA who started my appointment, was AWESOME. She was very competent, friendly, and sensitive to my care. I have seen Julie Yeggy for years. She is caring, never rushes, checks in on my whole health each time I see her regardless of why i'm there and has been an ideal PCP my whole adult life. I am a person who lives with chronic illnesses and invisible disabilities and my dr is a critical part of my life. Thank you for Yeggy and for CC. You should def pay them both more.
---
Aug 1, 2023
It is not usual that there is significant waiting time to see the MD at this clinic. When a wait is unavoidable, the MA should come back to the room and tell the patient the MD is running behind schedule. It would be courteous to do so as I too have a busy schedule and was seeing the doctor during a workday.
---
Aug 1, 2023
I have been going to Julie Yeggy for over 40 years and I would not change to another Physician, ever. She knows me and she knows my medical condition
---
Jul 19, 2023
Hard to hear assistant who took BP, etc as she was masked.
---
Jul 19, 2023
Excellent provider. Very knowledgeable. Friendly. Wonderful communicator.
---
Jul 19, 2023
I am so grateful that Dr. Yeggy is my MD!!! Her bedside manner is wonderful. She is thoughtful, very approachable and a great listener! She takes the time that is needed to discuss the plan of care and follows up with me. I have recommended her to family and friends! Thank you Dr. Yeggy for taking such good care of me and those who I have sent to you! You are a gem!!!!!
---
Jul 12, 2023
I consider myself very lucky that Dr. Yeggy is my doctor and my husband's doctor. She is very dedicated and caring. She asks good questions. She is no-nonsense - but with a lot of empathy.
---
Jun 30, 2023
Always great people here!
---
Jun 28, 2023
I have been seeing Dr. Yeggy for years and I appreciate her excellent care and kindness.
---
Jun 16, 2023
Dr Yeggy has done several amazing things for us over the years. Best doctor and person.
---
Jun 9, 2023
Julie Yeggy is an outstanding physician. I fully trust her with my care. She's listens and is very caringwhich is hard to find these days.
---
Jun 6, 2023
Dr. Yeggy is excellent!
---
Jun 2, 2023
Dr. Yeggy is always professional, respectful, shows compassion and treats the whole person; physically, mentally & emotionally. She is an excellent provider.
---
May 30, 2023
Julie Yeggy is an excellent physician and kind care taker. She is awesome!
---
May 25, 2023
Excellent care, as always!
---
May 24, 2023
Dr Yeggy always greets Me with a smile She always sends Me to a Specialist if She feels I need it She is very knowledgable and personable
---
May 17, 2023
Dr. Yeggy is the best dr possible.
---
May 17, 2023
Aside from the wait time, I was glad to see my provider. This appointment was made for same day, as it was an urgent need, so the wait was to be expected. I didn't like waiting but I excused it because I was given this appointment the same day.
---
May 12, 2023
Dr Yeggy Is the perfect doctor for complex patients with chronic illnesses. Dr Yeggy and her nurse Julie "always" on all fronts will go "Above and Beyond" what is expected. stars!
---
May 10, 2023
In addition to the excellent care Dr Yeggy provides, simply SEEING her makes me feel good. She is friendly, attentive, smart, thorough and efficient without ever seeming rushed. She is kind and has a sense of humor. She is the nicest person as well as the best doctor I have ever had. She always sends her greetings to my family, who are also her patients. We all LOVE her.
---
May 5, 2023
Dr. Yeggy & her office are always attentive, listen and take care of my needs exceptionally well.
---
May 3, 2023
Everything went well!
---
Apr 28, 2023
Best listening doctor I've ever had and she gives very clear and understandable explanations of her diagnosis and advice. Excellent!
---
Apr 25, 2023
Dr. Yeggy is an excellent sympathetic friendly physician.
---
Apr 25, 2023
Dr Yeggy is always very interested, knowledgeable and thoughtful in her approach to my healthcare. I very much appreciate her as my primary care physician.
---
Apr 12, 2023
Everything or all services rendered on my behalf, was " AWESOME". They highly treated myaelf n all of my Health Issues, so GOOD w/ too.much RESPECT n all of my CONCERN about my health wzs Remarkable n w/ LOVE, too, Amen amen!!!
---
Apr 5, 2023
I thank God for great Dr. Julie Yeggy and staff.
---
Apr 5, 2023
Dr. Yeggy and staff are superb. I have only excellent things to say. I've been a patient of Dr. Yeggy's for at least 27 years and I can't say enough good things about her.
---
Mar 29, 2023
My appt was to establish Dr. Yeggy as my new PCP. I have some complicated stomach/gastro issues going on and I feel like it took a little too long for Dr. Yeggy to understand the current care I'm getting for these issues but overall I'm really happy with my decision to establish care with her.
---
Mar 29, 2023
My older Brother recommended Dr Yeggy to me a year ago and now my younger Brother and his wife also use her. I can't say enough about the great care Dr Yeggy provides for me and my family and it gives me a real peace of mind knowing that my family and me have access to one of the best doctors Portland has to offer. Dr Yeggy has rebuilt trust with me that was broken down from other lesser capable doctors. She also Is a very good listener and has a bed side manor that A+
---
Mar 10, 2023
Best doctor I've ever had!
---
Mar 8, 2023
Dr. Yeggy is amazing! She is thoughtful, respectful, caring and seems to really care about my health care needs.
---
Mar 7, 2023
Dr. Yeggy has been my doctor for many years. She knows me very well and treats me with respect and compassion.
---
Feb 21, 2023
I love Dr. Yeggy. I've recommended her to friends in the past. I know that she cares about my well-being and I trust her. She always listens to me and addresses my concerns and I feel like I'm in good hands.
---
Feb 21, 2023
Dr Yeggy has been my Primary Care Physician for over 30 years. If she was not as professional as she is, I would have a different PCP.
---
Feb 21, 2023
I trust Dr. Yeggy and her advice on my health issues. She always listens to me and answers my questions truthfully . She makes sure I understand everything before I leave.
---
Feb 17, 2023
I had a lot of issues to discuss at my annual exam, including one urgent issue. Dr. Yeggy efficiently went through all of them with me, working quickly but covering everything, answering questions and providing the needed follow up. She is respectful, smart, and personable.
---
Feb 15, 2023
I lost an important pendant and they called the very next day to say they found it. My provider sent a message way after hours regarding further testing needed.
---
Feb 7, 2023
Excellent care.
---
Feb 7, 2023
Dr.Yeggy listens intensively to my concerns, she validates what I am saying and assures me that what I am going through is real not in just in my head, she does tell me when I am not being realistic, she does it in a very professional manner.
---
Jan 27, 2023
Julie Yeggy has been my primary care provider for decades, and I am very fortunate in that regard. She is caring and thorough and always interested in consulting specialists when appropriate. I place a great deal of faith in her care as one of the fundamental determinants of my continuing good health.
---
Jan 13, 2023
Dr Yeggy always remembers things regarding my family life that I know are not part of my medical record. She almost always has some pearl for me that I can take away re my health status.
---
Jan 13, 2023
I've been seeing Dr. Yeggy for over a decade. Even though I haven't lived in [location removed] for several years, I drive in just to see her.
---
Jan 13, 2023
I am a new patient to Dr. Yeggy and the clinic
---
Jan 11, 2023
Dr. Yeggy always spends time & very thorough - friendly - professional.
---
Dec 20, 2022
Dr Yeggy was sincerely interested in getting toknow me and my health situation. This was a new patient intake visit and she was prepared, having read my health records. She asked good, detailed quesions and listened carefully to my reponses. She is an engagint person and a highly competent, professional physician. I feel lucky to be her patient.
---
Dec 8, 2022
Dr. Yeggy always listens carefully & is very attentive to my concerns. She's great!