Legacy Research Institute
Transforming medical care through science, technology, and innovation.
Legacy Biomechanics Lab Produces Face Shields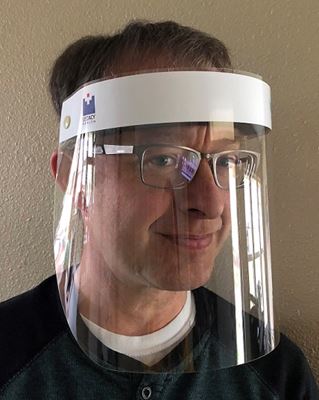 The Legacy Biomechanics Laboratory has produced over 150 face shields for Legacy's frontline workers and deployed them at Emanuel Hospital on Friday, March 27. They were well liked and needed. In response, the Biomechanics Laboratory has already secured material for 5,000 additional shields. These can be built and deployed at Legacy hospitals within 7-10 days. WaveCel, a local company that produces safety helmets, will donate the labor for production of the face shields.

Michael Bottlang, PhD, and Steven Madey, MD, have co-directed the Legacy Biomechanics Laboratory for 20 years, and have a proven record of solving clinical challenges in a practical and timely manner. Seeing the need for face shields to protect medical staff, they acted quickly to establish this in-house resource for production of PPE.

The Biomechanics Laboratory is part of the Legacy Research Institute, which supports a wide range of research needs of the Legacy Health System.

Dr. Bottlang is pictured wearing one of the new face shields.