Careers
Frequently asked questions
Frequently asked questions
How do I search for job openings?
Legacy Health has three external careers portals (all careers, nursing, or provider) on which you can browse our open positions and refer a friend to a specific job. When you sign in to a career portal you can create a profile, apply for open jobs, check your application status, and set up email alerts for jobs of interest to you.

If I used to work for Legacy, may I sign in using the "internal applicants" link?
No, former employees need to sign in using one of the external careers portals (all careers, nursing, or provider).
If I had a profile on the old recruiting system, did it copy over to the new system?
We need all candidates to create a new profile on the new system – we did not copy over information from the old system. Once you create a profile, you can login in as a returning candidate.
Do I need to complete a whole application every time I apply for a new position?
Once you create your user profile on the careers portal), any application you submit after that will automatically include the work history and education information from your profile. A new application is required for each position you apply too.

Do I need to have a resume or a cover letter to create a profile or apply for a position?
Legacy Health does not require resumes or cover letters as part of the application process. Please note that if you upload a resume or cover letter, our recruiters and hiring managers will see only the most recent version.

After I have applied for a position online, should I also e-mail, fax or mail a copy of my application, resume or cover letter to Legacy?
Legacy Health relies on the information submitted through your online application. If additional information is needed, we will communicate this to you through the portal and the email address on your profile.

May I send you my CV or resume to keep on file?
No. Legacy does not accept CVs, resumes or applications for positions that are not posted on our site. When you apply for a position you will have the option to upload your resume to your profile.

I want to apply for a job I saw yesterday, but now it's not there.
Applications are accepted only for positions that are currently open. If you saw a position job yesterday, but it's not there now, that means it is no longer open for new applications.

Do I need an e-mail address to create a Profile?
You do need an email address as part of your profile as we use email for a lot of our correspondence, and it helps us maintain timely communication with you.

I'm trying to apply, but I'm having trouble.
If you are experiencing technical difficulties with Legacy's careers portals, please call 503-415-5405 during regular business hours (7:30 a.m.–3:30 p.m., Monday–Friday).
If you have difficulty submitting an application, please check that you have:

1. Entered jobs in the correct work history section.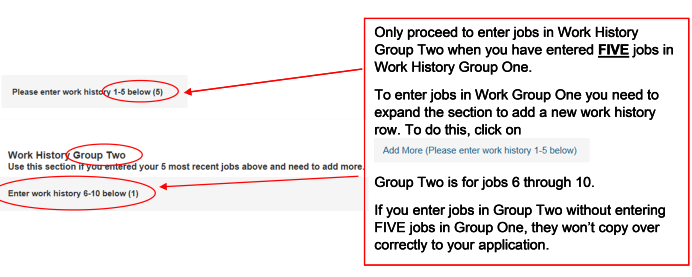 2. Selected the correct number of jobs you want to have included on your application. This selection box is at the end of Work History Group 3 and above Education.




Who can I talk to about the details of a specific job opening?
You may contact Legacy Employment Services at 503-415-5405. Please provide the job requisition ID number, and you will be connected to the appropriate recruiter.
I am a student interested in an internship at a Legacy site. What do I need to do to be considered?
Legacy does not offer clinical internships for students. We have a limited number of paid non-clinical summer internships. We will post more information on our careers portal when we are accepting summer intern applications.

I am receiving an error message when I try to upload a document to my candidate profile. Why is this happening?
The Legacy careers portal accepts the following document formats for upload: .pdf, .htm, .html, .jpg, .tif, .tiff. If you are attempting to upload a document in other formats, including Microsoft Word, you may receive an error message.

What happens if I forgot my password?
Click on the "Log Back in" for Returning Candidates. This will take you to the Login page.
On the Login page click on Forgot your password? The system will ask you to enter your email address.
Once you enter your email address you will see the following message:
Information on resetting your password has been sent to the email address on file. If you do not receive an email within 5 minutes, please try again.
How do I change my password?
Login to your profile at on Legacy's careers portal.
Click on the "Update Your Profile" link on the left side of the screen.
This will display the information you previously entered on your profile.
Scroll down to "Create a Login" to update your password.
Make sure you save any changes that you have made by clicking "Update Profile" button at the bottom of your profile.