Wellspring Conference Center
With easy access from I-5, 99, 213 and 214, you might say all roads lead right to Wellspring Conference Center. Centrally located between Salem and Portland – and just an hour from the beaches one direction and the mountains in the other – Woodburn is a convenient meeting place for everyone on your guest list. We're also just five minutes from the Woodburn Premium Outlets and the Oregon Golf Association's championship golf course.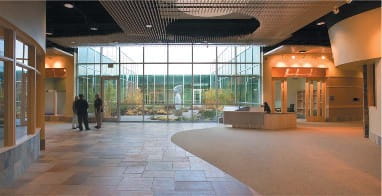 Our well-appointed meeting rooms make Wellspring Conference Center an excellent choice for your next business meeting, community event or private party:
Exhibition kitchen
Complimentary parking
Event planning
Give us a call at 971-983-5302 and discover Wellspring. Site tours are free and encouraged.
Download the Wellspring Conference Center Brochure
Spaces Available at Wellspring
For large events, Wellspring Conference Center accommodates 350 persons theater-style, 184 classroom-style, and 250 for a banquet. The five rooms – Alder, Cottonwood, Oak, Hawthorn and Cedar – can be combined in many configurations to accommodate your space requirements. See the diagram below for a visual representation.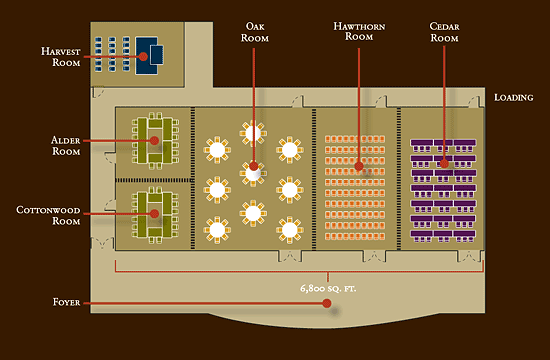 Harvest Kitchen – The Harvest Kitchen, an exhibition kitchen, is ideal for wine tastings, culinary presentations and intimate gatherings. The space accommodates 20 persons seated theater-style and 12 for a banquet.

Alder Room – 380 sq. ft. This room seats 20 persons theater-style, 16 classroom-style, 16 for a banquet, and 12 in conference arrangement.

Cottonwood Room – 395 sq. ft. For mid-size gatherings, this room accommodates 20 persons in theater seating, 16 classroom-style, 16 for a banquet, and 12 in conference.

Oak Room – 1317 sq. ft. Our largest stand-alone room can accommodate 110 in theater-style arrangement, 64 classroom-style, and 80 for a banquet.

Hawthorn Room – 916 sq. ft. Comfortably seats 50 persons theater-style, 40 classroom-style, and 40 for a banquet.

Cedar Room – 920 sq. ft. Seats 50 persons theater-style, 40 classroom-style and 40 for a banquet.