Community Impact
Doctor finds joy in caring for the homeless in the streets
August 30, 2019
Treating the rising tide of homeless in the emergency room inspired Dan Bissell, M.D., to take a novel approach: caring for the homeless in the streets.
Dr. Bissell of Legacy Salmon Creek Medical Center joined forces with retired colleague Bill Toepper, M.D., and two other health professionals to create Portland Street Medicine, which sends doctors and others in the community to care for those experiencing homelessness.
For Dr. Bissell, the project isn't just about helping others.
"I am motivated by the sheer joy of a stethoscope around my neck, going tent to tent, camp to camp, humbly offering help," Dr. Bissell says. "I am inspired by this work, and every day I spend on street rounds I learn more about myself as a caregiver and the communities I serve."
In the first year, Portland Street Medicine served about 500 patients. For 2019, this group of volunteers is on pace to serve more than 1,600 patients. The organization now has more than 30 doctors and nurses and numerous volunteers.
"We carry a backpack with basic medical supplies and medications, and another with comfort supplies like socks and tangerines," Dr. Bissell says. "Our role in the field is to build trust and develop sustaining relationships. We don't see care in the streets as an end-point, rather as a beginning to get people on a path of integrating into a system of sustained medical and social care."
For more information about Portland Street Medicine, volunteer opportunities and more about the problem of homelessness in our community, visit
www.portlandstreetmedicine.org.
Donate here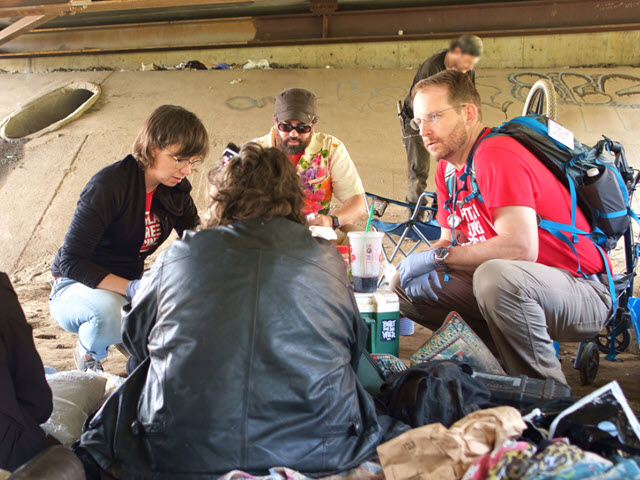 Share YOur Story
Sign up for our email newsletter