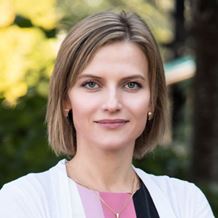 Call to Schedule
Natallia Suvorava, MD
My Specialties:
Hematology & Oncology, Board-certified
My Areas of Focus:
Cancer, Cancer Treatment Protocols, Colorectal Cancer, GI Cancer, Gastrointestinal Malignancies, Head & Neck Cancer, Lung Cancer, Lymphoma, Melanoma, Myelodysplastic Syndrome, Pancreatic Cancer, Prostate Cancer, Bladder Cancer, Anal Cancer, Kidney Cancer, Esophageal Cancer, Hematology, Rectal Cancer
Affiliations:
Salmon Creek Medical Center
Where I see patients
Where I see patients
Legacy Cancer Institute - The Vancouver Clinic Building
360-896-7071
Monday-Friday, 8 a.m.-5 p.m.
About Me:
Dr. Suvorava completed a fellowship in hematology, oncology, and transplantation at the University of Minnesota Medical Center in Minneapolis, Minnesota. She completed a residency in internal medicine at Texas Tech University Health Science Center in Lubbock, Texas. She holds a doctor of medicine from Gomel State Medical University in Belarus. Dr. Suvorava treats a wide variety of cancers and blood disorders, but has a special interest in breast cancer, melanoma, kidney cancer, and lymphoma. She enjoys working in the ever-evolving field that is hematology and oncology, and is particularly excited by advances in cancer care from targeted therapies and immunotherapy. Outside of medicine, Dr. Suvorava enjoys hiking, reading, and spending time with her two daughters. On the weekends you can find them exploring the outdoors, listening to classical music, playing the piano, and attending ballet and symphony performances.
Hospitals Served: Legacy Salmon Creek Medical Center
Patient Rating
Legacy wants every patient to have great care, every time. To help measure and improve patient satisfaction, we send surveys to randomly selected patients after their appointments. We use this feedback from the surveys to improve and enhance the care we offer. Learn more about our surveys & ratings
Average Rating: 5.0 out of 5.0
---
Apr 28, 2023
Dr Suvorava and the other staff there always do their best to make you feel comfortable, cared for and "not just another number". Every time I see them I think to myself "seeing these people is the best thing despite being sick". No one wants to be sick, but at least it helps to be surrounded by the best professionally and socially& attitude-wise. Couldn't ask for a finer team.
---
Apr 28, 2023
Thank you Dr Suvorava for all your help
---
Apr 27, 2023
Dr S was very friendly and caring and seemed knowledgeable. It was first time we met in person and I was impressed.
---
Apr 25, 2023
Love and respect my Dr. She is kind and very caring
---
Apr 18, 2023
I always have a good experience with this provide, and her office staff. I have already referred her to a Family member before.
---
Apr 13, 2023
She listened to what I had to say and helped me to understand things. I really appreciated it.
---
Mar 27, 2023
I am very satisfied with my care. Poor telephone service . Can not reach anyone at times.
---
Mar 27, 2023
I have recommended this provider to a friend who needed a new Oncologist. Very happy with her
---
Mar 23, 2023
I was onetime and the doctor was too
---
Mar 21, 2023
Dr. Suvorava is wonderful and very knowledgeable. I appreciate that she is helping me to understand the longer term treatment / care that I need, instead of just the next step. She carefully listened to me and then answered my questions. She was efficient with our time, but never rushed or in a hurry.
---
Mar 16, 2023
I was extremely impressed at how knowledgeable the provider was. It was obvious that she took the time to go through my medical history and understood my concerns and needs. She was personable, compassionate and yet very, very professional. We were very impressed and pleased.
---
Mar 10, 2023
Thankful I can see Legacy Dr at 87th TVC close to home. Dr outstanding, empathetic, excellent communication, problem solver, accessible online.
---
Mar 10, 2023
She is a life saver!
---
Mar 8, 2023
I have been very pleased with Dr. Suvorava and her staff.
---
Mar 2, 2023
Thorough, informative, caring & compassionate dr.
---
Mar 2, 2023
She is very kind & listens to concerns.
---
Mar 1, 2023
Knowledgeable in her field.
---
Mar 1, 2023
Dr Suvorava is the absolute best & so are all of the providers at the cancer care center
---
Mar 1, 2023
Dr Suvorava is awesome! She is very thorough and compassionate.
---
Feb 28, 2023
Dr. Suvorava is an excellent doctor! She is very knowledgeable and caring. She took the time to explain everything I needed to know, going forward. She made sure I understood.
---
Feb 28, 2023
Excellent care.
---
Feb 17, 2023
Dr Suvorava is very sincere, kind and talks on a level that is so easy for a non-medical professional can understand . She listens. She cares about her patients & it shows. She is a gem among physicians!
---
Feb 14, 2023
I have been extremely impressed with the care Dr Suvorava has given. Some of the best care and concern I have ever had as a patient.
---
Feb 9, 2023
My experience and my Dr. Suvorava were excellent! She is a very good doctor, very professional, detailed, listens, compassionate and caring!!
---
Feb 9, 2023
It would be helpful to know how late they ar we running
---
Feb 1, 2023
Always good - no bad experience. Concerned I get the best for my health concerns.
---
Jan 26, 2023
I really liked this provider. She made me feel heard.
---
Jan 26, 2023
I received the information that I needed to correctly assess the current status of my health and take the proper action going forward.
---
Jan 20, 2023
The doctor was fantastic. She was personable, professional and thorough. I trust her and her recommendations.
---
Jan 20, 2023
Doctor Suvorava is excellent. I would highly recommend to to anyone in need of her services. I would like to add that the nurses in the infusion center in her office and at Legacy Salmon creek are top of the line. Great group of nurses that care about their patients.
---
Jan 13, 2023
Very helpful
---
Jan 12, 2023
Great as always
---
Jan 11, 2023
She is always aware of my health situation, elicits relevant information and expresses needed steps in a caring way.
---
Jan 6, 2023
Dr. Natallia Suvorava is always clear and thorough in her explanations about my ongoing care. I value her honesty with me, and I enjoy trust in her knowledge and opinions.
---
Jan 6, 2023
Suvorava was super great and had a good plan that was clearly provided in my exit paperwork. She was friendly and listened and based decisions on my preferences and goal. She was thorough and already knew my medical history. This was my first visit with her. I am changing providers because I'm looking for someone more thorough and on top of it, like Suvorava.
---
Jan 6, 2023
Had to wait more than 30 minutes for my appointment, no one notified me of any delays. As a result my injection appointment was an hour behind the scheduled time
---
Jan 3, 2023
Always a great appointment.
---
Dec 15, 2022
Dr. Suvorava is my Cancer Dr and always is very respectful kind and thorough I wish all doctors were as good as she is! She is the top of the leaderboard!
---
Dec 15, 2022
I have always had pleasant experiences when seeing Dr. Suvorava and the staff.
---
Dec 13, 2022
My doctor I so caring and has the best personality. She treats you like a family member. Who wouldn't want to be treated like that.
---
Dec 8, 2022
This was 6-month followup with a specialist, but I had missed getting scheduled for it. Once the office knew, they were able to get me in the next week. Staff were friendly and efficient. Dr. S gives options, outcomes, and rationale in understandable language with no rush or pressure.
---
Dec 7, 2022
I have been seeing this Doctor for a number of years I would not think about seeing anyone else. Best Doctor I have I wish all my doctors were like her. She even helps me out If I am having problems with another doctor like she did on this visit. You would be better off If all your doctors were like her. Can't say enough good things or words to describe her. She Is fantastic.
---
Dec 7, 2022
It's all good.
---
Dec 6, 2022
She is very professional dr.
---
Dec 6, 2022
Dr. Suvorava is an excellent oncologist and God forbit anyone get cancer that necessitates this care- she is the go-to.
---
Nov 30, 2022
Dr. Suvorava is an amazing oncologist. Always extremely thorough and kind. Lovely bedside manner and never makes you feel like she's rushing through the visit.
---
Nov 23, 2022
I see Dr. Suvorava in her capacity as an oncologist for my recently diagnosed cancer--and, during this stressful time, I have gained complete confidence In her knowledge and judgement. There have been no "bad" experiences and many useful discussions and l consultations.
---
Nov 23, 2022
This appointment was a referral for evaluation of my mild anemia. It was the first time I had met with Dr. Suvorava, and I was very pleased with the appointment. She spent a fair amount of time in her examination of me and my records, and I feel the course she has laid out will provide the information necessary to determine whether I have a serious problem.
---
Nov 22, 2022
Dr. Suvorava is a professional, caring oncologist. In the almost 5 years of going to your office, I have had a few changes in Dr's and they are ALL excellent.Moving thru cancer is scary and everyone with your organization made it as easy as possible.
---
Nov 22, 2022
I needed reassurance about my condition and got it...very good "bedside manner"
---
Nov 18, 2022
Always get good doctors and staff with Legacy Medical Grp. I feel like I can ask and receive answers to any questions I have!
---
Nov 18, 2022
My only issue is using MyHealth vs MyChart. It would be nice if they talked to each other
---
Nov 15, 2022
She is a lovely person and a thorough physician.
---
Nov 15, 2022
Dr Suvorava was friendly and a good listener. I didn't feel rushed.
---
Nov 8, 2022
She was friendly, explored options with me, was willing to negotiate on the Tamoxifin, and offered another way to get info on whether I would be able to stop the anti cancer meds at 5 yes.
---
Nov 7, 2022
Excellent medical appointment with Dr. Suvorava. She is intelligent, knowledgeable, has empathy, and takes the time to listen, conduct an examination, and explain her plan to manage my health. And, this is important, she has a sense of humor!
---
Nov 3, 2022
I feel very comfortable with Dr. Suvorava. She is friendly and knowledgeable.
---
Nov 3, 2022
Visit was good, helpful, caring.
---
Nov 3, 2022
All very good
---
Nov 1, 2022
Terrific provider thank you!
---
Oct 28, 2022
I have the best oncology care team.
---
Oct 26, 2022
I absolutely love my Dr. She is very sweet, kind and explains everything to you so you understand exactly what's going on with you.
---
Oct 25, 2022
This provider is awesome!!
---
Oct 18, 2022
Never a bad experience.
---
Oct 18, 2022
Allowed me to ask questions took time to explain what too expect w med changes
---
Oct 12, 2022
Love this doctor! I am a 3 year breast cancer survivor and she has helped me to remain cancer free!
---
Oct 12, 2022
Dr Suvorava took one look at me, and sent me immediately to the ER where I was hospitalized for 5 days.She saved my life. Everything she said was wrong with me was true. I had 4 liters of infected fluids taken out of me with a syringe and that's what she said was wrong. She said, "it looks like fluid buildup".she was so right. I will always trust her now.
---
Oct 11, 2022
I transferred from another non-Legacy/Vancouver clinic because I was not being heard and felt dismissed and diminished. Dr. Suvorava provided a 180 degree different experience. I was extremely happy with my visit with her. She explained why she was ordering additional tests, listened to my description of symptoms and concerns and addressed them in a more collaborative fashion, rather than ignoring what I was saying.
---
Oct 11, 2022
Nursing staff is the routinely the best helpful careing knowledgeable skillful
---
Oct 4, 2022
Dr. Suvorava is extremely knowledgeable and can explain complex ideas in an understandable way. She is an excellent listener and I feel personally supported by her on my health journey.
---
Oct 4, 2022
Dr Suvorava is excellent. She is especially thorough and knowledgeable.
---
Oct 4, 2022
Excellent communication skills, very attentive and personable, frequently checked for understanding and was frank but reassuring about my cancer diagnosis and treatment options.
---
Sep 30, 2022
All explanations were very clear and helpful. Clarified some points of confusion and expanded our understanding of the purpose and goals of the visit and the follow-up measures.
---
Sep 28, 2022
I am completely satisfied that the provider knew what she was doing and she took the time to explain what the tests were for and what she hoped to find out when the results came back!
---
Sep 27, 2022
Dr. Suvorava seems very professional. She clearly understands the condition I see her for. She seems to be a caring person. All In all I could not honestly say anything negative about her. Thank you for having her on your team!
---
Sep 20, 2022
This was an extremely thorough exam of my condition and the plan moving forward to address possibilities and further courses of action.
---
Sep 9, 2022
Dr. Natallia is absolutely the best Oncologist. I have breast Cancer which in my opinion is not only a body illness but also mental, Dr. Natallia always listens to me and I really feel she cares.
---
Sep 1, 2022
Already have referred a family member to Dr. Suvorava.
---
Aug 26, 2022
I was very happy with my experience. I feel that they are doing all they can to figure out what is causing my medical problem.
---
Aug 25, 2022
Dr. Suvorava is an excellent provider. She goes out of her way to communicate with her patients and to be available to them. It has been comforting to have her help me during my medical challenges.
---
Aug 24, 2022
Best doctor I have been cancer free for 2 years. She called the shots, and everything went very well. I give her the credit for that I wish all my doctors were like her. Cannot ask for anyone better.
---
Aug 24, 2022
My experience with this MD and her staff has been excellent.
---
Aug 19, 2022
Very knowledgeable and sincerely caring
---
Aug 17, 2022
I love my Oncologist!!!
---
Aug 16, 2022
Dr. Suvorava always treated me with sincere respect, listened carefully about my concerns, provided me with clear explanations, and outstanding service. She can be considered as an example of the oncologist for other doctors to follow. Her expertise, attitude, and respectful professional manners supported me both in regards of my health and my spirit, and I fully appreciate it.
---
Aug 16, 2022
Dr. Suvorava is an extraordinary physician. I am fortunate to have her as my doctor.
---
Aug 16, 2022
It was a good experience.
---
Aug 12, 2022
Dr. Suvorava is the BEST!
---
Aug 12, 2022
Natallia was one of the most concerned dr.'s I've ever talked to. She made my experience with cancer easy to understand & I felt she really cared.
---
Aug 11, 2022
Always good experience.
---
Jul 22, 2022
Wet personable
---
Jul 14, 2022
The doctor was kind and considerate as was her staff.
---
Jul 13, 2022
This provider consulted with me and other Dr immediately after being told of my condition. Though she was completely booked, she made the time to video chat, reassure me that my illness was important and would be addressed right away. I feel blessed with this Dr and some others also on my health care team.
---
Jun 29, 2022
Dr always seems very caring and concerned about my treatments
---
Jun 28, 2022
Dr. Is easy to talk to. The blood pressure cuff was very painful when inflated and my blood pressure was higher than normal. The person taking pressure had no idea what I was telling her regarding pain.
---
Jun 28, 2022
Dr. Suvorava is well prepared, and I look forward to her office visit.
---
Jun 28, 2022
Dr. Suvorava was very concerned about the cause of my abnormality in blood tests. Reviewed possible causes with me and answered my questions clearly.
---
Jun 24, 2022
Very positive visit.
---
Jun 22, 2022
Excellent Dr & nurses at this facility. Would highly recommend.
---
Jun 21, 2022
Total office atmosphere was professional yet friendly Doctor was both of the above with humor thrown in That's the best
---
Jun 21, 2022
She knows her stuff, forms a plan and tailors my care to me.
---
Jun 17, 2022
The Dr is one of the best doctors I have ever had, she seems to really care and enjoy her job, but more importantly she made going through a difficult diagnosis a more positive experience. I'm glad she is one of my Doctors because she has a lot of positivity and optimism, that helps you believe that you will get well or at least that she is doing everything within her power to help you to get well. Even my fam and supports, that have attended some of my visits have been impressed by this Dr, which in turn helps me, because they leave with a better understanding of the situation.
---
Jun 17, 2022
Dr. Natallia Suvorava is a hematologist but she Is the best doctor I have seen at the Vancouver clinic and I have been going there for 22 years! I feel like she REALLY heard my concerns, did the thorough blood work and came up with a plan for continued care. After years of not feeling well, I finally found a doctor willing to Investigate and get to the bottom of the Issue. I am very pleased! These types of doctors are rare! I was lucky to be placed with her.
---
Jun 16, 2022
Dr Suvorava is always pleasant and very informative.
---
Jun 14, 2022
Very nice and helpful
---
Jun 8, 2022
I felt Dr. Suvorava was friendly - very straight forward with explaining things (drew pictures) and wanted to make sure I understood everything.
---
Jun 8, 2022
Dr. Suvorava is always a caring & compassionate.
---
Jun 7, 2022
The front desk take their time to greet and make eye contact with you while waiting, but once you're passed the front desk -everyone is amazing. MA Katie and Dr Souvara are a blessing to anyone dealing with a hardship like cancer and recovery of such.
---
Jun 3, 2022
She is linked in to my radiologist, PCP, PT. Always goes over my med list. Very knowledgeable.