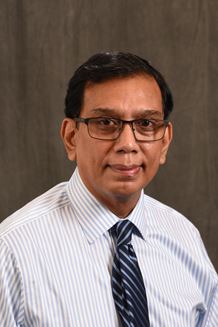 Call to Schedule
Mustaquim Chowdhury , MD, MPH
My Specialties:
Internal Medicine
My Areas of Focus:
Preventative Care
Where I see patients
Where I see patients
503-415-4061
Monday-Friday, 8 a.m.-5 p.m.
About Me:
Mustaquim Chowdhury, MD is a board-certified internal medicine specialist with professional interest in infectious diseases and preventive medicine. He is native to Bangladesh, where he earned his medical degree at Dhaka Medical College, University of Dhaka. In his home country, he worked as a primary care physician, gaining experience in many areas of clinical medicine. After moving to the U.S., he earned a master's degree in public health from the Department of Epidemiology and Biostatistics at the University of Massachusetts in Amherst, and then went on to complete an internal medicine residency at Mercy Catholic Medical Center in Philadelphia. He moved to Oregon in 2000 where he has been practicing since. Dr. Chowdhury is accepting new patients.
Year I Started Practice: 2000
Hospitals Served: Legacy Good Samaritan Medical Center
Patient Rating
Legacy wants every patient to have great care, every time. To help measure and improve patient satisfaction, we send surveys to randomly selected patients after their appointments. We use this feedback from the surveys to improve and enhance the care we offer. Learn more about our surveys & ratings
Average Rating: 4.9 out of 5.0
---
Sep 1, 2023
Very good visit and my doctor is very kind, guideful and makes recommendations to better my health.
---
Aug 25, 2023
I am a huge believer in customer service and this staff has yet to disappoint. I followed Dr. C from his Hillsboro practice.
---
Aug 21, 2023
None, thanks.
---
Aug 21, 2023
Good experience!
---
Aug 15, 2023
The wait time during my appointment was good but I had to wait months to get the appointment.
---
Aug 15, 2023
Dr. Chowdhury was super-patient & very thorough. A pleasure to be treated by him.
---
Aug 10, 2023
No bad,all acceptable.
---
Aug 9, 2023
Knowledgeable and caring Dr and nurse!
---
Aug 3, 2023
Always a pleasure to interact with my healthcare team!
---
Jul 28, 2023
He called me about a cancellation. He listened to me, gave advice and answered all my questions. He was thorough. Friendly I ham so happy to be his patient now.
---
Jul 26, 2023
It would be great if you could link our records that are on My health and My chart so the staff can see what has happened since he was in the office last.
---
Jul 24, 2023
My previous doctor relocated to the East Coast. I was nervous about getting a new physician, but Dr. Chowdhury has exceeded my expectations. I find him to be direct, compassionate, and engaged.
---
Jul 24, 2023
Great doctor and office staff.
---
Jul 20, 2023
First class. Had never meet Dr Chowdhury. He and his staff and others gave me confidence for a long relationship with my primary care Dr.
---
Jul 18, 2023
Doctor Chowdhury listened to all my concerns and also showed concern, he took the time to update my chart and also gave me the treatment he saw convenient for me. Much thanks.
---
Jul 18, 2023
Dr. Chowdhury has become my new internist in the past 4 months after being with another Internal medicine doctor for 20 years. I am extremely satisfied with him, his assistant and all the staff at Legacy Westside.. I have found him to Be very thorough, interested in my well being, and helpful in his medical background information and follow through is very thorough.
---
Jul 18, 2023
My provider listens to me and helps me with referrals.
---
Jul 18, 2023
First visit with Dr. Chowdhury. He will be my new primary care provider. Visit went very well.
---
Jul 17, 2023
This was my first visit to this provider. I was extremely happy with this experience and look forward to a future association with this provider and this office
---
Jun 27, 2023
Dr. Chowdhury was very thorough on his intake and reviewed my chart and medicine. He listened attentively and asked questions to understand everything about my condition. I trusted him even though it was my first visit with him.
---
Jun 26, 2023
Excellent care
---
Jun 8, 2023
MD was VERY dismissive of my & my wife's concerns about my medical problems, which is unexcusable in my opinion.
---
Jun 7, 2023
Dr. Chowdhury and his nurse/assistant, Debbie, are the best health care team I've ever had. They know me, know my health situation and history, and actually care about keeping me healthy. He's very proactive about preventative measures, too.
---
Jun 1, 2023
Meet & greet.
---
Jun 1, 2023
Honestly it all went well except he kept making comments about me eating fast food when I said several times I don't eat fast food. I understand that I am overweight, I completely am aware and have been trying to lose weight but it's not because I eat fast food, I don't eat fast food but he made multiple comments as if he either wasn't listening to what I was saying or didn't believe it? I'm not entirely sure but everything else went perfectly fine
---
May 31, 2023
Excellent experience with Dr. Chowdhury. Thank you.
---
May 31, 2023
Lab was disorganizedCouldn't get blood drawnRequires another visit
---
May 30, 2023
Visit was good, I'm interested in the follow up to my exams and labs.
---
May 25, 2023
Excellent visit I received complete attention and felt very confident in the quality care I was given. Thank you for your wonderful care.
---
May 24, 2023
I felt he listened to me which was important. He genuinely cared about me.
---
May 18, 2023
Provider appears very experienced with seniors and very knowledgeable with our common ailments. He immediately gave me a referral for physical therapy which I was successful in getting an appointment next week.I really do appreciate that.
---
May 17, 2023
Always EXCELLENT!!
---
May 16, 2023
The doctor actually took the time to talk to me about my overall health and didn't rush me. I didn't have to spend a lot of time in the office waiting.
---
May 16, 2023
This was a first appointment with This Dr. Very pleased was history care
---
May 16, 2023
Very friendly and helpful staff all around
---
May 9, 2023
I am fairly new to this office,I followed Dr. From ohsu and the staff here are so warm and friendly I'm glad I made the switch!!!
---
May 1, 2023
First time I met my Doctor , he was very understandable and helpful for my needs. Thank you !!
---
Apr 19, 2023
Excellent, very knowledgeable, listens, very trustworthy.
---
Apr 18, 2023
Throughout my visit I was treated with professionalism, friendliness, and sympathy by the doctor, his staff, and the front desk.
---
Apr 14, 2023
He is good doctor
---
Apr 6, 2023
Very friendly.
---
Mar 29, 2023
I really liked this provider. My friend recommended him. The wait time was 3 months or so for a new patient visit, but I think it was worth it. He was patient and so knowledgeable. I felt like he was really listening.
---
Mar 23, 2023
Dr. Chowdhury did touch my body, unpleasantly.
---
Mar 20, 2023
It is very good for the first time that I met my doctor
---
Mar 20, 2023
This is the first time I've seen this provider. My PCP was not in.
---
Mar 6, 2023
Dr. Chowdhury is always attentive & helpful his nurse, Debbie, is also super helpful & attentive. They are a great team.
---
Mar 3, 2023
Good experience. I do not typically discuss or recommend medical services with people.
---
Feb 27, 2023
Dr chowdhury is very soft spoken , but seems to really care about my needs and what I want to accomplish
---
Feb 27, 2023
Dr. Chowdhury is one of the finest. Caring and knowledgeable.
---
Feb 22, 2023
This was only my 2nd appointment with Dr Chowdhury and I am very impressed with him. He's always very professional and he takes the time to listen and address concerns.
---
Feb 20, 2023
I got the appointment right away. It is great.
---
Feb 17, 2023
Questions asked of provider via MYCHART aare ALWAYS responded to within a few hours. Excellent!!!
---
Feb 13, 2023
Listened to my concerns, and set a plan for future care.
---
Feb 6, 2023
Dr. Chowdhury is a very professional knowledgeable and personable doctor. He listens to your concerns and is very generous with his time and offers thorough explanations and recommendations medical assistant, Debbie, is friendly, caring and great as well. Everyone in the office is kind, helpful and most efficient.
---
Feb 6, 2023
I am very pleased and impressed with the professionalism and organization of this office/facility/provider.
---
Feb 6, 2023
Nothing but good
---
Jan 12, 2023
Always have the utmost care. No complaints whatsoever
---
Jan 10, 2023
No bad experience.
---
Jan 10, 2023
Clerk at lab and X-ray was so rude. All other people were incredibly kind.
---
Jan 9, 2023
Great doctor that listens and spends the time needed with me.
---
Jan 9, 2023
Dr. Chowdhury is a wonderful doctor. He listens and asks questions and cares for the health of his patients. I absolutely trust him and respect him. Nurse Debbie is always warm and friendly.
---
Jan 5, 2023
New patient-appreciated everything about my experience
---
Dec 28, 2022
This was probably one of the most professional and knowing doctors I have ever had the pleasure to associate with. He was extremely professi0nal
---
Dec 28, 2022
Dr. Chowdhury seemed to have come in the room with everything all decided. He was pleasant enough, but asked me no questions around what I needed or wanted, including where I might want the ongoing PT he was going to refer me to. He just set up a referral , when I have had a number of good outcomes with providers of PT who I had very good results with and offer services closer to my home. In general , nice guy who didn't want to know what would work for me.
---
Dec 20, 2022
So happy with the whole visit. Very difficult after being with the same doctor for 43 years
---
Dec 19, 2022
I have issues chocking easily. Dr mentioned some contraste exame. Did not see any ordered. What happened ?
---
Dec 13, 2022
Dr. C is a very caring and kind man. He takes the time and is reassuring about the process. He is respectful and warm hearted. I appreciate him and the staff at Legacy!
---
Dec 12, 2022
Super thorough. Not rushed. Great visit
---
Dec 5, 2022
I have vertigo. Have not had any medicine to help me. I don't think much of these doctors. I asked to change doctors but they said I could not.
---
Dec 5, 2022
I have a complicated medical history. Dr Chowdhury and his Medical Assistant have managed my multiple needs and coordinated with various Specialists for several years now, resulting in meeting crisis care needs and special requests in a very timely and meaningful manner saving me what could have been much worry and stress. I get the best care I've ever had from a PCP from Dr Chowdhury and Debbie. I have followed him from his prior office as he is that important to managing my care. So much appreciated!
---
Dec 5, 2022
I was so thrilled to be able to see my Dr again it's been a long time.
---
Nov 28, 2022
New patient visit.
---
Nov 23, 2022
My original PCP retired and this was an appoint to familiarize the doctor with me and my health history.
---
Nov 22, 2022
My provider Dr. Chowdhury is very detailed and caring. He never rushes me and is a good listener. I will definitely recommend him to my family and friends
---
Nov 15, 2022
It was a short visit about a rash around my mouth. Just had stopped taking an Rx from different doctor with no relief from a burning sensation.
---
Nov 1, 2022
It was a good visit.
---
Nov 1, 2022
Dr Chowdhury is the best. Actually cares about his patients, at least that's my experience with him. He also knows my health history and focuses on the appropriate issues. And tells me the things I need to hear even when I maybe don't want to hear it. Explains things well and makes sure I understand what he's saying.
---
Oct 14, 2022
Dr. Chowdhury and Debbie are always so helpful, kind and professional. I have been happy with all the doctors I have see at this clinic as well.