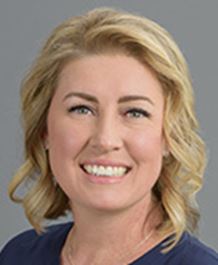 Call to Schedule
Melissa Paul, FNP-BC, MSN
My Specialties:
Family Medicine, Board-certified; Family Medicine, Board-certified
Affiliations:
Salmon Creek Medical Center
Where I see patients
Where I see patients
360-487-2729
Monday-Friday, 8 a.m.-5 p.m.
About Me:
Melissa Paul is a nurse practitioner who graduated with honors with her Master of Science in nursing leadership from Western Governors University. She earned her nurse practitioner degree from Indiana State University. She completed her preceptorship here in our Legacy Salmon Creek Family Medicine and Internal Medicine clinics. Paul has been a registered nurse for the past 20 years. She has extensive experience in emergency nursing, as well as long term care, sexual assault and palliative care. Her focus is the coordination of patient's health care needs, including physical and emotional as well as ongoing medical issues. She has a passion for patient centered care, focusing on the whole person throughout every aspect of health care. She believes that lifestyle, stress management and nutrition are key in quality health management. Outside of work, Paul enjoys spending time with her husband, four children, and grandchild. She is a proud Air Force Mom.
Education:
Family Nurse Practitioner: Indiana State University
Graduate School: Indiana State University
Post Graduate Certificate: Indiana State University
Master of Science in Nursing: Western Governors University
Associate in Applied Sciences: Corning College
Bachelors of Science in Nursing: Western Governors University
Internship: Legacy Family Medicine
Year I Started Practice: 2018
Hospitals Served: Legacy Salmon Creek Medical Center
Patient Rating
Legacy wants every patient to have great care, every time. To help measure and improve patient satisfaction, we send surveys to randomly selected patients after their appointments. We use this feedback from the surveys to improve and enhance the care we offer. Learn more about our surveys & ratings
Average Rating: 4.8 out of 5.0
---
Apr 27, 2023
I love the experience I and my mother get from Dr. Paul she is amazing and help with our needs
---
Apr 27, 2023
Always professional and concerned
---
Apr 27, 2023
Provider forgot to get nurse to clean ear wax- had to go find someone.
---
Apr 17, 2023
I have found Melissa to be very kind and friendly. She takes the time to explain and listen. I have been very impressed with her.
---
Apr 13, 2023
Dr Paul took my concerns seriously and responded in a reassuring manner
---
Apr 7, 2023
Everything was fine.
---
Apr 6, 2023
Best doctor and support staff I have ever had!!
---
Apr 3, 2023
Melissa and all staff has always been friendly and courteous - this includes the front desk.
---
Mar 21, 2023
I absolutely love my Dr she spends time and cares about my needs and medical issues thank you!
---
Mar 16, 2023
Everyone is nice and very professional. They care about your wellbeing.
---
Mar 16, 2023
Has just taken more than 24 hours for results from an x-ray to come through.
---
Mar 16, 2023
Dr. Paul is friendly and attentive. This past visit, she was rushed.
---
Mar 3, 2023
Several visits had an intern involved. This made the visits significantly longer and involved me answering questions multiple times. I think this affected my provider's patience and my time with her felt rushed.
---
Mar 2, 2023
My first visit with NP Melissa Paul
---
Feb 28, 2023
She cares and always willing to help one of the best doctors I've seen in a long time.
---
Feb 21, 2023
Melissa is the best!
---
Feb 20, 2023
I'm very happy with Melissa Paul and her assistant.
---
Feb 16, 2023
She did the best she could with the time she had.
---
Feb 13, 2023
Dr Paul is very easy to talk to. She is thorough and professional. I feel comfortable with her advise and referrals
---
Feb 13, 2023
Listened and answered questions. Provided refferal as needed.
---
Feb 9, 2023
It was all good.
---
Feb 9, 2023
My visit was very comfortable and went smoothly. All questions were answered and provided as as well as I needed.
---
Feb 7, 2023
Melissa Paul is a very skilled, kind, knowledgeable & all around excellent primary care provider. I'm lucky to have her as my provider.
---
Feb 7, 2023
Melissa is a great listener . I believe she is intuitive about what an individual 's health concern might be. She has a relaxing demeanor and I did not feel rushed through my appt as a new patient. I believe she is a kind and caring heath care provider.
---
Feb 3, 2023
Melissa is very understanding and empathetic. I didn't feel like I had enough time to address certain issues during the visit.
---
Feb 3, 2023
I felt that my DR ASKED THE RIGHT QUESTIONS.
---
Jan 31, 2023
Melissa is very kind & caring.
---
Jan 27, 2023
Very pleased with our choice as new PCP
---
Jan 26, 2023
I had a very good experience
---
Jan 24, 2023
Very personable and patient. Answered all questions.
---
Jan 16, 2023
Melissa Paul is a great listener and has good health solutions, thank you!
---
Jan 13, 2023
I really like the online check in.
---
Jan 6, 2023
Excellent, caring experience.
---
Dec 27, 2022
I was treated with the upmost respect and have the utmost confidence in the physician and the staff
---
Dec 22, 2022
First time seeing her. She was an excellent provider, was an excellent listener, and provided excellent care.
---
Dec 15, 2022
This was my first visit with NP Paul and she made me feel very at ease and addressed all my concerns. She made an excellent first impression.
---
Dec 7, 2022
She is an excellent provider. She knows and does her job in a professional manner. Some people like to go to doctors instead of an NP.
---
Dec 6, 2022
I have a great relationship and confidence with Melissa and legacy . Your Covid support line was beyond exceptional. I cried tears of gratitude when they helped me and followed up. All your team members deserve the highest praise and respect for the work on the Covid line RNs and Pharmacy!!!
---
Dec 5, 2022
Melissa Anne Paul did a good job. I really like her. She's a good doctor/nurse.
---
Dec 2, 2022
Excellent appointment, however, would like to have comments from test results.
---
Nov 29, 2022
Dr. Paul is one of the best doctors I have ever had she listens she's helpful and very respectful I'm glad I have her and thank you for having good nurse advice when I have a question they always seem to be willing to help and try to solve the problem thank you
---
Nov 28, 2022
Phlebotomist was very capable and informative
---
Nov 23, 2022
Melissa is the best! She's so kind, attentive, personable, and cares about me as a whole human not just a patient. She showed care for my personal life and emotional state, which means a lot!
---
Nov 21, 2022
Top of the line
---
Nov 18, 2022
Ms Paul is very personable, business like and professional. She answers your concerns and did a thorough exam
---
Nov 17, 2022
Melissa Paul is very personable and caring. She listens and makes sure I understand her advice and makes sure all my questions are answered.
---
Nov 15, 2022
Excellent care by NP Paul, her nurse and the entire staff.
---
Nov 11, 2022
She is very easy to talk to and is genuinely concerned about you health.
---
Nov 10, 2022
Love Melissa./..she is knowledgeable and take enough time nut doesn't waste it.
---
Nov 8, 2022
I feel taken care of when working with Melissa Paul. I do NOT like when other providers through Legacy Health continuously push me to get the COVID-vac. Overall great service!
---
Nov 7, 2022
This was my first visit with this provider because my other provider left. I wanted to establish care but I also came in with chest pain, which I told her about. She dismissed it as a reaction to a steroid injection I received days prior but I felt she should have listened to my heart or done an EKG. I ended up having to go to an urgent care four days later because I still had chest pain and they did an EKG. I am going to find another provider because she also ordered blood work and there are abnormalities that I feel should be taken seriously and she is not.
---
Nov 7, 2022
Before I left the office, I did ask the nurse since was my one year check up before I left the room. I said to the nurse I noticed that one of my prescriptions was not on that check out sheet she said call the pharmacy and they will contact them for a refill. The problem was is the Reefe feel the original prescription for my one medicine was from a doctor in Arizona, so I had to call back the office to let them know that this needed to be a prescription through them. This was a hassle for me because it took time to find out from the pharmacy that I had to have this done through the doctor when I could've did this in the office before I left, they would've been more helpful for me so if they would look over the prescriptions and make sure that the doctor is taking care of all of my prescriptions that I need in the future, this would be helpful. Thank you.
---
Nov 4, 2022
I've already recommended this provider. She's great. Listens well. Also, she's very good at using/answering my questions through the my health portal. She's great!
---
Nov 3, 2022
Very happy with the attention and interest she shows.
---
Nov 3, 2022
Had a good visit. Ms Paul had obviously reviewed my records and she asked for my feedback on my health issues. She was very respectful, articulate and efficient. The only issue I have was how long it took to get this appointment to get in to see Ms Paul after having to transition from Dr Abney. Support and admin staff were all great also.
---
Nov 1, 2022
No bad comments, she was very informative answered my questions. I felt good leaving the office.
---
Oct 25, 2022
Dr. Paul is very easy to communicate with and seems to care about my concerns.
---
Oct 25, 2022
Has a caring bedside manner. She is a good listener and was thorough in her examination explaining what she was doing. Very professional!
---
Oct 25, 2022
Very friendly office.
---
Oct 24, 2022
I think of a wellness check as the same as a physical. After I left I thought, she did not check my breasts for lumps, listen to my heart, check my ears and while it may or may not be necessary do a pelvic I guess I am wondering why these things did not happen.
---
Oct 21, 2022
Everyone was very friendly and courteous
---
Oct 18, 2022
Not happy with the x-ray services. If you are interested , a supervisor may contact me. Thanks
---
Oct 18, 2022
From the time I entered the doctors office the receptionist, the nurse And the provider I saw were absolutely excellent and I felt so good when I left the office:)
---
Oct 17, 2022
I like Legacy and the providers associated with this facility. People are always very kind and respectful.
---
Oct 14, 2022
I absolutely love my primary provider she's kind and listens to my concerns. Thank you
---
Oct 11, 2022
Liked Melissa -it was first time meeting her. I was very pleased with her and her nurse.
---
Oct 6, 2022
I have only been going to Melissa Paul as my PCP for about 2 years. We are learning how to work with each other and I am encouraged with how we are progressing. As a result of this visit, she referred me to a clinical pharmacist within her internal medicine group due to the complexity of the medications that I take for treatment of cancer. The referral to the clinic pharmacist was an excellent call by Melissa Paul.
---
Oct 3, 2022
I like Melissa. She pays attention & listens. I was happy with her concern & her willingness to change my meds to better manage my pain.
---
Oct 3, 2022
Listened and had previous records available
---
Sep 29, 2022
Melissa Paul is always respectful, kind and attentive.
---
Sep 29, 2022
I would recommend including the building platform level and which suite number your appointment would take place. I'm almost late to most my appointments trying to figure out where to go.
---
Sep 27, 2022
Always look forward to seeing my precious Dr Paul!!!!
---
Sep 26, 2022
VERY good! Answered all questions & took care of my problem.
---
Sep 26, 2022
Generally good.
---
Sep 20, 2022
Melissa Paul is excellent. I have total confidence and trust with her as my primary caregiver. Her nurse assistant Jessica is also to be commended as well.
---
Sep 19, 2022
Was the usual visit, fast but very in depth and things were taken care of. Proud of my dr and her staff
---
Sep 7, 2022
Dr. Paul is always pleasant and engaging. She looks at me when I speak, and answers my questions. I feel a high level of trust.
---
Sep 6, 2022
Melissa Paul has been an awesome doctor for my partner and I. She is assessable and helpful.
---
Aug 26, 2022
I expressed medicalConcerns, she tried to get me to take a medication I wasn't comfortable with, I said how about if you give me a Referal to a specialist for a second opinion she said no I'm not allowed to do that unless you take this medication for 30 days. Which is lie, my insurance doesn't require a Referal anyway. She just didn't like that I wanted a second opinion from a specialist. I wanted to find out what was wrong with me not take a pill to cover it up and ignore the issue for 30 days then she said ok well then o can't work with you anymore then fired me as a patient. She did the same thing with someone I'm a poa for where she insisted it was one problem we siad no it's not that and we found a specialist and they figured out the problem and gave the RIGHT prescription. We tried to tell her it was not the issue she thought it was because but she didn't listen. Normally she's great but not all clients are just there to take a pill and cover up issues. Some patients like myself want to get to the root of the issue before they start trying a bunch of different pills
---
Aug 23, 2022
I didn't think I would find another Dr that is a thorough as Dr Abney but I am satisfied with Dr Paul. She is friendly and professional. She is patient with all my questions. She is attentive to my medical needs
---
Aug 22, 2022
For my situation, she referred me to a specialist to check my condition.
---
Aug 22, 2022
Provider listened well and we are trying the least invasive solution and then stepping up to the next idea if we don't get the results needed. I like this approach.
---
Aug 19, 2022
Melissa is great, thorough and very attentive.
---
Aug 19, 2022
What a wonderful professional provider Melissa is!
---
Aug 15, 2022
I am newer to this office. I haven't yet developed a report with my provider. She's intelligent and personable but I often feel like I'm inconveniencing her, I'm rushing her. And sometimes It seems she focuses on one thing I say and misses the heart of my need. I really like that she's well rounded and I can get all my health care needs basically covered in one office.
---
Aug 11, 2022
I am happy with my provider.
---
Aug 9, 2022
Melissa always listens and treats me well.
---
Aug 9, 2022
Ms Paul is a good listener, explains everything very well. She's an excellent health care provider.
---
Aug 8, 2022
I get excellent healthcare here !!!!!!!
---
Aug 5, 2022
She should refer to her chart notes prior to going over test results- had she read her own notes, she wouldn't have given conflicting information regarding a prescription I was to take.
---
Aug 2, 2022
Melissa Paul spent a generous amount of time with me, discussed each of my questions, and treated me as a very important patient.
---
Aug 2, 2022
Visit was great.
---
Aug 2, 2022
Very attentive listener and clear on recommendations
---
Aug 2, 2022
I come back to see Dr Paul because I feel very comfortable with her. She always listens to me and answers all my questions. Dr Paul lets me know if we need to change my medicine and why. I have told friends who are looking for a new dr about Dr Paul and will continue to do so. The receptionist lets me know If there Is any information that has been changed and explains everything to me. They get me check in, in a timely manner.
---
Jul 28, 2022
Why have people sign endless extra cost waivers? This is frankly alarming (my first thought was why am I being asked to sign a waiver for a service I know should be covered? I had to call insurance from the waiting room just to verify office staff didn't know something I didn't about my coverage - which was not the case), and patient liability for costs not covered by insurance is already included in the COR. I was asked to sign 2 different waivers AND the COR for this visit.
---
Jul 20, 2022
This provider is new to me - my regular provider moved to Oregon -
---
Jul 8, 2022
Ms. Paul is a very good listener. So important! I knew I was heard when discussing a problem of continuing joint inflammation in multiple areas that is keeping me from being safe (falls & ongoing risk), daily pain which is worse in the wee hours of the morning, and having trouble with some of my ADL's. I have been very discouraged and even despondent for this much pain. Ms. Paul identified two medications I take that can contribute to this as well as cognitive issues. We agreed I would stop those 2 meds and come back in 2 weeks to check in with her. In the 1st week, I was seeing appreciable reduction in my pain. I walked into my P.T.'s office for my appointment 6 days into this 2 week period and she could tell I was doing better by the way I walked in the door! I feel so lucky that I made the choice to go to Ms. Paul after my previous internist left the practice 7 months ago. She's just terrific!
---
Jul 7, 2022
Melissa Paul is professional, attentive, and personable!
---
Jul 6, 2022
Ms. Paul is easy to talk to, answered all my questions and my prescriptions were ready when I went to pick up after visit
---
Jul 1, 2022
She was great! I am very happy with the visit. She listened and set up other appointments to meet my needs.
---
Jun 22, 2022
Melissa Paul is a gem. Highly skilled, caring and compassionate. Excellent communicator too. I soappreciate her fine qualities. I always feel cared for when I need to see her.
---
Jun 22, 2022
I was very pleased that I was able to have an EKG and lab work done without leaving the exam room. Melissa was great, and so was Bethany. Both were very helpful in getting things done to send to the surgeon's office.
---
Jun 22, 2022
Specialists I have been sent to have still not diagnosed and offered any solutions to problems related to structural changes from a high pressure ischemic event that cause issues with proper drainage from my head at night. Because multiple specialist doctors have not followed up with proper testing to provide a diagnosis, my primary care doctor treats me as if the symptoms, which continue to leave me in a very bad cognitive condition after sleeping for 3-4 hours, are not real. The more comments I have in my medical record, which is shared with all medical providers, the less likely I am able to get a specialist doctor to give my condition any attention.
---
Jun 21, 2022
This visit went really well!
---
Jun 17, 2022
Since this was my visit with her, I noticed that she was well versed in my medical history. She took time to get to know me. I feel very confident that my health care needs are in good hands.
---
Jun 14, 2022
They were very good
---
Jun 14, 2022
Post hospitalization follow up visit. Spent more time with trainee than primary care. Was not offered any information hospitalization and only asked if I had any questions. Not very efficient when feeling overwhelmed.
---
Jun 9, 2022
She was very rushed although I was on time for my appointment. When the appointment was made I said It was for an assisted living form and a referral. She hurriedly completed the form. She refused to talk about the referral saying if she gave it she would have to follow it and she is not my regular doctor, but I can't get into my regular doctor until September.
---
Jun 7, 2022
Melissa is very knowledgeable & care centric. I did recommend her to friends who are also very pleased with her level of expertise & approach to patient care
---
Jun 3, 2022
I had a really good experience. I felt like I had visited with a trusted advisor, who had an overall interest in me and my well being.
---
Jun 3, 2022
Provider was ok. Her assistant has been way below standard in my two visits. I would not recommend the provider because of her assistant and will choose another provider next visit if her assistant is still there.
---
Jun 2, 2022
No complaints
---
May 31, 2022
1st time visit with this provider.
---
May 31, 2022
The front desk one gal seems to get confused calls for things then calls back ir if I call not sure accurate message. She also gave appointment to someone else then who I asked . So love the nurses doctors interns but front desk could use some work
---
May 31, 2022
Fast, efficient and very approachable. Keep up the good work!
---
May 31, 2022
Always informative and easy to understand. Explains what she is doing and steps needed to take.