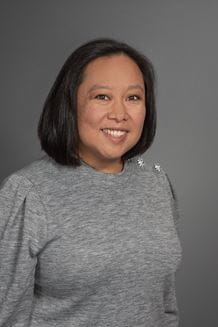 Call to Schedule
Mary Frances Therese L Lowdermilk, MD
My Specialties:
Family Medicine
Affiliations:
Meridian Park Medical Center
Where I see patients
Where I see patients
503-692-2388
Monday-Friday, 8 a.m.-5 p.m.
About Me:
Mary Frances Therese L. Lowdermilk, MD is a board certified Family Medicine Physician. Dr. Lowdermilk received her medical degree from the University of the East Ramon Magsaysay Medical Center in the Philippines. She completed her internship and residency through the Alaska Family Medicine Residency Program in Anchorage, AK. She enjoys treating patients of all ages and works closely with her patients to fulfill their health and wellness goals together. Hobbies include: photography, traveling and learning new crafts.
Training: Family Medicine Residency Alaska Family Medicine Residency Anchorage, AK
Year I Started Practice: 2010
Hospitals Served: Legacy Meridian Park Medical Center
Patient Rating
Legacy wants every patient to have great care, every time. To help measure and improve patient satisfaction, we send surveys to randomly selected patients after their appointments. We use this feedback from the surveys to improve and enhance the care we offer. Learn more about our surveys & ratings
Average Rating: 4.9 out of 5.0
---
Apr 26, 2023
The only reason I seek any medical care from Legacy Health is the fact I like Dr. Lowdermilk. Legacy is a shell of what it used to be.
---
Apr 10, 2023
Always helpful, listening well to all concerne & when they can't help they referendum to someone who could.
---
Apr 3, 2023
My experience was wonderful! Small amount of waiting time, but staff doctor even other patients waiting. Everyone seemed very pleasant!
---
Mar 29, 2023
Dr. Lowdermilk is a wonderful doctor. She is easy to talk with. She is very knowledgeable and kind.
---
Mar 23, 2023
Very professional & courteous.
---
Mar 22, 2023
When I was asked to take my shoes off for height measurement I asked do I have to?! She said yes. There was no chair to sit down to do this. So I had to bend down. She didn't offer to hold the tablet with papers while I did this. So I handed it to her. I then had to walk with my socks on holding my shoes to waiting room. Later in the day I developed a back ache from bending down. I am tall so it was awkward bending down. I don't see it being necessary to take shoes off. If so have a chair at this area. I won't be taking my shoes off again at next annual wellness appointment.
---
Mar 22, 2023
It was a good visit, and got a lot accomplished. Dr. Lowdermilk is an exceptional doctor! She is always making sure all my needs are met. I am very glad to have her as my primary Dr.
---
Mar 8, 2023
Dr. Lowdermilk listens to me and about my concerns and about my physical aches & pains. She is very informative & gives me satisfactory answers. She has been very patient & kind to me.
---
Mar 8, 2023
I have always been pleased with the doctor's and receptionist -
---
Mar 6, 2023
My appointment was at 3 pm and the provider came into the exam room at 3:40pm, so the wait was pretty long. I do understand things happened, but that was quite a long wait. The provider did apologize for the inconvenience.
---
Mar 1, 2023
Not so much my visit it would behoove you, doctors to fill, refill all year long presriptions for med for 90 days instead of 30 it's a real hassle to refill thyroid meds cause ain't got none (thyroid) to refill each friggen month.
---
Mar 1, 2023
She was informed, compassionate, & receptive.
---
Feb 27, 2023
I feel very comfortable talking yo Dr. Lowdermilk. I love how she makes me feel at ease. She answers my questions and looks to the future in my care. I really appreciate that approach.
---
Feb 27, 2023
Everyone treated with courtesy, respect, politeness, and professionalism. This was just another positive medical experience provided by the Legacy Clinic staff!
---
Feb 22, 2023
Lab staff hard to understand
---
Feb 20, 2023
Dr. Lowdermilk has good bedside manner.She explains things in a layman's language.
---
Feb 16, 2023
My doctor listens to me and we discuss exactly what we want to accomplish at the appointment
---
Feb 16, 2023
Dr. Lowdermilk is awesome. She takes time to listen to my concerns and helps me navigate my health and well-being issues.
---
Feb 16, 2023
A very professional visit all questions answered at the time good good relationship with Dr Lowdermilk
---
Feb 15, 2023
Love the staff and Dr. Lowdermilk. Attentive, patient and have a warm personality. She is in tune with my issues
---
Feb 9, 2023
Very attentive, caring, kind.
---
Feb 6, 2023
Although I've seen Dr Lowdermilk 2 times she is makes you feel very comfortable asking question. I've already recommended her to 2 people I know.
---
Jan 19, 2023
Everything went well with my appointment.
---
Jan 19, 2023
Annual checkup Fun visit, focused on good health..Dr Lowdermilk asked me to have blood draw to check for cholesterol level, kidneys etc.
---
Jan 12, 2023
I like my doc.
---
Jan 11, 2023
Dr Loudermilk is very through and anxious to help! I felt that she took the necessary time and was very professional!
---
Jan 11, 2023
My first visit with her. She was respectful, concerned with questions asked and helpful.
---
Jan 9, 2023
Dr Lowdermilk is a very good doctor, she cares about her patients and how they are doing.
---
Jan 9, 2023
Dr. Lowdermilk is a REAL DR.! I feel she is very up to date in her medical knowledge. Very easy to talk to. A KEEPER.
---
Jan 5, 2023
She was VERY patient and answered MOST of my questions, but there were questions noted by the nurse that I simply forgot about until after the appointment. No big deal, just noted.
---
Jan 4, 2023
Only problem I had is it takes so long to get an appointment. My visit was cancelled and rescheduled two times in the interim I got another doctor to answer my questions.
---
Dec 28, 2022
Hard to schedule a visit.
---
Dec 28, 2022
This was a first visit with Dr. Lowdermilk since my former primary physician retired in July. She was very professional, but very attentive and concerned about addressing any issues I had with my health. I really liked her and am so pleased that she is my new primary physician.
---
Dec 15, 2022
It was all good like I said she is very helpful, informative, and moral boosting due to diabetes I needed it.
---
Dec 15, 2022
I am concern about your staffing levels and patient/doctor ratio...
---
Dec 12, 2022
This was my FIRST visit with Dr. Lowdermilk so I can NOT really give a perfect description of her service to me. Maybe 2 or more visits, I will be more precise in my comments about her. Thank you!
---
Dec 8, 2022
Dr Lowdermilk and Maggie and everyone were fantastic.
---
Nov 28, 2022
Waited 10 mins in the reception area, then another 10 mins waiting for the doctor then another 10 mins or so for my blood draw. All seemed a little excessive.
---
Nov 28, 2022
I had hearing issue, they removed some hardened ear wax during the visit. Which took some extra time.
---
Nov 9, 2022
I always have a good visit with Dr. Lowdermilk. She answers my questions in an easy to understand manner. I'm very lucky to have her as my doctor.
---
Nov 9, 2022
She was very compassionate, listened to my concerns, made recommendations, and had a Behavioral Specialist speak to me.
---
Nov 9, 2022
All good, no bad.
---
Nov 8, 2022
Thank you for getting me an app't within a day for an infection that an antibiotic was needed.
---
Nov 8, 2022
She was very attentive and was able to answer my questions.
---
Nov 3, 2022
We had a good talk abut the problems I had and what would be the best way to care for them. I had a positive feedback from her and felt good about our meeting . My BP 155/97 is of concern and being monitored my next app is in 3 weeks.
---
Oct 13, 2022
Care always the best.
---
Oct 13, 2022
My poor experiences with this are related to, inability to access medical advise. Waiting days for a response. MA being confused and not passing on messages. Low staffing, I know due to covid but it has a negative impact on care.
---
Oct 13, 2022
Dr Lowdermilk is the best Doctor I've ever had. Very knowledgeable and caring, plus a wonderful personality
---
Oct 10, 2022
I felt comfortable, relaxed. Never rushed. Provider wanted to hear all that's been going on in my life. Had very helpful suggestions concerning pain management and pain relieving gels for my knee. Suggested physical therapy which I declined. Ordered an X-ray and possible MRI.
---
Oct 10, 2022
For a first visit with a new doctor, I was very pleased with the time she spent with me. My doctor retired and it was a long wait to get an appointment with a new doctor but luckily I had no health issues during the 3 month wait.
---
Oct 3, 2022
Other than a little bit longer wait to go in to start my appointment everyone was kind and understanding when asking how much longer and then once I was in and started the visit it just wiped it all away because this doctor is so kind very good at listening and understanding I just can't say enough about how awesome she is!
---
Sep 29, 2022
When I read the report from my blood work, I was surprised to learn that this doctor only sees patients two days a week. We are new patients for her, but this seems extreme.
---
Sep 26, 2022
RC cell ent in every way
---
Sep 26, 2022
Mary was very knowledgeable about my medical history and l was actually very impressed how interested she was me and my mental and basic health. It was fun.
---
Sep 21, 2022
Took time to listen; very approachable & responsive.
---
Sep 21, 2022
Dr. Lowdermilk and team are both professional, knowledgeable and proficient in the discussions and diagnoses
---
Sep 15, 2022
Dr. Lowdermilk seems like a good physician but looks like she has to many patients and is dealing with her own health issues at the moment. I need an internist, but your clinic only give me one choice for one and he was male. i want a female internist.
---
Sep 15, 2022
I feel very confident having Dr Lowdermilk as my medical doctor. She is amazing
---
Sep 8, 2022
Nice first meeting
---
Sep 8, 2022
The appt. went well.
---
Sep 8, 2022
Dr.Lowdermilk is an excellent listener. She instills confidence and gives comfort in her warm caring manner .
---
Sep 8, 2022
Dr Lowdermilk is very easy to talk to and she is very friendly.
---
Aug 25, 2022
I know that doctors are overloaded right now, and I really appreciate the time Dr. Lowdermilk took to go over my health concerns and followed up with me when my test results came back. I also like that she has me schedule my next appointment when I leave so I know exactly when I'm going back and what we'll go over in the next appointment.
---
Aug 24, 2022
Dr. Lowdermilk is one of the best doctors I have ever been associated with. She Is positive, prepared, professional, knowledgeable, Informative, caring, and supportive! She Is everything you could ask for and ecxpect from a high quality doctor.
---
Aug 18, 2022
Horrible time with lab-draw! Scarry, in fact!
---
Aug 11, 2022
I really like this doctor
---
Aug 10, 2022
It was great!
---
Aug 10, 2022
Dr. Lowdermilk didn't seem willing to take initiative to address my medical issues. When I identified I was still experiencing significant pain or discomfort in lower abdomen after sepsis and ruptured gall bladder, she didn't say or di anything. When I said my bones hurt, she did nothing. When I said I was gaining weight again but my insurance denied any nutritional help, she couldn't even provide some basic calorie and or min nutritional guidelines She sort of offered 1 weight loss medication but made it sound so terrible and expensive, I just said forget it. I just walked out of the office completely determined to find a new PCP and clinic as svcs have been terrible.
---
Aug 9, 2022
No bad experiences, Dr. Lowdermilk is a very caring doctor, she doesn't give up until she solves any issues.
---
Aug 8, 2022
She always seems to care sincerely about me and give answers to questions.
---
Aug 8, 2022
From the second I walked in the door everyone was so nice,kind and helpful. My Doctor is my hero..I trust my life in her hands..look forward to working with her on my health issue....I believe she will fix me
---
Jul 27, 2022
Answered all my questions
---
Jul 27, 2022
It was a good experience. Dr. Lowdermilk answered all my questions.
---
Jul 25, 2022
Dr. Lowdermilk was very professional. Listened to my concerns. Went over my medications andSaid it was definitely possible to increase one of my prescriptions and said to set up a 3 month follow up. Discussed procedures I needed to update.
---
Jul 25, 2022
Positive appointment. Dr. Lowdermilk was knowledgeable and helpful and courteous.
---
Jul 25, 2022
Very good medical team.
---
Jul 14, 2022
Every time she contacted the pharmacy about my meds, the pharmacy would immediately call & say I have 6 prescriptions ready for pick up. I told her twice not to call them, but..... very little time spent!!
---
Jul 6, 2022
She was very thorough, asked questions, listened to me.
---
Jun 29, 2022
Modivated to loose weight
---
Jun 29, 2022
I am extremely happy with my provider and I feel good about her care for me. She takes extreme care in what my needs are for my physical and mental health issues. My overall experience with Legacy Health since I switched from other heath groups I feel Legacy has been the best care and choice for me. With out Legacy Health I believe I would not be getting the proper care that I need today. Especially when living as a senior and on disability SSI. Legacy has helped me with need of food and also with mental health issues. Legacy shows nothing but compassion and kindness and with professionalism that to me shows how much Legacy Health really cares even the Hospital and Special dr's and Surgeons in my past history has the best care ever. I will never go back to Providence or OHSU poor past experience with those were not for me. Thank You Legacy for not only saving my life. But for also saving my Partners life several years ago. He almost died you saved his life I am forever grateful for that.
---
Jun 20, 2022
Listens carefully to what you are telling her.
---
Jun 16, 2022
While Dr. Lowdermilk was great, the while experience for both my kids was terrible. We had recently switched to Dr. Lowdermilk as our new primary care physician, with the understanding that she was part of a children's clinic. This was incredibly confusing as we walked into the building and there was absolutely nothing to draw kids attention, help with wait time, nothing child oriented. We waited at least 15 minutes to be seen, as we went through the appointment it was clear that staff wasn't entirely ready. Certain materials took longer to find such as the audiology exam machine, it took a while to get the vaccines ready, and it seemed as if the eye exam was something new to the person helping us. All in all, from the time we started our appointment to the time we left was two hours! With nothing to help children to be comfortable, relaxed, feel safe in this environment. I have since learned that you guys are not part of the children's clinic, which is clear now, but very confusing. I would much prefer to be In a clinic that works directly with children and provides an environment of courtesy and friendliness and warmth to help the experience. Not to mention more timeliness. Again, Dr. Lowdermilk was great but the whole experience itself was not.
---
Jun 16, 2022
This was my initial visit to this provider and facility.
---
Jun 9, 2022
Have to wait way too long to get an appointment. Also, if an emergency to talk to doctor you have to leave message.
---
Jun 8, 2022
Very good I'm very satisfied with this provider except she is very busy.
---
Jun 8, 2022
Office called to offer me one of my Rx brought from Kaiser to a form covered by my new Humana insurance.
---
Jun 8, 2022
I am very happy with my Primary, Mary Lowdermilk. Best Dr Visit ever.
---
Jun 2, 2022
Dr. is very thorough, asks questions.