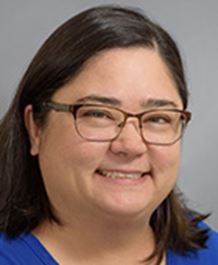 Call to Schedule
Kar-yee Wu, MD
My Specialties:
Family Medicine, Board-certified
My Areas of Focus:
Adolescent Medicine (12 and up), Complete Women's Health, Family Medicine
Affiliations:
Legacy Health Partners
Where I see patients
Where I see patients
503-635-2497
Monday-Friday, 8 a.m.-5 p.m.
About Me:
I am excited to be practicing close to where I live. I enjoy reading, cooking, knitting, and traveling.
Education:
Residency: University of Connecticut
Medical School: Tufts University School of Medicine
Bachelor of Arts: Swarthmore College
Year I Started Practice: 2002
Hospitals Served: Legacy Meridian Park Medical Center
Patient Rating
Legacy wants every patient to have great care, every time. To help measure and improve patient satisfaction, we send surveys to randomly selected patients after their appointments. We use this feedback from the surveys to improve and enhance the care we offer. Learn more about our surveys & ratings
Average Rating: 4.9 out of 5.0
---
Nov 14, 2023
Doctor Wu checks all the regular boxes but her special appeals are first her charming and disarming "bed manners" and second her thoughtful inclusion of non-pharmaceutical treatments in her recommendations.
---
Nov 14, 2023
A small office with excellent staff. Easy to get to and plenty of parking.
---
Nov 13, 2023
Dr Wu is always very friendly and thorough
---
Nov 9, 2023
Most of Dr's time is spent with the computer. She is listening but not with her full attention..
---
Nov 7, 2023
I have always had good instructions and but don't always follow what I am supposed to do. I am still strong and can do anythingI want to do...........
---
Nov 6, 2023
I feel that the staff with whom I interacted were all pleasant and attentive. Very professional.
---
Nov 6, 2023
Dr. Wu is a very caring and calming doctor
---
Oct 19, 2023
Dr. Wu listens and gives great, honest feedback. I feel comfortable talking to her about any issues I have.
---
Oct 17, 2023
She seems to read my mind. Also she listens, never rushed, and is so very informed and gets referrals sent if needed ASAP
---
Oct 17, 2023
I have recommended this provider to others
---
Oct 12, 2023
I very much like having kar-yee wu as my dr. She is kind and understanding so I feel comfortable talking with her and feel confident in her responses and medical advice
---
Oct 10, 2023
I would like to get my pain medication on time this is very important and for whatever reason I feel that it's not taken very seriously.
---
Oct 6, 2023
Dr. Wu is EASILY a top 1% provider. I would gladly have her to my home for dinner or other. She is amazing. She cares for me and two of my family members. I am so incredibly pleased that I have such a top notch provider. In addition, Dr. Wu is a real human. She cares. She laughs. She is real. The world would do well to have a LOT more like Dr. Wu.
---
Oct 5, 2023
As always, I am very impressed with my provider and her assistant...very approachable, listens well, answers concerns..am a grateful patient.
---
Sep 29, 2023
Time to discuss was excellent. She ordered tests, and made referrals to address my needs. Love her!!
---
Sep 27, 2023
I received excellent care. I am very grateful for the attention and time Dr. WU gave to solve the issue.
---
Sep 25, 2023
The doctor seemed a bit curt with me in the beginning but warmed toward me at the end of the visit.
---
Sep 22, 2023
Dr Wu is so approachable, knowledgeable and helpful. Best provider I have ever had!
---
Sep 20, 2023
First dose of Shingles vaccine was given but we were NOT told about the possible side effects or after care of the vaccine
---
Sep 19, 2023
Dr Wu is the best! Kind, empathetic, reassuring, and pragmatic.
---
Sep 13, 2023
Amazing team, friendly and efficient receptionists, thorough and friendly MA, and probably my favorite doctor I've ever had
---
Aug 30, 2023
Nice clinic. It's just not easy to get right in for non-urgent visits... Which is kind of normal for doctors these days I guess. Overall I like the clinic and staff
---
Aug 30, 2023
Everyone at the clinic are wonderful. Friendly, helpful and prompt. Patty is always great. Becca is very nice. Dr. Wu's PA was friendly and helpful. Then there is Dr. Wu, she is wonderful! She shows great concern and offers excellent input. She has a sense of humor that makes the visits easy and comfortable. She always offers suggestions and explains things well. She is very concerned on my care and medical situation. I would recommend her to everyone I know! : )
---
Aug 29, 2023
Dr Wu is the best Dr I have ever had. She's attentive, caring,has humor and always listens to any questions or concerns that I might have.
---
Aug 25, 2023
Very much appreciate the team at Lake Oswego, especially Dr. Wu
---
Aug 22, 2023
Everyone that I dealt with was attentive and knowledgeable.
---
Aug 16, 2023
My experience at the office with all the employees is always GOOD. Thanks for all the professional contact.
---
Aug 14, 2023
Dr. Wu is always friendly and thorough.
---
Aug 9, 2023
Office help is always friendly and courteous. Dr Wu is easy going and friendly with a good sense of humor. Really nice clinic with great people.
---
Aug 8, 2023
I have recommended Dr. Wu to many friends! The office is well-run and efficient. I feel safe/comfortable going there.
---
Jul 19, 2023
I felt rushed through. I was told my medical concerns were not able to be addressed during routine physical visit. We discussed things as an additional visit, but I was not able to ask about all of my concerns. I'm curious as to why it seems that separate appointments need to be made for all of my different issues. My medical issues are not severe, so it worries me about people who have multiple health concerns. I have attended appointments with my spouse and my parents where they were able to discuss multiple medical concerns and receive referrals and treatment options at the same time.
---
Jul 18, 2023
I am thankful to have Dr Wu as my family DR.
---
Jul 12, 2023
Dr. Wu is the best! I wouldn't go to anyone else! Always so compassionate and respectful.
---
Jun 30, 2023
She is ALWAYS kind, thoughtful, compassionate, caring, and thorough. It has been hard to book an appointment lately because of staff shortages, but for routine care I prefer to wait to see her if necessary.
---
Jun 21, 2023
Dr Wu is wonderful
---
Jun 7, 2023
I was very happy with my appointment. Dr Wu listened to my concerns and addressed them to my satisfaction. I feel like she is present to me as an individual and I'm not just another set of lab results. It feels like she is on my team helping me maintain good health and function.
---
May 23, 2023
Dr. Kar-Yee-Wu is always so easy to talk to and l am so impressed with her great knowledge. I feel so blessed to have her for my Primary Care Physician . The nurse and all the office staff make me feel welcome and very comfortable to be there.
---
May 19, 2023
Dr Wu is easy to talk to and she is good about educating about different medications and health concerns.
---
May 19, 2023
Dr. Wu is simply amazing. She listens, makes Me feel comfortable and doesn't sugar coat things. I want her as my primary physician forever!
---
May 19, 2023
This visit was much better than my last one a couple of months ago that seemed rushed. The office staff was friendlier this time. The receptionist is still a bit stiff, but she gets the job done. Dr. Wu is a very good doctor and very personable.
---
May 17, 2023
I'm extremely impressed by my provider's ability to make me her priority during the visit; her knowledge and listening skills are on point. Her assistants also work well together.
---
May 5, 2023
Office staff were friendly and efficient in checking me in. Dr. Wu's assistant talked to me in the examination room, and I described the questions I had that day. She suggested I get a Covid booster, something I hadn't though of. I was very grateful to her for bringing that up and I got the shot. Dr. Wu listened patiently to the issues I wanted to discuss with her. She provided honest, thoughtful responses to all my concerns and based on our discussion, provided a recommendation for a follow-up visit with a urologist. Legacy subsequently contacted the urologist's office, who called me to arrange a visit. I've always been very happy with Dr. Wu's friendly, fully Informed, and direct approach. I have full confidence in entrusting my health to Dr. Wu. She's awesome!
---
May 3, 2023
I have recommended this office to friends and coworkers. They also have positive reports and have made their own recommendations to family and friends
---
May 2, 2023
I forgot to ask about getting cleaned and went back the next day my ears did not need cleaning so I left
---
Apr 24, 2023
Dr Wu is always friendly, professional, and considerate. I like her style
---
Apr 21, 2023
I was offered the blood draw for my labs to be in while in the doctor's office, and to receive the latest Covid booster as well, which I gratefully accepted
---
Apr 21, 2023
Dr Wu and her assistants are fantastic. Dr Wu not only listens but hears my concerns, helps relieve me of any and patiently explains how to resolve these concerns. She has a great sense of humor which makes one's shoulders relax. I appreciate her time, help and patience so much and feel grateful to have found her. Not long ago I was sharing how happy I was about Dr Wu and this person asked who my doctor was. When I told him that my doctor was Dr Wu, he literally said, " I've heard she is great! My friends see her and love her!" Now this gentleman was a stranger so it was such a treat to hear his compliments which aligned with mine.
---
Apr 19, 2023
Everyone was very friendly and respectful of my feelings and needs.
---
Apr 19, 2023
Dr Wu is cheerful, thorough, a very good listener and I feel I am in the best of hands.
---
Apr 18, 2023
Dr Wu gave very good, clear explanations concerning my health concerns. We had a very productive discussion.
---
Apr 7, 2023
Doctor Wu is consistently excellent and I have recommended her to many friends! Her assistant did a very very good job and the people at the front desk were friendly, warm and professional. I'm very happy with my medical care!
---
Apr 4, 2023
My visit was very positive. Left with information and a plan.
---
Mar 20, 2023
This was a new patient appointment, and I really appreciated the fact that everything I had on my list to discuss about my healthcare needs was almost exactly what the doctor addressed during my visit. I felt confident and secure in the knowledge that my doctor and her team had an effective and comprehensive system in place to ensure the best possible patient care. It's important to me that my care team is knowledgeable, attentive, and genuinely invested in me and my health, and although this was my first visit, it was a very good start. On a final note, I was also impressed that the MA was able to draw my blood in the office. It saved me from having to take a trip to the lab. So convenient!
---
Mar 17, 2023
Dr. Wu has a researchers mind and rather self aware doctor's beside manner. She relies on intelligence and humor to make me feel well and healthy even though she could see me as elderly and beyond need for top sensitivity. That is unique and makes her in demand in the industry. I hope she does continue with my primary care even though her calendar is full and my needs are not great.
---
Mar 13, 2023
Dr. Wu is both professional and friendly. I do not feel judged when I see her, nor do I feel that my concerns or questions are unimportant to her. My only criticism is not of her, but the system. It is very hard to get an appointment
---
Mar 13, 2023
My provider is so pleasant and always is thorough and professional. This visit was a follow up as I have begun a new rx so she ordered new blood test, which I will schedule.
---
Mar 7, 2023
I am very pleased with all my medical providers. Also very happy with Meridian Park Medical Center.
---
Mar 7, 2023
Dr. Wu is amazing, very thoughtful and helpful.
---
Mar 7, 2023
Dr Wu is a caring, compassionate and informed provider. I trust her with my medical needs.
---
Mar 6, 2023
All good-Dr Wu is very easy to talk to and very knowledgeable & patient.
---
Feb 28, 2023
Seeing Dr Wu is always a pleasure. She really listens and always provides great advice.
---
Feb 27, 2023
Dr. Wu is a very caring and understanding doctor. I feel privileged to be her patient. I fully trust her judgment and recommendation.
---
Feb 22, 2023
Always very good
---
Feb 21, 2023
What I miss at Legacy A Avenue Lake Oswego is the on site Lab, which has been closed.
---
Feb 13, 2023
Preparing prior to engagement is valued.I love Dr. Wu. I would appreciate her refreshing herself prior to my visit and then engage with me during our visit.That would feel more genuine and personable.
---
Feb 6, 2023
Usually Dr. Wu provides great attention. However, she saw me for just a few minutes and didn't pay any mind to the medical records or concerns at hand. The receptionist also spoke poorly about fellow co-workers and were rude to me when I arrived on time in the office - Please be courteous. You never know what someone is going through. I'm going to change providers.
---
Feb 3, 2023
I have never had a problem with this provider. Although I have had problems with a certain provider in the past.
---
Jan 25, 2023
I highly respect this provider and am grateful I found her.
---
Jan 25, 2023
Excellent work done by Dr Wu
---
Jan 18, 2023
The doctor seemed disengaged, maybe dealing with her own issues, unlike past visits when we actually discussed my health. She seemed to be sticking to a very tight timeline and only addressed my pelvic exam, no other discussion about anything. As I was putting on my coat had to ask about one of the main issues I came in with as I was walking out of the door. I left feeling like I had done something to upset her or that I had to make her feel better, which couldn't be possible because I wasn't there long enough.
---
Jan 18, 2023
Nice office. Dr Wu is easy to talk to and she explains everything well.
---
Jan 18, 2023
Dr. Wu is AMAZING!!!
---
Jan 17, 2023
Lab work was ordered barely a week ago. I have not received a reminder however, I had no expectation that I would get a reminder this soon. Actually might even have been annoyed at having received one this soon. Definitely not a negative.
---
Jan 17, 2023
She is extremely helpful and personable.
---
Jan 6, 2023
The receptionist was much friendlier than a year ago - different person.
---
Dec 21, 2022
Dr. Wu is AMAZING!
---
Dec 19, 2022
Was a very good and informative visit.
---
Dec 16, 2022
Dr Wu is a gentle, caring, and knowledgeable physician. She cares about me and my health concerns, and I always feel thankful for her dedication to me.
---
Dec 7, 2022
Had a an unexpected development come to light during my appt and Dr. Wu was very reassuring and comforting which I appreciate. I know the medical field over all, and Dr. Wu's office in particular are all running short of staff. I have to say I never felt rushed by her or any other staff in the office. Couldn't have asked for better.