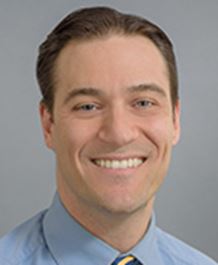 Call to Schedule
Josh Gepner, MD
My Specialties:
Family Medicine, Board-certified
My Areas of Focus:
Joint Injections, Minor Surgery
Affiliations:
Legacy Health Partners
Where I see patients
Where I see patients
503-635-2497
Monday-Friday, 8 a.m.-5 p.m.
Education:
Residency: OHSU Family Medicine
Medical School: Brown University
Year I Started Practice: 2011
Hospitals Served: Legacy Meridian Park Medical Center
Patient Rating
Legacy wants every patient to have great care, every time. To help measure and improve patient satisfaction, we send surveys to randomly selected patients after their appointments. We use this feedback from the surveys to improve and enhance the care we offer. Learn more about our surveys & ratings
Average Rating: 4.9 out of 5.0
---
Oct 31, 2023
Great service as always.
---
Oct 26, 2023
Dr G always devotes his full attention to me and answers my questions and discusses my needs. He is kind and caring
---
Oct 17, 2023
Dr. Gepner is the easiest primary care doctor to talk to that I've experienced.
---
Oct 11, 2023
Very happy with this facility location and my physician Dr. Gepner
---
Sep 28, 2023
I came in to ask about an appointment for a medical condition and they were able to see me right away. Dr. Gepner is an excellent physician. He is knowledgeable and takes time to explain things.
---
Sep 28, 2023
Dr. Gepner is wonderful. Very honest and a great listener.
---
Sep 27, 2023
Visiting Dr Gepner and the entire staff are very welcoming and supportive. I feel safe with Drs. Gepner and Higa and with nurse Jessica. Patty, the receptionist is helpful and responsive to my questions and needs.
---
Sep 14, 2023
This office and staff are great. Generally speaking I only see them about once per year, so I may not be the best judge overall, but the visits have always been good. My only complaint, is the wait time for this annual checkup, nearly 3 months, which appears to be due to a shortage of doctors in this office. Otherwise, I enjoy everything about the office and staff.
---
Sep 7, 2023
Everything went fine.
---
Aug 14, 2023
Easy to make an appointment. Convenient location.
---
Aug 14, 2023
The entire office staff from the front desk, nurse, and doctor are all very professional and caring--every time!
---
Aug 11, 2023
Dr. Gepner is an awesome PC Physician.
---
Aug 2, 2023
I had a very good experience at this visit,
---
Jul 26, 2023
I always feel so fortunate to have Dr. Gepner as my PCP. He's a very good listener and I always feel like he gives me good directions with my health care needs.
---
Jul 11, 2023
Even though I don't like getting shots, I would still tell someone looking for a doctor's office to check them out if they needed a new doctors office.
---
Jun 22, 2023
Dr. Gepner Is friendly and professional. He solicits patient Input on health care decisions and takes time to listen to patient's questions. He does an excellent job explaining medical Issues and treatment options. The office staff always responds to appointment requests in a timely manner. I am pleased with my care and recommend the clinic to friends and family.
---
Jun 20, 2023
On a personal level I would not recommend or want to see Dr Gepner again. I came in for a medical issue & while there I had another medical issue I needed him to look at. What I was told by the medical asst & Dr Gepner was "we'll see if he/I have time" I don't believe that Dr Gepner has the patients overall health in mind.
---
Jun 20, 2023
Dr Gepner always listens & is knowledgeable regarding all my care. Medical Assistant was awesome too!
---
Jun 15, 2023
I love this clinic. I hope it remains in business always.
---
Jun 15, 2023
Great . Dr Gepner and his medicalAssistants are really helpful
---
Jun 14, 2023
I've been seeing Dr. Gepner for 2-3 years. He is very knowledgeable, caring, and just a nice person. The clinic is very nice and convenient.
---
May 26, 2023
Dr. Gepner is wonderful. Very personable and always takes time to talk to you.
---
May 24, 2023
Dr. Gepner and the team are always the BEST!Thankss Doc!
---
May 23, 2023
I wish they reopen the lab at this office as it was so very convenient. Thank you.
---
May 19, 2023
Very good visit
---
May 17, 2023
The appointment time allotted are tight, as you know. Dr. Gepner indicated that time (20 minutes) he is unable to answer all my health questions. Do you think I should double book appointments so I do not feel rushed?
---
May 17, 2023
All very good
---
May 11, 2023
Very pleasant greeting, knowledgeable MA and Dr. Gepner was complete with all my concerns. I am looking forward to having this clinic as my primary.
---
Apr 28, 2023
Dr Gepner is always positive , professional and attentive to my needs !
---
Apr 26, 2023
Timely and efficient service. The staff is very friendly and helpful.
---
Apr 26, 2023
Excellent care provided by Dr. Gepner and all staff members.
---
Apr 24, 2023
Always friendly staff and Dr. Gepner is a very patient and knowledgable doctor. I feel very comfortable with his assessment and oversight of my care.
---
Apr 13, 2023
Dr. Gepner, medical assistant Jessica, the office staff, Nancy, Patty and Becca always provide amazing patient service and care!
---
Apr 12, 2023
Always an excellent experience
---
Apr 10, 2023
Dr. Gepner and staff show me respect and appreciate my sense of humor is new with me on a personal level
---
Apr 10, 2023
Dr. Gepner is a thoughtful and kind provider, I feel very heard and seen by him.
---
Mar 28, 2023
My exam went very good. No other comment. Thank you
---
Mar 23, 2023
Dr Gepner and his staff are always friendly and attentive. Favorite GP I've ever had.
---
Mar 21, 2023
An awesome Dr that explains everything.
---
Mar 15, 2023
Clear and concise conversation about my health! All questions answered!Very personable doctor!
---
Mar 14, 2023
Dr Gepner is an awesome doctor. He listens, evaluates and states his opinion in a very easy way to understand
---
Mar 10, 2023
My needs were fully met. Everyone I encountered in the clinic was pleasant and helpful. The only complaint that I have is with how the lab work was handled. Being forced to make an appointment is frustrating and wasteful of my time.
---
Mar 8, 2023
Always the best experiences!!
---
Mar 6, 2023
My MA was great as was Dr Gepner
---
Mar 2, 2023
Dr. Gepner and his staff are responsible for my recovery from extreme hypertension and an iliac aneurism (though the vascular surgeon helped :-). Their professionalism, kindness, courtesy, positive feedback, and genuine interest in my health encourage me to do my part to stay healthy. I would recommend him to anyone. Just recently I was hoping to see him right away, but I know he is very busy and under high demand. I signed up on line for the soonest voice/remote visit available and then called his office. They found a spot for me on the calendar and fit me in right away. I very much appreciate how hard they work for me. Even with short notice the staff was prepared and anticipated my visit. Dr. Gepner was prepared, familiar with my history, and very attentive. I felt like I'd been coming to see him weekly. He was interested in what I had to share with him and asked the proper probing questions to cover areas I hadn't thought about. I'm in very good hands.
---
Mar 1, 2023
The office was very orderly and provided materials to give the office
---
Feb 27, 2023
The Provider was very caring and very thorough as well as helpful and courteous.
---
Feb 22, 2023
Dr Gepner is always attentive and a very good listener. He responds to all my questions and concerns. I hope he never leaves this office.
---
Feb 22, 2023
Dr. Gepner provided exceptional care. He listened carefully and provided thorough, easy to understand information.
---
Jan 25, 2023
This was a physical. I brought up an issue I had and was told that would need to b addressed in a separate appointment. And my last dr at your facility always did prostate exams, my current dr does not. What is the standard for men [age removed]? Seems like a physical these days is just an interview.
---
Jan 24, 2023
Dr. Gepner is a smart doctor who cares about his patients; that makes it a positive experience.
---
Jan 16, 2023
Dr. Gepner & his team are great - engaged, congenial, knowledgeable. But the non-centralized care delivery system is clumsy & inefficient. It will take months to coordinate additional visits & this is partly left up to me to complete. Would be better to have an on-site tx coordination to manage this.
---
Jan 12, 2023
Dr. Gepner was delightful. He was professional, caring, informative. I definitely appreciate the time and effort he provided.
---
Jan 12, 2023
Great team, empathic, interested, informed, engaged in delivering the best care. I was very impressed. Thanks to dr. Gepner and his support staff.
---
Jan 9, 2023
Dr. Gepner is extremely professional, knowledgeable and committed to providing bench mark level health care. Excellent Physician!!
---
Jan 3, 2023
Just great health care!
---
Dec 30, 2022
Dr Gepner is great.
---
Dec 21, 2022
Dr. quickly diagnosed an ulcer and prescribed the needed medications and lab tests. After approx. 10 days my symptoms abated.
---
Dec 21, 2022
Dr Joshua Gepner knows how & when to encourage and promote healthy life styles - and is himself an example of those correct choices.
---
Dec 21, 2022
Dr Gepner is a very good listener and he explained through things so well. I appreciate his calmness and I always feel better after seeing him. He's a wonderful doctor and I'm lucky to have him.
---
Dec 16, 2022
Dr. is a friendly caring person. Office is very accessible for me to get to.
---
Dec 16, 2022
Dr. Gepner is a very friendly, kind, and conscientious physician! I am most pleased that he's guiding my healthcare.
---
Dec 16, 2022
I feel extremely fortunate to have this entire team on my side, thank you!
---
Dec 15, 2022
Dr. Gepner is quite personable as well as competent. He took the time to listen to my concerns and identified a forward path for needed treatment.
---
Dec 15, 2022
I was left in the examine room and told that someone would come to give me a shot..I waited 10 in and no one came. I finally went to the door and myFinal report was stuck in the door and no one was around..They forgot about me! I went and found someone and they told me to get y shot at thePharmacy and I was free to go.
---
Dec 8, 2022
Did not ask about my back pain.
---
Dec 8, 2022
Dr Gepner is outstanding - competent, and.compassionate