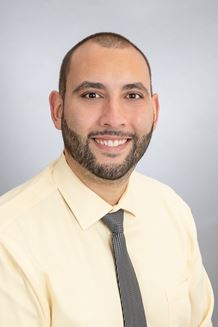 Call to Schedule
Jordan Nomie, DO
My Specialties:
Family Medicine, Board-certified
Affiliations:
Legacy Health Partners
Where I see patients
Where I see patients
503-826-0216
Monday-Friday, 8 a.m.-5 p.m.
Hospitals Served: Legacy Mount Hood Medical Center
Patient Rating
Legacy wants every patient to have great care, every time. To help measure and improve patient satisfaction, we send surveys to randomly selected patients after their appointments. We use this feedback from the surveys to improve and enhance the care we offer. Learn more about our surveys & ratings
Average Rating: 4.9 out of 5.0
---
Aug 30, 2023
Although he is not my primary physician I liked him and would see him again
---
Aug 28, 2023
Dr Nomie was very caring, kind and respectful. He explained my test results and gave me medication that is working.I felt very comfortable in his care and would definitely recommend him.
---
Aug 28, 2023
Legacy Health has been an absolute dream to have available for our medical care. Dr. Nomie is thoughtful, attentive, and always listens completely. He is knowledgeable, and willing to help find means of care that treat my conditions and improve my quality of life. I have struggled greatly over the years, and Dr. Nomie has put the puzzle together for my management plan. I feel incredible, and I have Dr. Nomie and his wonderful team to thank for being at the best I have ever been.
---
Aug 23, 2023
THe doctor listened carefully and was thorough
---
Aug 14, 2023
This is my first visit to this clinic. I was impressed!
---
Aug 14, 2023
Dr.Nomie was awesome! He listened to me and made my experience so comfortable!
---
Aug 11, 2023
Everyone was very kind and considerate and helpful
---
Aug 11, 2023
Dr. Nomie finally got his name on the front door!
---
Aug 10, 2023
A great experience. A good outcome to rule out health concerns.
---
Jul 24, 2023
Provider and staff were attentive, friendly, thoughtful, courteous and sought the best outcome of my visit. I am very pleased.
---
Jul 12, 2023
FIRST VISIT!
---
Jul 12, 2023
My first visit, very good experience.
---
Jul 10, 2023
In the short time I had to visit with him -- He seemed to be a very impressive young doctor.
---
Jul 5, 2023
This was the first visit with my Doctor. He was awesome! We covered everything I needed and wanted. He let me say yes or no if I wanted specific tests. Very personable and knowledgeable. He treated me with respect. We went through all my past experiences with my health that were relevant. I am very satisfied!!!
---
Jun 30, 2023
Very good experience
---
Jun 7, 2023
I was very pleased with my visit, it was my first time to see a new doctor since I changed over my health insurance to blue shield. Doctor Nomie made me feel comfortable asking all the questions I had and was helpful and very kind. Also everyone else in the office was very kind and helpful. So grateful
---
Jun 7, 2023
Dr Nomie relates with care, kindness and compassion.
---
Jun 5, 2023
He's good but wants to run you in and out of there as fast as possible, thus for not having enough time for questions and or answers.
---
May 26, 2023
I have greatly appreciated Dr. Nomie's being able to do OMT (Osteopathic Manipulation Treatments). That is the reason that we chose your clinic and Dr. Nomie to be our primary care physician. He was able to help me during this last appointment regain more range of motion of my right shoulder that I have been struggling with for several years.
---
May 25, 2023
This office is amazing. Dr. Nomie is an incredible asset to have on your health team.
---
May 24, 2023
My wife and I have just moved in to the area and are very pleased to start our new association with Dr. Nome's clinic and staff. My first visit gave me a very welcoming and attentive experience. Especially since they had all my medical record history from our departing medical group. No complaints!
---
May 22, 2023
Dr Nomie is the most patient friendly and supportive doctor I've experienced in my entire lifetime. I can't imagine a better doctor for my mental, emotional, and physical needs.
---
Apr 28, 2023
Everyone treated me with respect. I was pleased with all the care I received.
---
Apr 28, 2023
I am new to this clinic. The last clinic pretended like I didn't exist. My first visit. This doctor did at least six blood test trying to find out what's wrong with me sent me to three specialist so far is very caring and concerned with my health unlike the clinic I was at before. Thank you so much. I was about to give up.
---
Apr 14, 2023
Entire staff caring and professional. Friendly
---
Apr 7, 2023
This was my first visit. It was a very comfortable and warm caring experience.
---
Apr 6, 2023
This was my first visit so I cannot really comment yet
---
Mar 29, 2023
Dr Nomie is always great. He listens to me and my concerns and spends time to care for me during each appt. The staff at Firwood is also very nice and pleasant to deal with
---
Mar 29, 2023
Everyone was great and friendly, I was early and they took me in early as well.
---
Mar 29, 2023
Very good as allways
---
Mar 27, 2023
This was an initial visit and I was very satisfied.
---
Mar 24, 2023
Dr Nomie was knowledgeable, compassionate and kind.
---
Mar 23, 2023
I am a new resident to this area and was somewhat apprehensive about finding health care that would work well with me. I am so fortunate to have found Legacy Health care and especially Firwood Clinic. Dr. Nomie and the assistants have been wonderful.
---
Mar 22, 2023
I liked the doctor very much! He was easy to talk to and just felt comfortable with him right away
---
Mar 13, 2023
Dr. Paid attention and listened to my questions; he answered logically and clearly.
---
Mar 9, 2023
So far so good first appointment by this doctor,
---
Feb 27, 2023
Great service by the staff and awesome doctor appointment
---
Feb 17, 2023
Very courteous staff, I have a huge hearing deficit and I talk louder because I have a issue with hearing myself talk ,and understand that
---
Feb 16, 2023
This was my introductory visit after changing insurance providers. Dr. Nomie did not have access to all of my current records at the time, but I thought he was very thorough and interested in my care. I am very glad to have found him as our new PCP.
---
Feb 13, 2023
This doctor was very kind. Thoughtful. And down to earth. Enjoyed meeting him.
---
Feb 10, 2023
Loving my new doc. Very open minded, processes what you're telling him and provides great feedback.
---
Feb 9, 2023
It felt like spending time with a friend
---
Feb 8, 2023
It is a pleasure to visit Dr. Jordan Nomie!
---
Feb 3, 2023
Reception took a while to even acknowledge that I was there. I understand they were on the phone but they didn't even look up to acknowledge me and say I'll be right with you.
---
Jan 26, 2023
My first visit with my new doctor left my other because of being ignored for months. He is determined to figure out what's wrong! I couldn't get out of bed for months and didn't know why and my doctors office wouldn't help me. This doctor took six piles of blood and is sending me to two specialists. I finally am being heard. And if what's wrong with me is my thyroid is too low. This doctor may just have saved my life by listening. I've been down for a year. I really like this doctor. I'm so very grateful that he listened and he's trying to help me.
---
Jan 25, 2023
This was my first visit with Dr Nomie and I was extremely pleased with how caring, thorough, and knowledgeable he was. I finally believe I've found a long term PCP!
---
Jan 4, 2023
Very professional & friendly.
---
Dec 28, 2022
Dr Nomie was great. He is very thorough and went through my past records to address any concerns I may have. He listened to me and was great in providing details. Great visit
---
Dec 16, 2022
First time visit very happy with Dr. Nomie thourgh care.
---
Dec 15, 2022
Dr. Nomie is kind and compassionate provider who took time to listen, addressed my concerns and ordered tests. I would highly recommend him to my friends and family.
---
Dec 14, 2022
Seemingly good dr smart personable listens
---
Dec 9, 2022
All the staff is always so nice.
---
Dec 9, 2022
I have a condition that prevents me from wearing a face mask. The office manager told me the provider might refuse to see me & told me i won't be accommodated in the common areas of the clinic. The majority of my visit was focused on masking rather than my health.
---
Dec 9, 2022
Dr. Nomie was professional and personable. He listened to my concerns, went over my health history in detail, and provided great information. Everyone that helped me in the office (receptionists, the MAs and phlebotomists) were all friendly and helpful.
---
Dec 1, 2022
Very informative & helpful. Answered all my questions.
---
Nov 30, 2022
Quite frankly, I am very impressed with Dr. Nomie! He was kind, gentle and very thorough!
---
Nov 21, 2022
Dr Nomie is a wonderful addition to the Firwood Clinic! I would recommend him to family and friends. He took the time to listen to me and gave me options on how to move forward with my health plan. I appreciate his compassion and professionalism.
---
Nov 18, 2022
Immediate attention and care very much appreciated
---
Nov 17, 2022
He was informative courteous and asked pretty much all good questions
---
Nov 10, 2022
I feel that Dr Nomie listened and responded to my health issues better than almost any other doctor I've ever been too. He didn't keep me waiting, answered all question, took my concerns seriously. I'm very happy with Dr Nomie.
---
Oct 31, 2022
It was a very good experience. Needed a primary care phys. badly and was not disappointed.
---
Oct 24, 2022
I felt very comfortable meeting my new Dr.
---
Oct 19, 2022
Great first visit.
---
Oct 17, 2022
My concerns were heard and acknowledged
---
Oct 17, 2022
Dr Nomie took time to listen to my concerns and attend to each. He was personable and patient
---
Oct 13, 2022
The doctor was articulate. He diagnosed my problem. He called me the next day with the blood work results The doctor was very personable and confident.