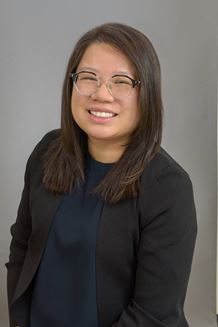 Call to Schedule
Jessie Trieu, MD
My Specialties:
Internal Medicine, Board-certified
My Areas of Focus:
Internal Medicine
Affiliations:
Legacy Health Partners
Where I see patients
Where I see patients
503-655-3321
Monday–Friday, 7:30 a.m.– 6:00 p.m.
About Me:
Dr. Trieu is board-certified in Internal Medicine. She received her medical degree from Michigan State University, College of Human Medicine. She completed residency at Huntington Hospital in Pasadena, CA, where she also served as chief resident and clinical instructor. Dr. Trieu enjoys serving communities with diverse needs and building relationships with patients. She has a strong interest in women's health and preventative care. Dr. Trieu grew up in Portland and is excited to return to the beautiful Pacific Northwest. She enjoys hiking, traveling, and trying new foods.
Education:
Chief Residency: Huntington Hospital, Pasadena, CA
Residency: Huntington Hospital, Pasadena, CA
Medical School: Michigan State University, College of Human Medicine
Bachelor of Science: University of California, Los Angeles
Certification: American Board of Internal Medicine, Diplomate National Board of Physicians and Surgeons, Diplomate
Year I Started Practice: 2011
Hospitals Served: Legacy Meridian Park Medical Center
Patient Rating
Legacy wants every patient to have great care, every time. To help measure and improve patient satisfaction, we send surveys to randomly selected patients after their appointments. We use this feedback from the surveys to improve and enhance the care we offer. Learn more about our surveys & ratings
Average Rating: 5.0 out of 5.0
---
Nov 10, 2023
Always a positive experience when I visit Dr Trieu and her team. Reception is always good when you arrive to check in.
---
Nov 1, 2023
Low key and stress free! Nice doctor and staff.
---
Oct 25, 2023
Always got good treatment and medicines that I needed when I needed them
---
Oct 24, 2023
Dr. Trieu and staff all seem to be good caring listeners, and have the best in mind for their patients.
---
Oct 24, 2023
I always receive great care from the doctors here.
---
Sep 22, 2023
Dr. Trieu & her staff are amazing!
---
Sep 14, 2023
All was very good and helpful
---
Sep 12, 2023
My rapport with Dr. Trieu is exceptional. We both seem to have a clear understanding of my conditions, limitations and needs so little time is wasted in the exams/reviews.
---
Sep 12, 2023
Very professional, competent, yet warm and friendly. Highly recommend her care to friends and family.
---
Sep 7, 2023
Dr. Trieu gives me excellent care. You can tell she has actually looked at my chart before I see her. She listens to my concerns and explains things thoroughly. She Is compassionate and you know she cares. I referred my son & daughter-in-law to her and she Is now their primary physician too.
---
Sep 5, 2023
All persons are good to work with .
---
Aug 25, 2023
Dr. Trieu is a very dedicated and caring physician. Great diagnostician. Jessica the medical assistant is also very caring and dedicated to provide great patient care. Receptionists are very helpful and respectful as well. In general great office team.
---
Aug 23, 2023
Dr. Trieu was very pleasant.
---
Aug 17, 2023
Dr Trieu is intelligent, highly professional, compassionate, a good listener, and a great doctor
---
Aug 15, 2023
Always pleasant and knowledgeable
---
Aug 10, 2023
No bad experiences
---
Aug 9, 2023
Listened, provided solutions,kind
---
Aug 9, 2023
Always feel good about my time at legacy your team saved my life.
---
Aug 9, 2023
I was delighted to see that the stress that I perceived in the past is no longer a problem. Not only was I treated well but the office seemed a happy place and the workers in good shape. I know the job is difficult so I was relieved to see that progress has happened since time after COVID has passed.
---
Aug 8, 2023
Friendly and compassionate doctor and nurse. Very personable and both really listened to me.I left feeling very satisfied with what I had learned.
---
Aug 4, 2023
I drive an hour each way to see my doctor.
---
Aug 3, 2023
I like the online check-in and comfortable, uncrowded waiting room. The doctors assistant, Jessica, was very friendly and also efficient. Dr Trieu is very responsive to questions/ concerns with recommendations and info that is clear.
---
Aug 2, 2023
I always had an excellent visit with this peovider
---
Aug 2, 2023
I have recommend Dr. Trieu to many of my clients and friends. Unfortunately, probably because she is so great, she isn't taking new patients at this time. I feel very fortunate to have her at my PCP.
---
Aug 2, 2023
Very good experience thruout
---
Jul 11, 2023
Dr Trieu and her assistant, the receptionist are first rate. Attentive, highly competent and caring. They listen! I'm fortunate to be a patient here!
---
Jul 5, 2023
The people I saw were very professional and helpful, but the clinic overall seems to be understaffed.
---
Jun 30, 2023
Dr. Trieu is always very thorough and thoughtful of me. I wouldn't want another doctor. And her nurse Jessica is the best.
---
Jun 30, 2023
They knew I had a deadline to get some paperwork done, they worked with me to get me on the schedule, which was amazing!
---
Jun 28, 2023
I recommend DR Jessie all the time; she is one of the best physicians that I have ever had. She's polite, intelligent, caring and concerned regarding your Issues. That, and she checks back to make sure all is well. She's a treasure as is her assistant. Kudo's!!!!!!
---
Jun 27, 2023
I couldn't be more pleased with Dr Trieu and Jessica. Dr Trieu always exceeds my expectations. Jessica helped me a lot with my vaccination records and left me with full and clear instructions.
---
Jun 26, 2023
Exceptional service by the whole team! Very grateful for their care. Actually I'm blown away to have such quality medial care with O.H.P. ! I love Dr.Jessie Trieu - she's amazing, so are the PAs, and nurses. I don't dread going in for a visit.
---
Jun 26, 2023
Very respectful & caring team. I feel understood & very well cared for.
---
Jun 12, 2023
I was extremely pleased with my visit with Dr. Trieu.
---
Jun 9, 2023
Dr. Trieu is a wonderful provider. Her MA Jessica is outstanding! She has an excellent upbeat personality She draws blood like no other. Jessica and Dr. Trieu make an excellent team and I trust them fully with my healthcare needs.
---
Jun 5, 2023
It feels good to finally find a Dr. I like and trust. Dr. Trieu really takes the time to listen and make sure you understand what she is saying. She answered ball my questions without rushing and suggested a natural Dr as well, most western Dr's don't bso extra points for her!
---
Jun 1, 2023
Dr. Trieu is wonderful. Best doctor I've had in years.
---
May 31, 2023
Dr. Trieu is very thorough, friendly, professional. Unfortunately, when I've been "sick", its' impossible to be seen in the office same or next day. I've had to rely on GoHealth or other Urgent Care. Wish that would change.
---
May 31, 2023
Both her MA Jessica and Dr. Trieu are super kind, and make the time to listen to me and address health issues I raise. Also quite informed on my medical history.
---
May 30, 2023
As expected.
---
May 17, 2023
She was prepared and answered all my questions then asked if I had other areas of concern.
---
May 16, 2023
I recommended Dr. Trieu to 2 friends and they are as pleased with her care as I am.
---
May 15, 2023
Dr. Trieu is the best provider Legacy has to offer. She is caring, compassionate, empathetic and understanding. I NEVER want to loose her as my provider.
---
May 15, 2023
Front desk personnel could be more attentive. In general they are good, but maybe a little curt with patients needs.
---
May 15, 2023
I felt very at ease and comfortable with all the staff because they were friendly, courteous and I felt listened to. Because of this, and their professionalism, I was empowered to speak truthfully and confidently with them about my health.
---
May 12, 2023
Great visit and office. Appreciate the time taken and thoughtful care.
---
May 4, 2023
I felt Dr. Trieu and her assistant were excellent.Her assistant was thorough and engaging.Dr. T was lasso thorough and attentive to my questions.
---
May 3, 2023
Always a good visit...Ireally like Dr Trieu.
---
May 2, 2023
The automatic system difficult to use.
---
Apr 26, 2023
The clinic is short staffed. Waiting on the phone to get an appointment was inconvenient. Once at the clinic the staff, receptionist, nurse and MD are great.
---
Apr 26, 2023
The doctor and her team worked seamlessly to attend to my needs with a caring and pleasant manner. They were all very knowledgeable and patiently addressed each of my concerns.
---
Apr 26, 2023
I feel blessed to have found Dr. Trieu and her M/A Jessica. They both are always so uplifting and I believe truly care about me. Dr. Trieu is very polite and gentle on her approach In interacting and I believe has set the bar to a higher standard for all doctors.
---
Apr 25, 2023
It was really good
---
Apr 21, 2023
Dr. Trieu, looked straight into my mother's eyes while holding her hand to ask her questions and see how she was doing. My mother is very hard of hearing so this added extra measure meant the difference between connecting and not. Dr Trieu was extremely kind, patient and loving to my mother. It's an amazing thing to see something like this when someone is simply performing their duties. She absolutely resonated beautifully with my mother and we, her family could not be more grateful.
---
Apr 20, 2023
Dr Trieu listened very well
---
Apr 19, 2023
Dr. Trieu is always very attentive and listens to what my concerns are that brought ne there that say. Also, she Is vrry thorough In determining what further care/consulting I need.
---
Apr 17, 2023
I was very satisfied with the care of the doctor and her nurse. They were both very thorough, knowledgeable and kind.
---
Apr 17, 2023
Thorough and understandable care. Very professional all around.
---
Apr 6, 2023
I was 10 minutes late and had to come the following day. The following day I waited 10 minutes to see the Doc.)) confusing
---
Apr 3, 2023
Excellent care, empathetic. Listens well. Explains things clearly. Professional and warm
---
Apr 3, 2023
The only complaint is the wait time to get into a provider in general. I made the appointment 5 months in advance just to establish care in a new state. I've never experienced such a wait to see a PCP. It was disappointing that I couldn't get my needs addressed sooner. The provider was friendly and courteous.
---
Mar 23, 2023
Excellent experience! I have already told friends and family members how everyone from the office staff, the medical asst and Dr Trieu we absolutely outstanding!!!
---
Mar 20, 2023
I feel confident that Dr. Trieu is paying close attention to me as an individual and appreciate that I don't feel rushed during my visits to her. In addition, she is very personable and makes every visit relaxed and comfortable.
---
Mar 15, 2023
The entire team is so impressive- Sunnie at the front desk is wonderful, as is Jessica the MA, and of course Dr. Trieu! Could not ask for a better first experience at a clinic. Thank you all!
---
Mar 14, 2023
A very helpful and satisfying visit
---
Mar 14, 2023
Dr. Trieu is compassionate, caring and understanding physician. Very helpful and encouraging.
---
Mar 13, 2023
Always has patience to listen to concerns, both Doctor and MA.
---
Mar 13, 2023
Very glad and thankful to be under Dr. Trieu's excellent care. Her friendly support is highly appreciated, as well as her prompt, effective communication (actually amazing). Thanks to Jessica too!
---
Mar 13, 2023
Dr. Trieu is very knowledgeable and such a good listener. She makes every effort to solve my health problems.
---
Mar 10, 2023
Dr. Trieu is an extraordinary physician. She is totally updated on my medical history, listens carefully to my questions and concerns, and responds quickly to any issues needing attention.
---
Mar 8, 2023
Good experience. Both Dr. Trieu and her nurse Jessica are excellent.
---
Mar 8, 2023
Excellent. My concerns were listened to and discussed with respect, care & compassion. I felt understood. I am happy with treatment plan. It was a very collaborative approach.
---
Mar 8, 2023
Dr. Trieu and her assistant Jessica are both just great! I appreciate them.
---
Mar 7, 2023
Friendly , listens well, very clear, I'm quite happy with my care
---
Mar 7, 2023
I love my provider. She is always very attentive and kind.
---
Mar 3, 2023
The doctor is great. But she is understaffed and it takes months to get an appointment. I don't feel safe knowing my doctor can't see me for months when I have a health issue.
---
Feb 28, 2023
During last 4 years I am with Legacy she has been the most communicative provider I havd
---
Feb 27, 2023
Dr Trieu and Jessica are wonderful. I think Dr Trieu is an amazing dr and I am convincing my wife to see her as well
---
Feb 22, 2023
Dr. Trieu is the best physician I've had A+.
---
Feb 22, 2023
She is patient, well versed in why I was there and provided answers and referrals to the things I needed
---
Feb 21, 2023
Professional and courteous. Listened carefully and gave great advice & recommendations.
---
Feb 21, 2023
Lab work is not available at this site.
---
Feb 16, 2023
I have already recommended the doctor to my husband. I wish all doctors were like Dr. Trieu (reviewing my chart before talking to me, listening, competent and nice). I was also impressed my everybody else in the office. This is a new Legacy office for me.
---
Feb 9, 2023
Both the medical assistant and my doctor were very sympathetic and reassuring about my issues. My doctor was very thorough asking lots of questions about what I was experiencing so she could determine the next best steps to treat the problems.
---
Jan 24, 2023
Excellent provider and medical assistant
---
Jan 20, 2023
Prompt, professional, courteous. Handles questions, provides direction, in multiple areas thoroughly
---
Jan 17, 2023
I have never had a problem with this provider I'm very happy with them.
---
Jan 16, 2023
The WAIT WAS FAR TOO LONG.I HAD TO WAIT QUITE AWHILE FOR EKG TO BE COMPLETEDTWO SONS ACCOMPANIED ME ON THIS VISIT ~ WE ALL WERE VERY PATIENT
---
Jan 12, 2023
Dr. Trieu excelled at listening and discussing issues.
---
Jan 11, 2023
I've never had a doctor as great as her. She is better than some of the doctors at the VA.
---
Jan 9, 2023
This was my 1ST appt. w/Dr. Trieu. She was thorough & wanted to know what I had to say. I felt confident w/her.
---
Jan 4, 2023
Dr. Trieu is always concerned and patient. I never feel rushed.
---
Dec 20, 2022
The two Jessie's are a great team and, yes, they listen, are through and very helpful.
---
Dec 19, 2022
Dr. Trieu is an amazing physician, by far the best one I have had.
---
Dec 16, 2022
Dr. Trieu and her nurse Jessica are the best! We have confidence in them.
---
Dec 15, 2022
This was my introductory visit with Dr. Trieu. I found her to be very efficient, thorough and knowledgeable. I'm sure I will benefit from her future care. Her assistant, Jessica, was also very efficient and knowledgeable.
---
Dec 14, 2022
Doctor Trieu was absolutely wonderful and so was her assistant Jessica. Looking forward to working with them to keep me healthy.
---
Dec 14, 2022
Everyone was very courteous, respectful and, professional. I was Impressed with the follow-up paperwork to remind me of details to address, the portal information for back-up, and appointments to consider for the future.
---
Dec 7, 2022
This was my first visit with this doctor and I was very pleased with the appointment.