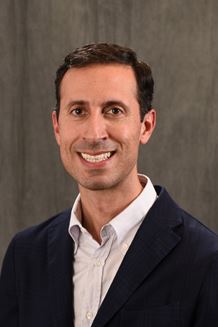 Call to Schedule
David Karam, MD
My Specialties:
Internal Medicine
My Areas of Focus:
Diabetes Care, Cardiovascular Disease
Where I see patients
Where I see patients
503-414-5190
Monday-Friday: 8 a.m.-5 p.m.
About Me:
Dr. Karam is a board-certified internist and primary care physician at Legacy Medical Group – Raleigh Hills. He grew up in Louisiana and earned his bachelor's degree from Tulane University. He earned his medical degree from the Louisiana State University School of Medicine in New Orleans and completed both his internship and internal medicine residency at Stanford University. Dr. Karam has been in practice since 2012 as a primary care internist. His interests include all aspects of internal medicine, particularly diabetes care and cardiovascular medicine. Outside of work, Dr. Karam enjoys road biking, hiking, frequenting farmers markets, and playing piano.
Year I Started Practice: 2012
Hospitals Served: Legacy Good Samaritan Medical Center
Patient Rating
Legacy wants every patient to have great care, every time. To help measure and improve patient satisfaction, we send surveys to randomly selected patients after their appointments. We use this feedback from the surveys to improve and enhance the care we offer. Learn more about our surveys & ratings
Average Rating: 4.9 out of 5.0
---
Nov 8, 2023
First time visit with new doctor went well!
---
Nov 8, 2023
I have recommended to my best friends but you care full and practice is full
---
Oct 30, 2023
Dr.Karam and his Nurse Assistant Michelle are excellent. I am significantly happier with the level of care received from them than with any Primary Care Team I have worked with in the Legacy system, ever and with most providers worked with in other systems. I have one had one care team, long ago I was almost as happy with.
---
Oct 26, 2023
Before my visit, I sent Dr. Karam notice of a health issue I wished to discuss. He was extremely well prepared to discuss the issue.
---
Oct 23, 2023
Nurse told me that ny appointment was not for my annual check up but for a follow up of an urgent care visit. When I made my appointment I mentioned that I needed the urgent care follow up and my annual. It was bot her fault since she did not schedule it but she did not have a good attitude about it and doubt me. In the end they made it work and I was appreciative of it. Making an appointment for a medical need is almost impossible. It take months to see a doctor . Staff and doctor are great professionals and I know a lot of this is not their fault.
---
Oct 19, 2023
Just like every meeting, he listened to my questions very patiently and gave me various answers. I really hope he is my doctor forever.
---
Sep 29, 2023
Dr. Karam is a kind, compassionate, pro-active health care provider!
---
Sep 19, 2023
Best doctor I have had in a long time. He listens, he cares and he is very knowledgeable
---
Sep 18, 2023
Very prompt at answering my question and getting me in to see the doctor
---
Sep 18, 2023
Dr. Karam was very polite and open to answering questions. Thorough and informative. Office staff was outstanding. Facility in a good location and well maintained.
---
Sep 15, 2023
Seems like no provider available to recommend to family member
---
Sep 11, 2023
Doc Karam is accepting of my lack of willingness to jump into medicines or complicated studies,etc. He always gives me a choice of something I can try first, like weight loss or P.T., to try to not take another medicine. I need this in a doctor. He's very patient and THOROUGH.
---
Sep 8, 2023
Excellent care. Clear explanation and guidance. No rush. Took extensive notes.
---
Sep 7, 2023
Very professional, easy to talk/ communicate with Dr. Karam
---
Aug 17, 2023
I have recommended this provider to my family and they have become patients
---
Aug 15, 2023
Doctor is knowledgeable compassionate patient and a credit to his profession
---
Aug 14, 2023
I was surprised how thorough he reviewed my past lab data in order to determine what blood tests I should get after the visit.
---
Aug 11, 2023
Real happy with overall experience at the clinic
---
Jul 31, 2023
Dr Karam is very through and I appreciate his concern about any of my medical conditions and is very supportive of treating me with the first priority of preventative medical care as well as there for me any time I have current medical problem. I am very lucky to have Dr Karam as my primary medical care physician.
---
Jul 26, 2023
My visits to Dr Karam and the Raleigh Hills office is always pleasant and helpful.
---
Jul 14, 2023
I like Dr. Karam being my Doctor. He makes me feel at ease when at the office. He is a very good listener and shows respect for my wishes. In general I am happy to have him as my provider.
---
Jul 14, 2023
I have referred several people to Dr Karam, yet I understand the office is not currently taking new patients.
---
Jul 14, 2023
I have multiple physicians at different clinics, and this clinic's staff is the best. I get my post-visit info via MyChart. This clinic's staff answers questions and posts my visit's follow-up reports quickly.
---
Jul 10, 2023
Dr. Karam was respectful, thorough, thoughtful, kind. Could not expect more than what he provided.
---
Jul 10, 2023
Highly satisfied with my care
---
Jul 7, 2023
This was my first appointment with Dr. KARAM, and found him friendly and ready to discuss my medical history. It was a very good visit.
---
Jun 13, 2023
I recommend this clinic and Dr. Karam to anyone who will listen!
---
Jun 8, 2023
David Karam was EXCELLENT at listening, explaining, and sharing ideas. Was knowledgeable in a confident but not cocky manner. Exceptional bedside manner.
---
Jun 8, 2023
Oh, visit went overtime but Dr. Karam maintained attentiveness and genuine willingness to listen to my list of concerns.
---
Jun 6, 2023
I can't think of anything that could have increased the quality of care that I receive from Dr. Karam. He is thorough, and very clear explaining what and why. He listened to my questions, and answered them thoughtfully. He is genuine, interested and empathetic. He clearly knows my health history, and addressed any prior or upcoming health concerns. Dr. Karam is best physician that I've had in my years. Thank you Dr. Karam and Staff for the excellent care you provide my husband and I.
---
Jun 6, 2023
Dr. Karam and staff are amazing!
---
Jun 5, 2023
Dr. Karam and the entire team are wonderful! I would recommend them highly! Thank you all for your wonderful care of me!
---
Jun 1, 2023
I really like Dr. Karam. He listens well and easily answers and explains to me any questions I have. I am very happy with the care I have received. His medical assistant is also very good. I feel fortunate to be Dr Karam's patient and I think he is a great physician.
---
May 26, 2023
One of the assistants was extremely helpful after I had seen the doctor. I was waiting for a stool sample kit, but my original assistant was busy with another patient. So this other assistant became aware of the situation and prepared the kit for me with speed and friendliness. I was impressed and said, "You are very kind."
---
May 26, 2023
I am completely satisfied with the care I've received by Dr Karam and the Legacy clinic. Feel very fortunate that switched care to Dr Karam and the clinic about a year ago.
---
May 24, 2023
Already have recommended this provider to friends
---
May 23, 2023
My provider is very responsive to my needs.
---
May 23, 2023
Felt the doctor was very attentive and organized. Exceeded my expectations.
---
May 17, 2023
Lack of wearing ID by MA's in this clinic
---
May 16, 2023
I am not one who relishes doctor visits, but Dr. Karam and his team have totally been there for me on multiple occasions. They make me feel very safe and cared for, and their expertise gives me hope.
---
May 15, 2023
Dr. Karam is very patient and understands my needs well.
---
May 11, 2023
It took a loooong time to get an appointment
---
May 10, 2023
Dr. Karam is a great provider. He's informative and listens.
---
May 10, 2023
Dr Karam had excellent skill and knowledge
---
May 8, 2023
Dr. Is a great listener, can multitask very well.answers my ?'s nicely.
---
May 5, 2023
Dr always through and I never feel rushed
---
May 4, 2023
This was my first visit with Dr. Karam. I found him very nice & also thorough with the exam. Since my family includes 5 physicians I am very thorough in my judgment.
---
May 4, 2023
Dr. Karam was very observant, reviewed my records completely, and went over my problems with me to my satisfaction.
---
May 2, 2023
All the people who I talked to, intake person, the doctor's assistant, and the doctor were helpful and pleasant.
---
May 1, 2023
Dr. Karam is excellent!
---
May 1, 2023
Absolutely amazing team at Raleigh Hills! Always a pleasure to talk with along with incredible and personal care when discussing an issue. Always able to schedule an appointment with ease and get an exceptional treatment and care with Dr. Karam. Have been a regular patient with this clinic for years now and extremely satisfied with care I've recieved every single time. A+
---
Apr 28, 2023
The hone recording repeats the same, somewhat lengthy, msg twice. This can be a negative for someone anxious to speak to a person.
---
Apr 27, 2023
Dr. Karam and everyone at Legacy Raleigh Hills are just wonderful. My only request would be online appointment making at all Legacy facilities.
---
Apr 27, 2023
This was my first visit with Dr. Karam in order to establish a primary care relationship. I am extremely pleased with our visit and the attentive, respectful and professional care I received. I could not imagine a better experience. I am hopeful that Dr. Karam will continue as my Primary Care Physician throughout my remaining years.
---
Apr 21, 2023
Dr. Karam is an excellent doctor with great knowledge & bedside manner. The staff is excellent as well.
---
Apr 21, 2023
My experiences have always been pleasant, since DR Karam was assigned to my case.
---
Apr 21, 2023
Dr. Karam is an outstanding PCP. He is very knowledgeable on all aspects of medicine.
---
Apr 4, 2023
Dr Karam is a great Doctor for me. I have terminal cancer and he helps me wade through the drugs, needs, help for my husband, and my peace of mind. I have recommend him and this practice.
---
Apr 3, 2023
Concise professional informed care
---
Apr 3, 2023
I can't get into my personal account as of this morning. It asks for all my info and pass word which I forgot.
---
Mar 31, 2023
Dr Karam listens intently and spends sufficient time with me to make certain that ALL of my concerns and any concerns he might have are addressed. And understood, making sure that when I wal away anY recommendations are understood and on the report that is provided to me.
---
Mar 29, 2023
Dr. Karam is extremely knowledgeable, personable, thorough, professional and possesses all the qualities you would want in a physician. I'm very grateful that I found him to attend to my health needs. He's awesome!!
---
Mar 28, 2023
The doctor was dismissive of my concerns, had a thought track of a pharmaceutical intervention, and wouldn't deviate from his assumed understanding. I don't feel my questions/concerns were resolved, which makes me question coming back to this provider in the future. Very disappointed.
---
Mar 28, 2023
Dr Karam was very good at answering my questions and concerns I would give him a 10 . A good doctor !
---
Mar 27, 2023
New patient to Dr. Karam. I was late for the appointment. . He explained the need to keep to his scheduled time and I appreciate that. He was very easy to talk with.
---
Mar 16, 2023
All the staff treat me like a person, not a number. They are courteous and friendly.
---
Mar 6, 2023
David Karam has been my Dr since he moved to Portland. He has been very responsive and extremely kind. Always listening and providing great care. I had switched multiple providers over the years because none were truly LGBTQI affirming or ever took me seriously. I feel respected and listened to in the office with Dr Karam as a Queer man.
---
Mar 2, 2023
DR. KARAM is very patient with me. He takes the time & explains everything to me. Checks each & every concern with me.
---
Feb 27, 2023
Dr Karam spent as much time as needed with me. He was never rushed and he gave me his full attention. The office help is exceptional.
---
Feb 27, 2023
Exceptional physician. I feel very fortunate to have him as my primary Doctor.
---
Feb 27, 2023
I feel lucky to have Dr. Karam as my primary provider. He's knowledgeable and kind, and always spends time with me, which I appreciate very much.
---
Feb 20, 2023
Dr. Karam is a model Provider in that he shows care and concern while being helpful and knowledgeable about your personal care. I'm so fortunate to have found him as we moved and needed a PCP. He is the best!
---
Feb 20, 2023
He always listens to me.
---
Feb 15, 2023
Dr. Karam is a top professional - personable, intelligent, and highly-skilled, and, a pretty nice guy also!
---
Feb 13, 2023
I was very pleased with my recent annual exam with Dr Karam. He was very informed about my past and more recent health history. He answered my questions throughly and provided specific recommendations. His physical exam was appropriate to my PMH and current history. I was very impressed that a topic we discussed about 4 months ago that he had followed up and provided a specific response to issues we discussed at that time. I am very pleased that I transferred my care to Dr Karam as my PCP.
---
Feb 13, 2023
I was able to get my COVID booster, talk about my health concerns, and get a checkup done in a caring but quick matter. My prescription resulting from this appointment was available at my pharmacy shortly after, so I appreciate the quick request of that prescription.
---
Feb 9, 2023
Dr. Karam is a caring physician who takes the time to listen to you and is very knowledgeable in all aspects of medicine.
---
Feb 9, 2023
Dr. Karam is an excellent physician. He takes time in explaining every aspect of concern and listens to my concerns. When necessary, he calls to relay the results of tests that may come after seeing him, to explain such results.
---
Feb 7, 2023
Dr. Karam is competent, thorough and respectful.
---
Feb 7, 2023
This was an initial "meet and greet" appt as a new patient. I could not have been more impressed with Dr. Karam! He was respectful, listened carefully, made excellent suggestions and made me very confident that he will be a top notch pcp going forward.
---
Feb 7, 2023
Dr. Karam is amazing. He listens very carefully, knows his stuff and gives great advice. I recommend him to everyone. He is one of the best doctors I've had. 10/10 would recommend seeing Dr. Karam.
---
Feb 6, 2023
I have already recommended him, and they have scheduled appointments and then to see him
---
Feb 3, 2023
Dr. Karam is knowledgable, a good listener and takes time with each visit.
---
Feb 2, 2023
Dr Karam and Michelle were the best!Everyone in the office is great
---
Jan 30, 2023
Reception is always awkward. Yesterday they thought I was there for a Medicare visit, even though I tried to tell them I was using my work provided insurance and was not there for a Medicare visit. Dr. Karam straightened it all out once he found out what was going on. He's a great guy. Very capable, friendly and knowledgeable.
---
Jan 27, 2023
Dr. Karam always listens carefully and responds helpfully to all my concerns and gives explicit instructions and guidance.
---
Jan 27, 2023
Dr. Karam is wonderful. I appreciate his willingness to explain health issues and answer my questions. He seems to really care for his patients.
---
Jan 26, 2023
Very thorough exam. Listened to my concerns and provided excellent feedback. Very respectful.
---
Jan 24, 2023
Dr. Karam spent about a good hour addressing my concerns and questions.
---
Jan 20, 2023
Already have recommended this provider to someone.
---
Jan 20, 2023
Dr Karam is. Compassionate and seems totally competent and up to date. I am fortunate to have him as PCP.
---
Jan 19, 2023
Perfect provider for me. Very intelligent and knowledgeable. I trust the care he provides
---
Jan 16, 2023
Dr. Karam is very thorough and asked me about my health issues. He listened carefully to my concerns and recommend optional treatment and prescription. One of the medication gave me immediate relief.
---
Jan 12, 2023
This visit was my first with Dr. David Karam. He was on top of my medical history and seemed very good & knowledgeable.
---
Jan 12, 2023
I'm very grateful to have Dr. Karam as my internist. He's very knowledgable and thorough, answers all my questions. The treatment plan he created for me has been highly successful with excellent results.
---
Jan 10, 2023
This was my first visit with this dr. as my new primary care dr. - Dr. Karam took time to get to know me and my medical issues.
---
Jan 6, 2023
There was no bad experience. Professional, no rush, and answered all questions.
---
Jan 6, 2023
I am impressed with Dr. Karam every time I see him. He is very professional, yet friendly, informed and informative. He listens intently and answers my questions in understandable language. At the appointment In question we discussed options along after he explained their pros and cons. I feel like I have some element of control In my own healthcare decisions. That's refreshing!His staff is friendly, capable and attentive to whatever request is on the table. But, there is one thing that has nothing to do with medical care. It has to do with aesthetics. Upon entering the office, the patient has the outdoor light behind them and once Inside, a big plate of glass between them and the staff. Maybe additional plexiglass as a Covid measure? Not sure about that, I'm walking In blind. After all that, staff members are placed behind large computer monitors and as the patient (me) enters, one never knows which station that little voice comes from "I can help you over here." If all staff members are busy helping others on the phone or are deep into something on the computer, one wonders where to go. So! That's my pet peeve and I'll end by saying, "Thank you, Dr. Karam and all the others that allow you to provide excellent healthcare.
---
Dec 30, 2022
Dr. Was great. He asked questions and listened to what I had to say. Does a great job and never rushes me.
---
Dec 29, 2022
I really love Dr. Karam and feel very comfortable with him. He is a great doctor and Michelle does a wonderful job too!
---
Dec 27, 2022
All good experience
---
Dec 19, 2022
Was very good. Took time to listen and explain things.
---
Dec 19, 2022
Dr. Karam is the best doctor I've had in a very long time!
---
Dec 9, 2022
I was treated respectfully. Dr. Listened to me and was very empathetic and kind. That is what I've needed in my care! Dr. K. Is the best for me!
---
Dec 9, 2022
He listens and cares.
---
Dec 9, 2022
Dr. Karam was very thorough, thoughtful & compassionate.
---
Dec 8, 2022
I have confidence in my doctor
---
Dec 8, 2022
Dave the PA and office staff are wonderful and caring. Dr. Karam is the best primary I have had!
---
Dec 6, 2022
Listens we decuss conditions and what to do going forward