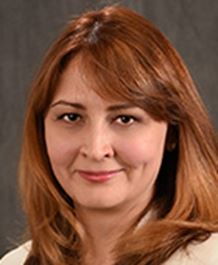 Call to Schedule
Daniela Goldenberg, MD
My Specialties:
Internal Medicine, Board-certified
My Areas of Focus:
Diabetes, Preventive Medicine, Complete Women's Health
Languages:
English, Interpreters available for other languages, Romanian
Affiliations:
Legacy Health Partners
Where I see patients
Where I see patients
503-413-5629
Monday-Friday, 8 a.m.-5 p.m.
About Me:
Board-certified in internal medicine, Dr. Goldenberg is a primary care physician at Legacy Medical Group-Northwest. She received her medical degree from Romania and completed an internship and residency at Providence Portland. She has a clinical interest in preventative medicine, women's health and hypertension and focuses her practice on individuals 16 years of age and older. She joined Legacy Medical Group-Northwest in 2003. Daniela Goldenberg MD is recognized by the National Committee for Quality Assurance (NCQA) and the American Diabetes Association (ADA) for providing quality care to her patients with diabetes. Dr. Goldenberg is closed to new patients at this time. Hobbies include: Hiking, Spending time with family, Music
Education:
Residency: Providence Medical - Portland, OR
Internship: Providence Medical - Portland, OR
Medical School: Romania
Year I Started Practice: 2003
Hospitals Served: Legacy Good Samaritan Medical Center
Patient Rating
Legacy wants every patient to have great care, every time. To help measure and improve patient satisfaction, we send surveys to randomly selected patients after their appointments. We use this feedback from the surveys to improve and enhance the care we offer. Learn more about our surveys & ratings
Average Rating: 4.8 out of 5.0
---
Aug 8, 2023
Short wait time. Provider attentive and answered questions. Knowledgeable and very pleasant provider.
---
Aug 8, 2023
I appreciate the time and consideration Dr Goldenberg gave me during this visit. She answers my questions or takes the time to look up or contact someone else who can. I feel very fortunate to have her as my primary.
---
Aug 1, 2023
Dr Goldenberg takes all the time needed to explain things. I can be a difficult patient, sometimes getting in my own way rather than doing what's needed to take good care of my health. She Is perceptive and persistent in getting me to see this. She might seem 'hard-nosed' to some, but for me, she is just what I need, even though it might not always be pleasant to face my truth. She is always respectful even while being persistent, forthright, and honest. Dr Goldenberg is an excellent physician. Give the woman a raise !!
---
Jul 31, 2023
Doctor goldenberg and barbara were excellent. Check in with was questionable.
---
Jul 25, 2023
Dr Goldenberg was very thorough during this visit. And gave in-depth explanations when questions were asked.I just want to mention that I don't usually call the office. I communicate through my chart health on the computer. I ALWAYS receive responses in a very timely manner.
---
Jul 18, 2023
Dr.Goldenberg is very professional and knowledgeable, always explains the details of the treatment well, very pleasant and has excellent communicative skills.
---
Jul 17, 2023
Always positive!! I couldn't ask for a better doctor! Her team is top notch!
---
Jul 12, 2023
Dr Goldenberg is very professional, thorough and kind
---
Jul 11, 2023
Dr Goldenberg is as good a doctor as you can find.
---
Jul 5, 2023
Dr. Goldenberg is great. I really appreciate all that she has done for me and my family.
---
Jul 3, 2023
I have referred her before and my friends were very happy with her care
---
Jun 28, 2023
Would like to have blood work completed prior to appointment so doctor can explain results during my annual physical.
---
Jun 27, 2023
Love Dr Goldenberg! She's always very thorough, pleasant and I trust her professional judgement .
---
Jun 20, 2023
Dr Goldenberg is always present'. She listens and involves me in health planning. She provides objective info including pros and cons of different options. She is kind, compassionate, knowledgeable and humble.
---
Jun 13, 2023
I have been a patient of Dr. Goldenberg for around 20 years. She has always listened to my health concerns and has provided excellent care and I have always liked the specialists she has referred me to. I have recommended her to multiple friends.
---
Jun 5, 2023
Dr. Goldenberg is an excellent doctor. Many times I've called of the office and left messages and I've never I received a call back. Improvement is definitely needed in communication and customer concern at recetion is also needed.
---
May 31, 2023
All amazing!
---
May 24, 2023
I have been Dr Goldenberg's patient since [date removed] & have always been pleased with her care, she is a warm & caring dr.
---
May 24, 2023
Maybe I missed it, but you should ask about online MyHealth contact, which has been great recently. I saw phone, but not online. Again, maybe I missed it.
---
May 23, 2023
She made it clear that I could call or email if my problem got worse.
---
May 16, 2023
I tested positive for COVID on my appointment day - we had a room meeting at my appointed time.
---
May 16, 2023
Dr. Really cares about her patients. Follows up.
---
May 15, 2023
Was treated very well.
---
May 10, 2023
Excellent care, waiting room and exam rooms could use an overhaul.
---
May 9, 2023
Excellent. Caring, analytic and detail oriented.
---
May 3, 2023
I'm always impressed with the way Dr Goldenberg explains options and listens carefully to my responses. I appreciate the respect she shows. And I respect the intelligent explanations she gives. I couldn't ask for a better doctor.
---
May 2, 2023
I have noticed that the quality of care has declined in the last couple of years. I don't blame this on Dr Goldenberg, I blame it on lack of staffing. This last appointment I was told to have lab test after dr appointment- this is a really bad idea, because I was not able to discuss the results during the appointment.
---
Apr 17, 2023
30-40 minute wait past appointment time (10:20 am) to see the doctor. The MA popped her head in the door once to say that I hadn't been forgotten.
---
Apr 12, 2023
Dr. Goldenberg is as good as they come. I place so much faith and trust in her.
---
Apr 11, 2023
Dr. Goldberg is thorough, patient, and a good listener. She does not rush me through my concerns and issues. She offers different options to discuss and explore. I trust her knowledge and experience. She is the first doctor I have had in decades with whom I have been able to have continuous care and who has gotten to know me.
---
Apr 5, 2023
Provider apparently was covering for my regular provider. When a change in treatment plan she ordered that visit instead caused greatly enhanced pain I expected some kind of ameliorative action. Instead I was strung along for a few hours and then just dropped.
---
Mar 28, 2023
Dr. Goldenberg was wonderful. She totally understood my concerns and her solutions were really great. I came away feeling so much better. She deserves my deepest appreciation.
---
Mar 27, 2023
Great attention paid to what I said.
---
Mar 27, 2023
This provider tends to be dismissive, explains away my concerns with conclusions that do not consider all the information, is paternalistic in her questioning and care, and seems to have already decided what she believes is going on which narrows her focus and questioning. I've left multiple appointments feeling invalidated and as though she sees me as an overly anxious patient who needs to be "managed" rather than heard and informed. I will change my PCP after our most recent visit.
---
Mar 10, 2023
I called for nurse advice and did not expect an in-person appointment. My established PCP is not available, but Dr. Goldenberg addressed my health issue thoroughly.
---
Mar 3, 2023
Dr. Goldenberg provides thorough examinations and is inquisitive about symptoms and patient concerns.
---
Feb 21, 2023
Dr Goldenberg spent a lot of time with me and I felt very listened to by her.
---
Feb 20, 2023
On my visit... I was called into the waiting room with the nurse on time the nurse took my vitals. Then I wait 52 minutes for the doctor to come in. No one ever stopped In to let me know what was happening. I was ready to leave as doctor knocked, I was putting on my coat to leave. This has happened before but not to this extent. This has been the case a time or two before but nothing like the [date removed] appointment. The waiting room was not busy either. There was just one other patient In the waiting room when I arrived. Another situation that needs attention is when you call for an appointment it takes forever for someone to answer the phone. Maybe time to move on....
---
Feb 13, 2023
She was patient and thorough about my pain issues that that defined my request for an expedited appointment
---
Feb 6, 2023
This was my first visit to this provider. However overall I was very happy with Dr. Goldenberg.
---
Feb 3, 2023
My labs were after the visit and there were a few unexpected/atypical values, but I haven't seen a note or explanation in MyHealth yet. Dr. Goldenberg is a wonderful practitioner. I've been with her for years.
---
Feb 3, 2023
Dr Goldenberg is very thorough, intelligent, approachable and caring
---
Feb 1, 2023
My doctor is wonderful and I trust her. The only issue with this visit was I wasn't called back until 40 min after my appointment and didn't see her for another 15 min. I'm assuming that there must have been some kind of emergency in the morning because my appointment was at 0950.
---
Jan 31, 2023
Very long wait in exam room, no apology for keeping me waiting. I know the doc doesn't have precise control over the schedule or how long prior appointments require, but it would be nice to get a simple "sorry to keep you waiting"
---
Jan 26, 2023
This was an excellent visit, following up on recent infections and hospitalization. Dr. Goldenberg spent a lot of time reviewing all the test results and my current health after the treatments. Thank you!
---
Jan 19, 2023
I know the team at Legacy Medical Group NW are doing the best they can with staffing shortages.
---
Jan 18, 2023
I don't have any problems with her.
---
Jan 16, 2023
I couldn't ask for a better PCP, Dr. G is kind, smart, and warm. She is always up to speed on my health/tests/meds and addresses my concerns in easy to understand language. She involves me in decisions. She listens & is respectful always. She cares about me as a person, I'm not just a customer.
---
Jan 13, 2023
Dr.Goldenberg is a good health partner and makes sure she directs to the right specialists.
---
Jan 13, 2023
Only complaint is length of time waiting on phone to make initial appointment.
---
Jan 12, 2023
Just a simple apology for being 45 minutes late would have changed the entire tone of the appointment. My time is important too. I respect Dr. Goldenberg and will continue to see her.
---
Jan 10, 2023
After I was put into the exam room and the nurse took my vitals, I waited about 30 minutes for the doctor arrive.
---
Dec 20, 2022
I like my provider (dr.); I hate how difficult it is to contact her & how poorly the communication between her office & your lab are.
---
Dec 14, 2022
Dr Goldenberg spent a lot of time talking to me and did not act rushed even though the office was understaffed.
---
Dec 9, 2022
Dr. Goldenberg is sympathetic, wise and patient. She listens, assesses and responds with obvious care.
---
Dec 9, 2022
Dr Goldenberg is a compassionate listener yet raises good and sometimes stern questions to guide my understanding. I always leave thinking of my health in a way that is more beneficial. I left this particular appt with referrals and potential solutions to problems I did not think were fixable.
---
Dec 5, 2022
Love Dr. Goldenberg.
---
Dec 2, 2022
I didn't feel a connection nor did I feel this provider had good information & feedback on how to progress with my diagnosis other than medication & PT. I would love a provider to acknowledge mind & body connection as well.
---
Nov 30, 2022
I thought Ms. Goldenberg knew what my appt was for and we discussed my allergic reaction I was having then she recommended want I should do for a 2 week time period. She's not my provider but I needed to get seen and she had an open slot. I was impressed by her visit. So I would recommend her to family and friends.
---
Nov 22, 2022
Daniela Goldenberg is a perfect doctor/advisor for me.
---
Nov 21, 2022
Dr Goldenberg is very thorough & conscientious & encouraging.
---
Nov 21, 2022
Very pleased. I feel valued and listened to with Dr Goldenberg
---
Nov 18, 2022
My visit was good & my problem addressed. However, my doctor was "rushed." I am most aware of staff shortage. It is in all of our hospitals. It is sad & must not go on!
---
Nov 15, 2022
I've seen doctors in this office for 30 years or more. I have been pleased with the providers and the services I receive. Dr. Goldenberg is friendly, professional and answers all of my questions snd concerns.
---
Nov 14, 2022
The doctor and staff provided exactly what I needed.
---
Nov 14, 2022
She was phenomenal. This was our first visit and I felt truly heard and cared for as a patient. She listened to me, explained concern in ways I comprehended and will apply differently than when it heard similar sentiments from other physicians in the past. Her ability to balance compassion and a medical opinion is a beautiful gift. I left feeling thoroughly evaluated and in good hands as a primary care physician. Thank you so very much, I imagine it's often a long and tough role these days.
---
Oct 28, 2022
Dr goldenberg is very attentive and caring abd works with my life style for great health. I considered switching providers to be closer to my home but I like dr goldenberg too much to switch. We will do online appt if no in person services required in the future. I feel very fortunate to have dr goldenberg and her support staff
---
Oct 26, 2022
Dr G - knowledgeable - experienced - thoughtful - friendly - Perfect Professional
---
Oct 24, 2022
I waited in the exam room for an hour before I saw my doctor.
---
Oct 21, 2022
I have utmost confidence in Dr. Goldenberg.
---
Oct 21, 2022
It was all good.
---
Oct 21, 2022
Had some urgent health concerns that Dr. Goldenberg took seriously, talked through with me and made a plan. Very satisfied with her response to my concerns.
---
Oct 19, 2022
I like Dr. Goldenberg very much.
---
Oct 17, 2022
Great doctor.
---
Oct 17, 2022
Good experience/annual meds review; Dr Goldenberg very thorough reviewing lab results while engaging me in questions RE my lifestyle, changes/habits to recommend best course of treatment. Dr. G advocates health and wellness while promoting healthy habits. Excellent physician. Extremely grateful for her care and guidance. Office staff and assistants very good too!!
---
Oct 17, 2022
Dr. Goldenberg always listens to my concerns and questions. She is a very intelligent, caring, knowledgeable Doctor.
---
Oct 14, 2022
Dr. Goldenberg and her MA were both incredibly helpful, professional, and thorough. I appreciate all the help that the doctor has given me. She has followed up with my cardiologist to make sure I get the testing I need. I even got my flu shot which was an added bonus!
---
Oct 11, 2022
Dr very good listener. Very confident and considerate of myfeelings
---
Sep 30, 2022
Dr. Goldenberg was running behind and didn't have enough time to fully address all my questions.
---
Sep 30, 2022
Dr. Goldenberg is kind, listens well, is always familiar with my chart, knowledgeable. In short, she is an excellent physician.
---
Sep 28, 2022
I trust and respect Dr. Goldenberg and am thankful for her care.
---
Sep 27, 2022
I spoke with one of the nurses associated with my PCP on the day before my visit because I felt I needed an appointment promptly. The nurse facilitated a visit the next day for which is am grateful. The nurse gave me some information regarding my pain complaint which was different than what I heard from my doctor at the appointment the next day. The nurse recommended that I take Tylenol, saying that I should avoid Advil at my age. At my visit with my doctor she told me that it would be fine for me to alternate recommended doses of Tylenol an and Advil.
---
Sep 27, 2022
Good to see the dr again I have been gone for 18 months