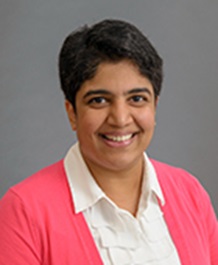 Call to Schedule
Aruna Jayaram, MD
My Specialties:
Internal Medicine, Board-certified
My Areas of Focus:
Chronic Diseases, Preventative Care, Diabetes Care
Languages:
English, Interpreters available for other languages
Affiliations:
Legacy Health Partners
Where I see patients
Where I see patients
503-674-1581
Monday-Friday, 8 a.m.-5 p.m.
Patient Rating
Legacy wants every patient to have great care, every time. To help measure and improve patient satisfaction, we send surveys to randomly selected patients after their appointments. We use this feedback from the surveys to improve and enhance the care we offer. Learn more about our surveys & ratings
Average Rating: 4.9 out of 5.0
---
Sep 7, 2023
When I have an appointment with Dr. Jayaram, I know it will be a thorough visit, one where I know she will include me on information, explain it so I can understand the blood tests, etc, answer all my questions.
---
Aug 29, 2023
Good experience
---
Jul 24, 2023
Oh my gosh I love my provider Aruna Jayaram. She is the Best! Provider I've ever had.... She sincerely cares about my health......
---
Jul 14, 2023
We just adore Doc Jayaram. She's Great in EVERY way!!!!
---
Jul 3, 2023
Every time I come in for a doctors visit everyone is really nice and caring. Busy days or slow days I would not complain and wait to see her because my doctor is the best and makes sure my heath comes first.
---
Jun 30, 2023
It's not easy to get an appointment at the time I need
---
Jun 28, 2023
The clinic has to wait a long time for someone to answerI have to wait for a long time to make an appointment with a doctor
---
Jun 23, 2023
Dr. Jayaram and Jamie are always phenomenal! I have never had a bad experience with them. They always listen AND respond, I have never felt like I was bothering them. Even though my job is moving me, I will be keeping them as my Primary Team, they are THAT great! Thank you for being my amazing MH Team <3
---
Jun 15, 2023
Very good visit & results.
---
Jun 14, 2023
I truly feel that Dr. Jayaram is doing a very good job. She's very pleasant & very concerned as to why I came to her office. She's very nice to spend time with; gives me plenty of time to ask questions. That's unusual I find.
---
Jun 14, 2023
I have been with my primary care provider for some years now, and she and her staff have always been very very caring and cordial In fact, I cannot recall a time when they were not caring, polite, et cetera
---
Jun 14, 2023
Dr. Jayaram has always been pleasant and knowledgeable about my medical conditions.
---
Jun 8, 2023
Good visit as always
---
May 31, 2023
Love you all. Very kind to an old lady
---
May 25, 2023
Dr. Jayaram has always been attentive and responsive to my questions regarding my health. On all fronts she appears to be a caring, concerned professional who truly wants the best for her patients.
---
May 25, 2023
I am very satisfied with my Doctor and her office I would highly recommend her to all my friends
---
May 23, 2023
I love my Doctor, she's amazing, as well as her nurses and staff.
---
May 18, 2023
Dr Jayaram was fantastic! Very personable, listened to everything I had to say, and didn't rush through my visit. I felt involved in my care valued as a person.
---
May 18, 2023
The provider did not introduce themselves and was continuously distracted during the visit resulting in uncomfortable pauses in conversation or unfinished sentences. I did not feel the provider addressed my concerns and then documented assessment in visit that did not occur. The provider did not listen to my heart or lung sounds and charted that I do not have lower extremity edema which is inaccurate. She did not explain the blood tests that were ordered nor did she answer my questions about what I needed to do to investigate my abnormal lab value. I left the visit frustrated and feeling dismissed.
---
May 9, 2023
Wish I could switch my primary care Dr to her. She was excellent and I loved her.
---
May 3, 2023
Receptionists were noisy and talked about recipes with each other. Not very professional.
---
May 1, 2023
Always very good
---
Apr 24, 2023
My experience with Dr. Jayaram, has been amazing!!!! She listens and takes the time to get me the best medical treatment!
---
Mar 31, 2023
My doctor is the best doctor I've ever had. I am highly satisfied.
---
Mar 22, 2023
Dr is always cheerful, and finds answers for any questions I have.
---
Mar 14, 2023
This provide and staff have always shown fantastic attitudes toward me.
---
Mar 9, 2023
Dr. Jayaram is why people should go into medicine. She listens and is very respectful. She gives confidence and postitivity. She is knowledgeable and very kind. Her communication style is impressive. The work flow in the clinic is efficient, getting messages to her quickly, which she in turn answers to me. I'm very satisfied with her as my provider. I appreciate the care very much
---
Mar 8, 2023
Dr. J did a good review and covered several general check ups needed and labs.
---
Mar 7, 2023
Dr. Jayaram takes the time, either listening to me or explaining what concerns me. I feel very comfortable with her. She is kind and caring.
---
Mar 6, 2023
Dr. Jayaram and the staff are professional and compassionate. They listen to me and provide information that is helpful to me.
---
Feb 28, 2023
Always great! I have the best Doctor and staff. I have no complaints.
---
Feb 27, 2023
She is not real easy to talk to.
---
Feb 21, 2023
Dr.Jayaram always has what I needshe is a kind and caring provider!
---
Feb 17, 2023
Dr. Jayaram is awesome! My hubby is hard of hearing. Doc J. is so funny & we laugh when she talks loud with him. It's comforting.
---
Feb 16, 2023
I feel very comfortable talking with my provider, the nurses & the receptionist at My Hood Medical.
---
Feb 14, 2023
My Dr. Jayaram is so knowledgeable and caring. I feel comfortable with her care indefinitely. Overall great office. Thank you
---
Feb 14, 2023
All visits were done in a good manner and pleasant way.
---
Feb 8, 2023
Aruna is an outstanding PCP. She deserves a raise and the highest respect.
---
Feb 6, 2023
I am type one diabetic. She's the best doctor I have ever had
---
Feb 2, 2023
Dr. Aruna Jayaram is a wonderful doctor! She's warm, knowledgeable, and knows when it's important to refer me to another professional for specialized treatment - I'm so happy I found her.
---
Feb 2, 2023
I have nothing "bad" to report
---
Jan 25, 2023
I love my Dr, she takes the time to listen, and she provides professional care.
---
Jan 25, 2023
Dr is thoughtful, knowledgeable, positive, thorough and pleasant. I enjoy our appts!
---
Jan 20, 2023
The staff in the office is always friendly and respectful and helpful. Dr. Jayaram is a wonderful and caring provider.
---
Jan 13, 2023
We absolutely adore Dr. Aruna Jayaram and her staff at Legacy! We hope we never ever have to change provider's. [Name removed] thanks you all.
---
Jan 12, 2023
This doctor is always 100% tuned in to my health needs during our visits. She just has an excellent tone as a doctor for me and I appreciate her very much.
---
Jan 4, 2023
Dr.Jayaram does great job ever time I see her.
---
Jan 3, 2023
Dr. Jayaram is very attentive to her patients. She listens!!
---
Dec 30, 2022
The only issue was the timeliness of response. I understand that everyone is having staffing shortages right now and the system is overwhelmed with Covid, RSV, and flu. But it was pretty miserable to have to wait 2 days to hear back on getting some cough syrup when I was so sick with covid. The other thing is- I lost my voice and so I was unable to call. It would have been nice to have an option to send a message with greater priority because I understand patient portal messages are considered non-urgent and you may have to wait 3 days for a response.
---
Dec 28, 2022
Dr. Takes her time to know me as a person & patient.
---
Dec 27, 2022
I have the best doctor in the world she is always understanding and looks out for me
---
Dec 22, 2022
Very relatable, easy to talk to, listens, celebrates progress and improved labs. I actually enjoy seeing her.
---
Dec 22, 2022
Dr. Jayaram is a very good listener. I've always felt heard by her. She is compassionate and explains things very well.
---
Dec 21, 2022
Very good Dr and she listened very carefully about my heart condition
---
Dec 15, 2022
Just takes a long time to get appointments
---
Dec 14, 2022
Dr. Jayaram is always wonderful, quick to respond via MyHealth, helpful, honest with me when I need it. I appreciate her straight forward yet caring style.
---
Dec 13, 2022
Very nice. No problems!
---
Dec 9, 2022
Dr. Jay listened & didn't hurry me or discredit what I was saying about myself or my condition. She ordered tests I needed accordingly - understood medicines that I felt had helped me in the past - she followed up w/me after test results & was concerned for me...after B-tests she contacted me w/the results & follow-ups.
---
Dec 6, 2022
One's visits with Dr. Jayaram are always good experiences due to her innate nature.
---
Dec 1, 2022
Very courteous staff
---
Nov 29, 2022
Everyone was very nice.
---
Oct 27, 2022
Shannon at check in/front desk was Very nice & personable. She explained what she was doing as she was working on my information in the computer. Instead of just clicking away and leaving me standing there wondering what she was doing.Dr Jayaram is and has always been kind, gentle, compassionate, She actually Cares about her patients! I have anxiety, but knowing I am going to see her at Legacy eases my mind. Dr Jayaram is a Perfect fit for me.
---
Oct 26, 2022
She is consistently a kind caring thoughtful provider. She listens to me, explains carefully, and I rarely have to wait very long. The whole office is well organized and respectful. I appreciate the good care
---
Oct 25, 2022
The only negative aspect ocurred when attempting to make an appointment. I patiently waited on the phone, listening to reminders that I could leave a message without waiting, for ten plus minutes. After deciding to leave a message at approximately 12:00 PM, I left a message with my call-back information. After waiting a week with no call back, I called and successfully made an appointment.
---
Oct 24, 2022
Dr. Jayaram is an excellent listener, quick to acknowledge when she wants to research the answer to a question I have, and includes me in every step of deciding my care. Her follow up by phone or e-chart is quick and precise. She indicates that she truly values my input and my concerns. She is empathetic and compassionate. I'm blessed to have her as a partner in my health care.
---
Oct 21, 2022
Overall satisfied
---
Oct 21, 2022
She is very thorough and great for me at my age.
---
Oct 18, 2022
Dr Jayaram is a good listener, explains things and probes for questions.
---
Oct 14, 2022
Im 100% happy with every visit I always feel comfortable safe.
---
Oct 13, 2022
Dr. Jayaram is a grand dr., she loves her pts. and takes care of us.... It was my "CALL" to go to Providence, blood in sputum, 5 cm. by 2" in L. lung - they are also professional.
---
Oct 4, 2022
Being a layman so to speak , I found Dr. Jayaram explaining why a medication was stopped, a new one started, medically clear for me to understand.. Also she is open to any questions I might have during my visit.