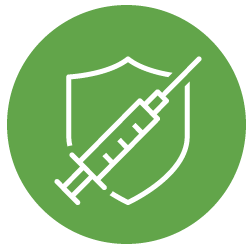 Because of the rapid spread of the Delta variant, people have also asked whether vaccinated people need to get an additional COVID-19 booster or 3rd shot. It's a good question to ask.
Centers for Disease Control and Prevention (CDC) currently recommends an additional dose of the COVID-19 vaccine for people with moderately to severely compromised immune systems after their initial two-dose vaccine series.
Because the COVID-19 Delta variant is highly contagious, we strongly recommend that everyone continue to wear a mask indoors and avoid large crowds outdoors. These steps can help avoid serious problems resulting from COVID-19—including death.
Who is considered immunocompromised?
Immunocompromised people are those who:
Have actively been in cancer treatment for tumors or cancers of the blood.
Have received an organ transplant and are taking medicine to suppress the immune system.
Have received a stem cell transplant within the last 2 years or are taking medicine to suppress the immune system.
Have moderate or severe primary immunodeficiency (such as DiGeorge syndrome, Wiskott-Aldrich syndrome).
With advanced or untreated HIV infection.
Are actively being treated with high-dose corticosteroids or other drugs that may suppress an immune response.
If you meet the conditions for being immunocompromised contact your local pharmacy to schedule a third shot.
For those who are not immunocompromised?
Plans to give booster or third-dose shots to people who have already been vaccinated was announced August 18 by the CDC.
Starting the week of September 20, people who got Moderna or Pfizer vaccines will be eligible 8 months after the completion of the two-dose series.
You can get your third dose at your local pharmacy. Be sure to bring your COVID-19 vaccination documentation to verify the completion date of your two-dose series.
An additional dose is not recommended at this time for people who got the J&J vaccine. However, more information is expected in the coming weeks.