Teen rallies network to support PICU patients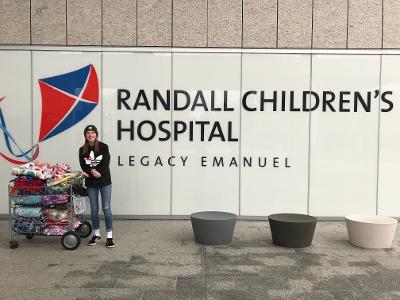 What started out as a fun summer project for one teen to help Randall Children's Hospital patients has turned into a community-wide effort with the help of her relatives, friends and neighbors.
In the summer of 2019, Maia Oliver had some free time on her hands and the desire to be of service. She didn't need to look far for inspiration. Maia's mother, Lori Oliver, is a nurse in the Pediatric Intensive Care Unit (PICU) at Randall Children's Hospital at Legacy Emanuel. Lori and Maia discussed how being in the PICU can be scary for patients and stressful for families, and Maia knew she wanted to help.
How could Maia help PICU patients? She decided blankets was the answer.
Handmade, soft and cozy blankets in fun patterns sure to brighten a child's day
and provide a little comfort. After making a few, she asked relatives for
donations to help her buy more supplies. That summer, she was able to deliver
50 blankets to the hospital.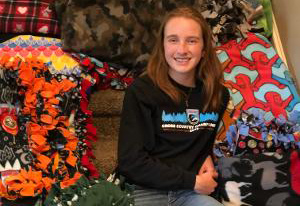 When COVID-19 hit this spring, Maia once again found herself with some extra time. Rather than sitting idle, she revived her blanket project. But this time she invited more people to join her.
One post on Facebook asking for donations of empty cans and bottles resulted in over 13,000 recyclables being brought to her house, and cash donations too – even from strangers who heard about the project. After a long afternoon at BottleDrop with her friends, Maia had over $1,000 for blanket supplies.
"I like to know what I'm doing is making an impact," Maia said about her motivation to start making blankets again. "If I have the time, why not dedicate it to those who need love?"
A corner of the Oliver's living room now houses endless yards of fabric and donations keep coming in for more supplies. And Maia, now in her senior year of high school, continues using her time to create a little bit of comfort for children in the PICU.

$5.3 MILLION SUPPORTED PATIENT CARE
including: cancer care, child abuse intervention programs, in-home hospice, interpretive services & more

3,500+ COMMUNITY MEMBERS
helped through supported patient care

$1.3 MILLION IN DIRECT FINANCIAL ASSISTANCE
for chemotherapy medication, inhalers, insulin & basic living needs, such as rent, utility bills, meal vouchers & hygiene kits ​​​​​​​

1,500+ COMMUNITY MEMBERS IN NEED
helped with recovery and by preventing further complications