eDocTalk News
From the desk of Melinda Muller, M.D., interim Chief Medical Officer, Legacy Health
Our value priority
By Melinda Muller, MD, Senior Vice President and Interim Chief Medical Officer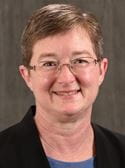 As Kathryn noted in her message last week, this month we are exploring value as one of Legacy's four strategic priorities. I want to follow on to her message by sharing some perspective about what that means for us as providers.
Our value priority is about how we increase the benefits of the care we provide while decreasing the burdens for our patients. Increasing the benefit of care means helping our patients get the best possible outcomes so they can enjoy their healthiest lives. Decreasing the burden of care means making it more cost-effective, convenient, and easier to navigate.
At Legacy, we plan to achieve this by becoming a health management company. By partnering with our Medicare, Medicaid, and commercial insurance payors to take responsibility for managing the overall care of their members, we believe we can raise the quality of care we provide even higher while decreasing the burdens and barriers our patients face. Eventually, we want to have 30% of our patients be part of one of these managed populations.
In approaching this shift, we are building on a foundation of strengths. Legacy has been successfully managing populations within our clinically integrated network, Legacy Health Partners, for several years, with support of services such as Care Support Resources, Medication Management Services, and our participation in CMS's Bundled Payment for Care Improvement Program. And we have a strong reputation for providing high-quality care, as evidenced by our recent recognition as the health system with the most five-star-rated hospitals in the region.
As providers, there is nothing more important than giving our patients the highest quality care. Legacy's focus on value will support us in this effort now and into the future.

Thanks,