Legacy Health Partners - News & Updates
Delivering value and improving health
J&J vaccine now available for order in all Legacy hospitals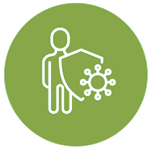 In 30 designated units, nurses are screening all eligible inpatients 18 years and older and providing vaccinations after provider order.
Please note that nurse screening for J&J use happens only in designated units. Providers wanting to offer the vaccine to patients in non-designated units are responsible for confirming individual vaccine eligibility. A new provider FAQ provides details.
Epic tip sheets, a go-live flyer for increased awareness and more resources to support this effort are available on the COVID-19 intranet.