eDocTalk News
From the desk of Melinda Muller, M.D., interim Chief Medical Officer, Legacy Health
Strategically placing inclusion as a priority at Legacy
By Melinda Muller, MD, Interim Senior Vice President and Chief Medical Officer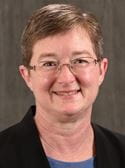 This month, we have been focusing on inclusion as one of Legacy's four strategic priorities. Our inclusion priority encompasses a range of diversity, equity, and inclusion efforts focused on eliminating disparities for our people and our patients.
As providers, inclusion goes to the heart of the work we do every day. We take care of people to help them get the best possible outcomes. But we know that many patients who are members of minority populations experience unequal access to care and other barriers both inside and outside the health care setting that prevent them from benefiting fully from the care they receive. For example, we know that people who are sexual and gender minorities continue to face stigmatization and discrimination that cause health inequities such as less access to health care, higher rates of diseases such as heart disease, cancer, and behavioral health conditions, as well as difficulty accessing gender affirming care.
That is why providing the best care to our patients requires that we look broadly at our outcomes for patterns that could indicate disparate impacts for patient populations based on their race, ethnicity, gender, language, or disability status. High quality care means that we really are doing everything we can to help all our patients experience their best health. But we can't do that if we don't have the full picture.
This month we started collecting additional data about patients involved in safety events through our ICares reporting system. We are asking staff to include information about the patient's race, ethnicity, language, and gender. The safety of our patients is fundamental to the quality of care we provide, so it is essential that we understand if harm events at Legacy are causing any disparate impacts.
The Population Health division has also begun experimenting with how to use population health methods to create a health disparity index, which will help us measure our progress toward eliminating disparate health outcomes. You can read more about this project in this Insight story. The work is in its early phase, with more to be done to figure out how to turn this analysis into actionable insight. At Legacy, we take great pride in the high-quality care we provide, and as a more inclusive organization, we will be able to serve our patients even better. We know we are at the beginning of a long journey to achieve full inclusion in care; however, these initial steps will help us move forward along that path and provide key information to point us in the right direction.
New leaders announced
Last week, Legacy's CEO, Kathryn Correia, announced that Legacy will welcome two new senior vice presidents in July— our chief medical officer and our chief nursing officer. Seth Podolsky, MD, and Kecia Kelly, DNP, are dynamic leaders who come to us with diverse professional and personal experiences that will be essential to Legacy's strategy and transition to become a health management company.
New Family Birth Center opens at Randall Children's Hospital
Randall Children's Hospital is preparing to open a new labor and delivery unit in July featuring more than 48,000 square-feet of beautifully designed labor and delivery services for expectant mothers, babies, and their families. The new Family Birth Center at Randall Children's Hospital joins the Level IV-certified Neonatal Intensive Care Unit, offering the highest level of obstetric and neonatal care in Oregon and Southwest Washington. The highly trained pediatric staff can handle the simplest pregnancy to the most complicated.
EVENTS, ANNOUNCEMENTS AND REMINDERS 
---
Kudos: Excellence in Hyperbaric Medicine
Enoch Huang, MD, and Davut Savaser, MD, are being recognized as co-winners by the Undersea and Hyperbaric Medicine Society for the "Excellence in Hyperbaric Medicine" award. They were chosen in recognition of continued diligence and excellence in the practice of hyperbaric medicine, particularly in areas of basic and clinical research as it might impact patient care.
Steve Losli, MD, Remembrance Fund
As we honor Dr. Steve Losli's impact, we have been working with his family on an appropriate remembrance for his long tenure at Legacy. We can now share that a tribute page has been set up to honor his legacy to support clinician wellness initiatives at Legacy Health – a true passion of Dr. Losli's.
We continue to be mindful, also hold space for, and recognize that this is a stressful time for all of us, so we want to share well-being resources again, for all of you, so you have them handy if you need them.
Oregon Wellness Program
The
Oregon Wellness Program
offers up to up to eight, free and confidential counseling sessions and additional wellness resources for licensed health care professionals, including Legacy Salmon Creek providers. Regional counseling services are available, including telemedicine.
Click here
to visit the resource library.
Coming soon: voicing your concerns with KLAS EHR survey
In the coming months, we will communicate more about an upcoming survey where your input is vitally important. Implementing, adopting, and optimizing our EHR solutions is a culturally transformative journey aimed at improving patient safety, providing a higher quality of care, and reducing unnecessary care-delivery costs by enabling you, as clinicians, to make decisions based on a more complete view of each patient's health.
MyLegacy intranet transition begins July 13
On July 13, the Marketing and Finance departments will launch new intranet sites on MyLegacy as the kick-off to the full intranet migration. In August, we will begin migrating the remainder of our old MyLegacy content to the new MyLegacy intranet. The majority of the clinical-related MyLegacy sites will migrate in the fall/winter. This migration will occur in phases through the end of the year.
Product recall: Philips Respironics CPAP, BIPAP, & Mechanical Ventilator Devices
Philips Respironics announced a voluntary recall for certain CPAP, BIPAP, and mechanical ventilator devices related to deterioration of the sound abatement foam used in these machines.
This recall affects all Philips CPAP and BIPAP devices manufactured prior to April 26, 2021.
The "sound abatement" polyurethane foam used to absorb noise in these devices has been found to pose a risk to users because of the way the foam can "degrade" into particles, which can then be ingested or inhaled. Exposure to foam particles can potentially cause headache, irritation, inflammation, and respiratory issues.
Patients with affected devices should contact their provider to determine whether they should use their CPAP or BIPAP and contact their DME for replacement options. Patients should contact Philips to register their device for service by calling 1-877-907-7508 or log into the Philips website.
Legacy Lab Alert
Due to a national backorder of the citrated light blue top tubes by both BD and Greiner for the 2.7mL and 1.8mL volumes, the following recommendations should be followed to best conserve inventory being allocated to all Legacy Health System.
When using a butterfly needle to collect blood, please use a butterfly needle and syringe combination to avoid using a blue top tube as the discard tube when using the vacutainer adapter.
Do not collect a blue top tube as part of the rainbow collected in the Emergency Department unless a coagulation test is ordered.
For more information, click here or contact Legacy Laboratory Client Services: 503-413-1234, 877-270-5566.
EDUCATIONAL OPPORTUNITIES 
---
The University of Washington Medicine and Seattle Children's Hospital partner to offer a certificate program
The Certificate Program in Patient Safety and Quality is an innovative training opportunity run jointly by Seattle Children's Hospital and the UW Medicine Center for Scholarship in Patient Care Quality and Safety. Participants will develop the skills to effectively disseminate their work and build a track record of scholarship in patient safety and quality.