eDocTalk News
From the desk of Melinda Muller, M.D., interim Chief Medical Officer, Legacy Health
Focusing on safety and well-being
By Melinda Muller, MD, Interim Senior Vice President and Chief Medical Officer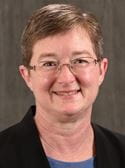 As we move into the summer months, we are moving forward with work on our strategic priorities and I have more detail below. First, I want to acknowledge the intense level of distress being experienced at all our sites due to the violence and continued high census. The confluence of COVID-19, rise in community violence, complexity and number of patients coming after we've been through a year of a pandemic is unprecedented. I want to thank you all for your ongoing commitment to our patients and each other and urge you to try to take time to care for yourself as well during this time.
Safety is one of the priority pillars in Legacy's strategic plan and I wanted to take a minute to really explain what it means to be the safest place to receive and deliver care. Our long-term goal is to reduce safety events until we reach zero patient and employee safety events every year. By the end of the year, we are seeking a 30% decrease in serious patient and employee safety events. We have defined safety holistically as including three domains: physical, psychological, and professional. We are adopting a unified, principle-based operating system called Lean at Legacy to ensure our performance and the customer experience is not dependent on who shows up to work each day. Creating a system to focus on safety will help us improve all aspects of organizational performance including quality, engagement, and satisfaction.
To take our written priorities to action and focus on safety, we have resumed our work around Lean at Good Samaritan Medical Center which was just getting started when COVID-19 hit us last year. The Lean Learning Lab launched on May 3 in the Emergency Department and there are already success stories coming from the lab and real time problem solving happening daily. The team is ready to continue to go in and address harm and safety issues in real time with the support of our performance excellence team and senior leadership. If you have questions, feel free to reach out to me or Denise Fall. For information, visit Lean at Legacy.
But as you know, safety is about more than just how we address physical harm, it is also psychological and professional safety. As we continue to focus on physical safety, I want us to also focus on our own resilience and wellbeing as providers as I mentioned. May is national mental health awareness month and it's an opportunity to take stock on where you are and focus on your own well-being journeys. As a reminder here is the Oregon Wellness Program information. In addition, the physicians foundation has developed a tool to help support you or your colleagues in quickly accessing the coping strategies and resources you may need to navigate a moment of crisis. As always, our Legacy resources are available.
Take care,
Melinda

Interim Senior Vice President and Chief Medical Officer
Legacy Health