eDocTalk News
From the desk of Melinda Muller, M.D., interim Chief Medical Officer, Legacy Health
Faster, safer, greener Rx with e-prescribing
A new project to move Legacy fully into electronic prescribing is underway. The initiative has gained momentum over the last few years, and by the close of 2020, e-prescribing accounted for three quarters of all prescriptions written across Legacy. Thanks to early adopters, Legacy has been able to hone processes while building a strong foundation ready for expansion.
Those who e-prescribe continue to demonstrate just how effective it can be. E-prescribing is faster, safer, and greener than the old paper method. It removes barriers for patients and minimizes risks for the prescribing provider. As we roll into 2021, new federal regulations as well as an uptick in regional DEA fraud cases are accelerating our transition to 100% e-prescribing.
Our phased approach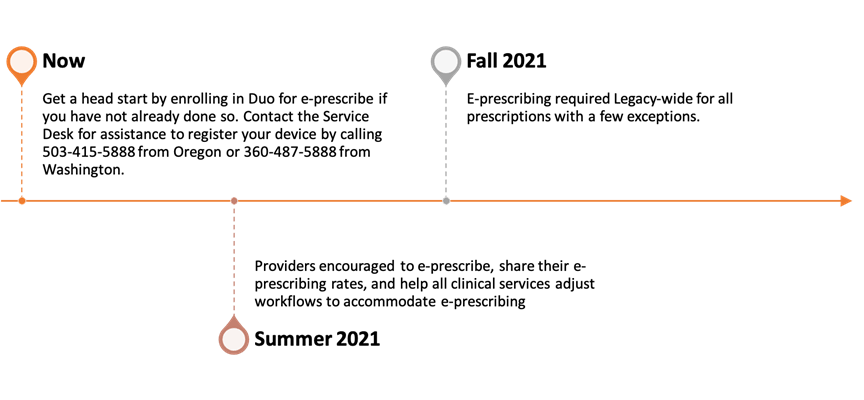 What providers are saying
Another change in a year already filled with change may seem like a lot to manage, but what if e-prescribing is easier? We've heard from many reluctant users who converted to advocates after making the switch. See what they had to say:
"I have to admit I was a reluctant adopter during the Salmon Creek pilot. In the chaotic ED environment, we were pretty sure we'd never get the right script for the right patient sent electronically to the right pharmacy. But, lo and behold, we discovered that e-prescribing was substantially easier for the provider, saved time in printing and signing, simplified discharge workflows, and shortened length of stay. It was also a safety and security win: our patients really loved it and our providers felt secure not handing out their DEA number. We will never go back to paper scripts again." Dan Bissell, MD, Legacy Salmon Creek - Emergency Medicine
"I've been essentially 100% e-prescribing since we moved to the new system. It's much more convenient for me especially for narcotics and refills over the weekend." Khayree Butler, MD, – Legacy Medical Group – Colorectal Surgery
"I'm a happy e-prescriber who finds the tool – Duo Mobile, and process convenient, safe and effortless. Patients appreciate that I can discuss their medication changes and switch to alternatives covered by their plan as needed, all before they leave our facility. Often as hospitalists during cross cover we are paged to call in prescriptions for patients that may be discharged already. The electronic process avoids unnecessary trips to the floor to leave paper prescriptions. Since no one can complain about lost prescriptions anymore, safety for controlled substances is better as well." Alpana Marwaha, MD, Legacy Medical Group – Hospitalist
"I have been 100% e-Rx for the past three years. It is so much easier to track, and no concerns with duplicate or counterfeit Rx being made. We will still need printed Rx in Washington for DMV parking permit requests, as the state require written and hand signed Rx still." Jared Remmers, MD, – Legacy Medical Group, Foot and Ankle - General Surgery
"As a primary care provider, the e-prescribing system has simplified my clinic workflow and has also been great for patient satisfaction. My patients love that I can send their medications directly to the pharmacy so they don't have to make two trips and it removes one more barrier to helping patients take their medications as they should be." Jenna Donaldson, MD, Legacy Medical Group Woodburn - Primary Care
A better experience in partnership with Legacy Pharmacies
To assess additional ways to ease the transition to e-prescribing for providers, we're working with our pharmacy colleagues to expand services, hours and convenience at Legacy pharmacies. As Legacy continues to push to become the top choice for care in our community, we need to give our patients a fast, friendly, and convenient experience. Consider your local Legacy Pharmacy the next time you write a prescription and look for more news this spring on expanded pharmacy services, such as mail order services, which are already available for your patients.