eDocTalk News
From the desk of Melinda Muller, M.D., interim Chief Medical Officer, Legacy Health
Focusing on safety and well-being
By Melinda Muller, MD, Interim Senior Vice President and Chief Medical Officer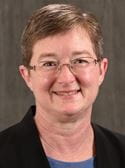 As we move into the summer months, we are moving forward with work on our strategic priorities and I have more detail below. First, I want to acknowledge the intense level of distress being experienced at all our sites due to the violence and continued high census. The confluence of COVID-19, rise in community violence, complexity and number of patients coming after we've been through a year of a pandemic is unprecedented. I want to thank you all for your ongoing commitment to our patients and each other and urge you to try to take time to care for yourself as well during this time.
Safety is one of the priority pillars in Legacy's strategic plan and I wanted to take a minute to really explain what it means to be the safest place to receive and deliver care. Our long-term goal is to reduce safety events until we reach zero patient and employee safety events every year. By the end of the year, we are seeking a 30% decrease in serious patient and employee safety events. We have defined safety holistically as including three domains:  physical, psychological, and professional. We are adopting a unified, principle-based operating system called Lean at Legacy to ensure our performance and the customer experience is not dependent on who shows up to work each day. Creating a system to focus on safety will help us improve all aspects of organizational performance including quality, engagement, and satisfaction.
Faster, safer, greener Rx with e-prescribing
Thanks to early adopters, Legacy has been able to hone electronic prescribing processes while building a strong foundation to support our expansion to 100% e-prescribing which is required by Fall of 2021. Learn more about our phased approach, what you can do to prepare, and hear from providers who have already made the switch.
DEA scam risk reported by Legacy provider
There was an isolated incident reported this month from a Legacy provider where a woman impersonating a DEA agent correctly recited the provider's medical license number as a part of an attempted scam. The Drug Enforcement Administration will never contact medical practitioners by telephone to demand money or any other form of payment, will never request personal or sensitive information over the phone, and will only notify people of a legitimate investigation or legal action in person or by official letter.
EVENTS, ANNOUNCEMENTS AND REMINDERS 
---
Last chance: May engagement M&M event
Please join us for our May Engagement M&M with Legacy leaders. We'll use our time tomorrow to discuss our well-being and resilience efforts. We'll also want to hear your ideas on what's working and what can be adjusted to best partner with and support you in your work.
New Epic workflow increases safety when patients temporarily leave for care
Legacy will launch an Epic functionality on June 15 to standardize and improve how we track hospital patients who leave temporarily for medical appointments or treatment.
The Epic Leave of Absence workflow allows Legacy staff to temporarily suspend an inpatient admission at a Legacy hospital or Unity Center for Behavioral Health while the patient is away. This improves safety and efficiency, giving care teams access to current orders and information to assess potential medicine interactions. It will also reduce unneeded discharges and readmissions and improve billing accuracy.
ICARE safety reporting, additional fields
In early June, two additional fields (race and preferred language) will be added to the ICARE safety reporting form to better identify and address disparities in health outcomes, measured by Legacy's Quality Foundational Metrics.
Patient populations experiencing health inequity may have poorer health outcomes, these disparities are also known to have a costly impact on the healthcare system. Currently, Legacy's Quality Foundational Metrics are not stratified by key demographic information like race, ethnicity, language, or disability (REAL-D).
Stanford WellMD physician well-being
The Stanford WellMD & WellPhD Center is offering a free virtual six-session course designed for physicians who are directing and leading local physician well-being efforts. Utilizing the Stanford Model of Professional FulfillmentTM, this course will equip leaders with the skills and tools necessary to catalyze changes at the local level in departments, divisions, practices, sites, and groups to achieve the greatest impact, as they initiate or expand focus on physician fulfillment and well-being. Throughout the course, participants will have the opportunity to experiment with course content and resources in robust small group exercises during the sessions and apply these in their organizations between sessions. Target course participants include physician well-being directors, chiefs, chairs, medical directors, wellness committee leaders, quality improvement leaders, program improvement leaders, residency program directors, and others who are able to influence physician well-being in their organizations.