eDocTalk News
From the desk of Melinda Muller, M.D., interim Chief Medical Officer, Legacy Health
Legacy's commitment to anti-harassment and anti-discrimination
By Melinda Muller, M.D., Interim Senior Vice President and Chief Medical Officer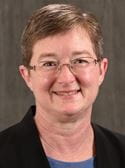 Colleagues:
As you may have read in my message sent to all Legacy employees and providers earlier this month, news stories about sexual harassment reports at a local health system provide the opportunity to emphasize Legacy Health's priority to be the safest place to give and receive care. This includes the safety of our patients in our care and the physical, psychological and professional safety of our employees and providers.
As you know, Legacy has zero tolerance for any form of sexual harassment or gender discrimination. Many forms of harassment are expressed as microaggressions or subtle but offensive comments or actions directed at a minority. It can be difficult to recognize this kind of harassment because it is seldom overt and is usually done unconsciously and unintentionally. As leaders within the healthcare delivery system, we must continue to lead by example. One of our roles as a provider is to ensure our teams are effective at delivering the best quality care to our patients and that begins within ourselves. Commitment to a safe workplace means that employees who report harassment are protected from retaliation.
I want to share two new policy updates that make these messages actionable:
The Equal Employment Opportunity and Affirmative Action Policy (Policy 500.106) was recently updated to more clearly outline actions undertaken to support equal employment opportunity and affirmative action. There will be more updates to come in April.

The Anti-Discrimination and Anti-Harassment Policy (Policy 500.504) was also recently updated to provide additional detail about the investigation process and the role of the manager in that process. Any employee who, in good faith, brings a complaint of discrimination or harassment will not be retaliated against as a result of bringing the complaint. Anyone who believes they have been retaliated against or intimidated as a result of bringing a complaint or cooperating in an investigation should immediately bring that to the attention of their manager or a Human Resources representative. All complaints of discrimination or harassment will be investigated promptly. The investigation team may include management, human resources, and/or other appropriate stakeholders within Legacy. Additional work is underway to evaluate and update the investigation process. More updates to come.
If you experience or witness harassment or discrimination, please report it. Employees can make reports in iCare, to Human Resources (503-415-5100), to our compliance hotline 800-820-7478, or with any leader whom you feel comfortable, including me. Legacy conducts prompt investigations and acts when appropriate.
To further reinforce commitment to these policy updates, learning sessions began last week and will continue through May for our Legacy leaders. Learning sessions give an opportunity to learn about the changes to the policies and the responsibilities we all have in the growing commitment to anti-racism and creating a safe environment for all employees and providers. While these sessions are only available to Legacy leaders at this time, they will become more widely available in the future. Look for updates in upcoming issues of eDoc Talk.
Thank you for your commitment to the safety of our patients and your colleagues and in ensuring that Legacy is an anti-harassment and anti-discrimination workplace where we can deliver on our mission of good health.
Sincerely,
Melinda

Interim Senior Vice President and Chief Medical Officer
Legacy Health