eDocTalk News
From the desk of Melinda Muller, M.D., interim Chief Medical Officer, Legacy Health
Supply chain slowdown brings new processes for COVID-19 rapid PCR tests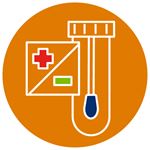 Due to supply chain shortages, Legacy has decided to make a change to our COVID-19 rapid PCR test use. We have two rapid COVID-19 PCR tests at the lab at Legacy Emanuel Medical Center: the Cepheid Gene xPress (Cepheid) and the GenMark EPlex (GenMark), effective Feb. 18. The lab will utilize both platforms to support urgent and very urgent testing criteria. As we continue to face shipment challenges with Cepheid allocations, the hospital will maintain a Cepheid supply, especially for emergent surgeries and nasal washes at Randall Children's Hospital at Legacy Emanuel. We will continue to monitor, check and adjust as necessary.
This shift ensures rapid COVID-19 testing remains available at all Legacy facilities and will limit the number of changes needed in Epic and Cerner. It also keeps the ordering process for providers simple.
With these changes, it's also important to note what is not changing:
Current indications for COVID-19 rapid PCR testing have not changed. The utilization of the GenMark testing at Legacy Emanuel is designed to preserve system rapid PCR capacity and not expand it.
The Epic orderable (Respiratory Panel with Coronavirus SARS-CoV-2 By PCR) for the full GenMark RP2 panel with 18 targets is still available.
Roche/Altona RT PCR testing for all routine testing at Central Lab is still available.
There are no changes to the Quidel Sofia antigen testing algorithms.