eDocTalk News
From the desk of Melinda Muller, M.D., interim Chief Medical Officer, Legacy Health
2021 brings hope, resilience remains key
By Melinda Muller, M.D., Interim Senior Vice President and Chief Medical Officer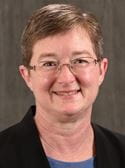 Two months into the new year, and it feels like 2020 hasn't left us yet. I know many of you were hopeful that 2021 would signal a turn in our luck and experience and in many ways, we are seeing that. Vaccines are being rolled out, albeit not as quickly or broadly as many of us would like, COVID-19 cases are down dramatically and there is hope for many parents that our children may get back to a more normal experience in the coming months. However, events like the attack on the U.S. Capitol and the recent snowstorm continue to test us.
I am continually amazed and awed by the Legacy team and how everyone pulls together to make sure our patients are taken care of in all circumstances. I am also excited about the commitment by Legacy to become an anti-racist organization and am looking forward to sharing more information about that over the coming months.
You will see information about our Engagement M&Ms later in the newsletter, I encourage all of you to participate as you are able. We are working on a plan to address many of the concerns shared in the survey last year and your input is helpful in crafting that plan. Please feel free to reach out with ideas as well!