eDocTalk News
From the desk of Melinda Muller, M.D., interim Chief Medical Officer, Legacy Health
2021 brings hope, resilience remains key
By Melinda Muller, M.D., Interim Senior Vice President and Chief Medical Officer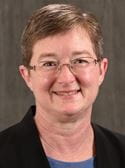 Two months into the new year, and it feels like 2020 hasn't left us yet. I know many of you were hopeful that 2021 would signal a turn in our luck and experience and in many ways, we are seeing that. Vaccines are being rolled out, albeit not as quickly or broadly as many of us would like, COVID-19 cases are down dramatically and there is hope for many parents that our children may get back to a more normal experience in the coming months. However, events like the attack on the U.S. Capitol and the recent snowstorm continue to test us.
Rescheduled evening session: February engagement M&M events with Legacy Sr. Vice Presidents
Due to the weather events, we've rescheduled our Feb. 16 session to
TONIGHT
! Registration is not required to join the session. We have another session planned for Wednesday, which will cover the same material. Please click the links below when the sessions begin to join.
Session Options:

Session 1
– February 23, 6-7 p.m.
Session 2
– February 24, 7-8 a.m.
We'll use our time to dive more deeply into one of our pillars for Provider and Physician Engagement, "Change Integration: Governance, Influence and Ownership.
New physician leaders
Every January we install new medical staff leaders who are charged with representing the voice of providers. Meet the newest presidents and learn about why they take on additional responsibility to represent their colleagues and find solutions to the issues impacting providers.
For 2021, several our medical staffs have new Officers and Medical Executive Committee Members that we'd like to share.
COVID-19 testing protocol remains in place for incoming patients
Legacy will continue requiring COVID-19 testing for patients entering our facilities, even if they have completed a vaccine regimen. The testing requirement remains a critical component of Legacy's safety protocols to protect our patients, staff and community.
Patients who refuse a COVID-19 test will be placed in contact/droplet quarantine for the duration of their admission due to the unknown risk. If a test can be obtained during admission, the transmission-based precautions can be changed pending the results of the lab test.
Supply chain slowdown brings new processes for COVID-19 rapid PCR tests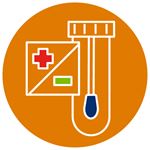 Due to supply chain shortages, Legacy has decided to make a change to our COVID-19 rapid PCR test use. We have two rapid COVID-19 PCR tests at the lab at Legacy Emanuel Medical Center: the Cepheid Gene xPress (Cepheid) and the GenMark EPlex (GenMark), effective Feb. 18. The lab will utilize both platforms to support urgent and very urgent testing criteria. As we continue to face shipment challenges with Cepheid allocations, the hospital will maintain a Cepheid supply, especially for emergent surgeries and nasal washes at Randall Children's Hospital at Legacy Emanuel. We will continue to monitor, check and adjust as necessary.
COVID-19 Vaccine Update
When the first COVID-19 vaccine shipments arrived in December, the planning brought hope and optimism for a return to normalcy in our hospitals, clinics, and communities. The path to normal life, though, will not be a short or straight line for leaders or for teams working to ensure safety, equity and speed when thinking about vaccination plans. While pathways have been difficult to navigate, your patience and understanding have been paramount in the success of the vaccine deployment.With vaccine supply so limited, Oregon and Washington state public health officials are focusing their supplies on mass vaccination sites. Legacy leadership continues to monitor distribution trends with a close eye on changes that may impact our vaccine operations at Salmon Creek, Silverton and Woodburn.
Provider reflection on first week of Woodburn community vaccinations
By Julian Uselman, D.O., Legacy Medical Group – Silverton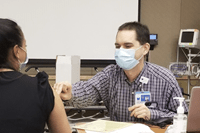 As primary care providers, we've been afraid for ourselves and our families while also trying to reassure our patients and our community. Being part of the solution and giving out vaccines wasn't thought of as something that would make us feel better as providers, but it did. It was rejuvenating.
EVENTS, ANNOUNCEMENTS & REMINDERS
---
Tap & Go badge swipe will speed Epic, Office 365 access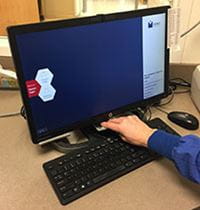 Technology known as Tap & Go will soon enable Legacy clinicians and others to swipe a badge for quick access to Epic and Office 365 from auto-logon stations throughout the system. Clinical as well as ancillary and support staff using this type of workstation will have access to Epic, Webmail, Teams and other Office 365 products without multiple logins per day.