How to create or update an online provider profile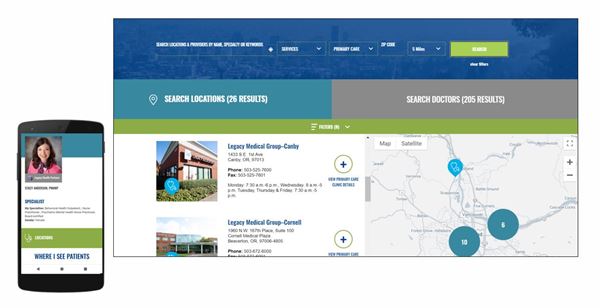 To create an account:
Click create an account.


Complete the required fields and click the blue "sign up" button.


You will receive a confirmation email that allows you to activate your account. If you do not see the email, check your spam or junk folder.


Click the link provided in your confirmation email.
To add a new provider profile:
NOTE: You must have the Legacy issued Provider number ("P" number) to complete a new profile. You/the provider should receive this from Legacy Health System (Med Staff or Epic).
Log in to your account. (See above steps if you have not created an account before.)


Select "Add New Provider Profile."


Enter your name, P number (provided by Med Staff or Epic), role (pediatrician, primary care, specialist or therapist), your gender and all remaining applicable fields.


Indicate if you are an LHP member and if you are affiliated with Legacy Medical Group (LMG).


Indicate your specific hospital affiliations for all six Legacy locations. Even if you do not have an affiliation with a particular hospital, you must select "none."


If employed by LMG, click "Add Practice Location" and select your practice location(s) from the drop-down and click "select." If private practice, click "Add a location" and enter your clinic information.


Indicate your specialty and your board-certification status.


The next section of the form includes clinical interests/expertise, languages, education and certification, a biography and publications. Although this information is optional, completing this section helps ensure your profile is found by patients and referring providers.


When all applicable fields are filled in, click "save" to save your form. You will receive confirmation that your changes are complete.

Please note that profiles go into a queue for verification and approval and are usually approved within 3-5 business days.
To update an existing provider profile:
Log in to www.legacyhealth.org/onlineprofile.


Select "Update or Delete an Existing Provider Profile," and click "submit."


Enter the first or last name, or both. Click "search."


Select the provider from the list of the results.


Use the drop-down sections to update the provider's information (click on the arrows next to section titles to expand and edit).


Click "save" to save your changes.

Please note that profiles go into a queue for verification and approval and are usually approved within 3-5 business days.
Need assistance?
If you need assistance submitting information via the online profile form, you may submit questions/comments in the free text field of the online form, or you may email lrs@lhs.org.
Languages
Patients who speak a language other than English often like to know if a provider is fluent in their native language. If you are fluent in other languages, use the "Language" field to list those languages. Legacy policy requires that you have any non-English language skills approved for use in a patient care setting through the Bilingual Competency Program. For more information, email eneff@lhs.org.