Nursing careers
R.N. Residency Program

Gain experience, judgement, skills and confidence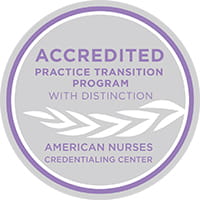 Legacy Health invests in our nurses by offering an evidence-based residency program for new graduate nurses. The Legacy Health R.N. Residency Program helps the new nurse gain the experience, judgment, skills and confidence they need to navigate the transition to professional nursing practice from academia. R.N. Residents progress to the competent level quickly, safely and effectively. The program is an Accredited Practice Transition Program with Distinction by the American Nurses Credentialing Center.
About the program
Designed by nurses for nurses, this unique nursing program prepares new graduate nurses by organizing and overseeing all aspects of their transition. A network of nurses act as preceptors, mentors, and "debriefers," supporting the new graduate nurse professionally and emotionally throughout the program which lasts a full year. With proven success, after just 18 weeks of precepted time, new grads achieve the same competence and self-assurance as a nurse in practice for 18 months.
A mentor provides professional guidance along with acclimation to the unit of hire for a full year.
The 18 weeks of precepted time and curriculum is comprised of core and specialty curriculum and guided clinical experience.
The curriculum focuses on courses featuring current and emerging clinical guidelines and standards, labs and simulations.
A minimum of 18 weeks of clinical experience is led by expert preceptors at the bedside.
Routine debriefing sessions with trained facilitators provide a safe place to share experiences with other nurses in the cohort.
Looping experiences to different units enhance communication between health care professionals
Program requirements
Applicants must have a GPA of 3.25

External applicants will need to have a BSN to be considered for the program

A BSN is required upon hire for all candidates

Two-year employment commitment to the nursing department of hire
Specialty areas
As an R.N. resident, you will be hired into a specific unit at one of Legacy Health's medical centers or Unity Center for Behavioral Health. Units of hire are based on candidate preference, as well as available openings in the department. See the list of specialty areas that often participate in the program.
There are two cohorts starting yearly. The application to the February 2022 program is open and can be accessed here or at Legacy Health | Careers Center | Welcome (icims.com) then search for job # 21-17574. The deadline to apply is October 13, 2021 at 5:00PM Pacific.
The application to the August 2022 will open approximately in November 2021 with an April 2022 deadline. Please check back then for the exact summer program and application dates.
Got questions? Check our Frequently Asked Questions below.
Contact: rnresidency@lhs.org.