Mental Health
Start the new school year with a focus on mental health
September 28, 2020
With the change in our day-to-day routines due to COVID-19 and what parents and kids can expect from the online learning experience this school year, these changes can bring on new fears and anxieties for children that we're not used to seeing. Randall Children's Hospital Medical Director and Pediatric Infectious Disease Specialist, Malaika Little M.D., discusses some ideas and options to help your child adjust to a variety of unknowns while also keeping an eye on mental health concerns for you and your child.
"Parents know their kids best, and the anxiety that online learning and change may bring is just like every other monster under the bed, and that's part of them developing. But being there for them like you would with any other anxiety will help them cope. Provide a safe place for them to come to you with questions, and make sure you remind yourself that this is part of them growing up in the world and dealing with big issues," said Dr. Little.
Here are some active ideas to help promote resilience in your child from Dr. Little:
Stay Active:

Prioritizing regular exercise or activities in learning can be important for mental health as well as help improve learning.
Tap into Resources

: Schools and community programs offer a lot of options to engage your kids in opportunities to socialize, get exercise, and cope with change in a safe way.
Sleep Schedule

: Maintaining a sleep schedule of at least 8 hours a night, with the same bedtime and morning schedule can help your child stay healthy mentally and physically.
Be Consistent:

Do things that you would regularly do doing the school year; require chores, keep a routine, and practice good hygiene.
Stay Engaged:

Ask questions regularly and engage with your children on what they're up to and how they're feeling.
Help Out:

Help with schoolwork and join in when appropriate. Make sure they are staying on top of their assignments.
Find Healthy Hobbies:

Encourage your kids to find hobbies and interests outside of schoolwork like reading, exercise, or playing games.
Seek Help if Needed:

Be gentle with yourself and with each other. We will all need to let go of some expectations of normal to adjust to this new temporary reality. If you need more help, reach out to your pediatrician or find a primary care provider who can provide you with mental health resources and care.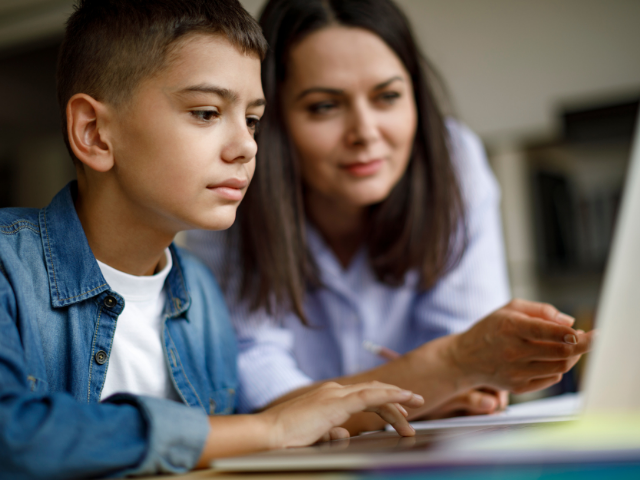 Share Your Story
Sign up for our email newsletter