Safety
Staying safe in the snow
December 01, 2018
Winter can be a fun time of year, especially when there is snow. But with all the fun, it's important to know how to stay safe whether you are participating in snow sports like skiing or snowboarding or doing something as simple as building a snowman.
Being prepared for the cold is imperative for your child's health and safety.
Staying warm

It's exciting when we see snow, especially if we live in places that don't see it often. In their excitement, children can forget to dress warmly, before heading out to play. Layers, layers, layers are the best way to stay warm in the cold. If your child complains they are too warm, they can remove one layer and still be warm enough to keep them from getting frostbite. How many layers, depends on where you live, the temperature and of course, your child. Err on the side of caution and start with more. Stick with thermal or wool clothing for bottom layers, and if you can, make sure your top layers are water proof. Most importantly, keep those little feet warm with heavy socks and waterproof boots or shoes. Cold feet aren't fun!

Oh, and don't forget to always have your child wear a coat, gloves on their little hands, and a hat to keep their noggin warm!
Playing outside
Snowball fights, building snow people, and of course, sledding are some fun activities our kids are drawn to when it snows. Most parents don't think twice when kids pull out the sleds to use on their street or backyard. However, many accidents can happen without the proper safety measures. Just like when kids ride bikes or skateboards, they need safety helmets when riding on a sled to protect their brain from injury. Head injuries are often caused by stationary objects like parked cars, trees or light posts, or other kids on sleds. Parents may not recognize these risks. Choose a sledding area without these objects and make sure your child sleds feet first or sitting up and uses a steerable sled. Sliding down that icy or snowy street, head first without a helmet, is something we want your child to avoid.
Snow sports
Many family vacations during the winter months include snow sports like skiing or snowboarding. Just like sledding, make sure your child is wearing a helmet, specifically one for snow sports. And lastly, in addition to dressing warmly, wearing water-proof jackets, and a helmet, make sure your child's gear fits. If boots, boards, or helmets are too big or small, the risk of injury is increased. Make sure your child's helmet still fits and straps properly, as when their body grows throughout the seasons, so does their head!
If your little one does experience an injury or needs immediate medial care, make sure to visit a local hospital, or if in Portland, head to Randall Children's Emergency Department.
Have fun this winter and enjoy the snow but most importantly, stay warm and safe.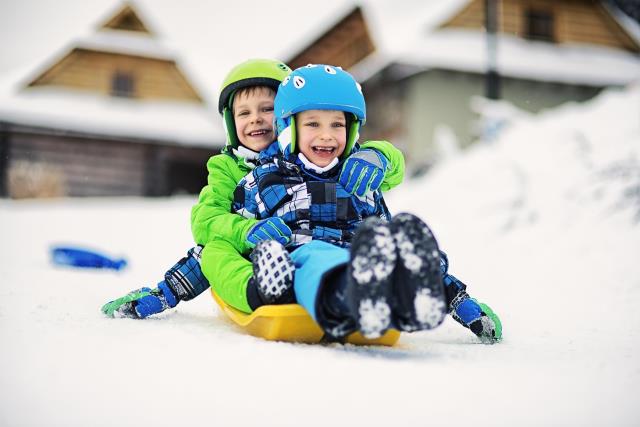 Share Your Story
Sign up for our email newsletter