Healthy Living
Perfect Pumpkin Pancakes
November 03, 2018
Eating with diabetes can be challenging, but that doesn't mean it still can't be delicious. These Perfect Pumpkin Pancakes are a perfect meal that the entire family will love.
Perfect pumpkin pancakes
1 1/2 cups whole wheat pastry flour or Gluten-free baking mix
2 1/4 tsp baking powder
One tsp ground cinnamon
1/4 tsp ground nutmeg (or you can use 1 ½ tsp pumpkin pie spice instead of the nutmeg/cinnamon)
1/4 tsp salt
2 cups fat-free milk or dairy-free substitute
Three tsp Brown Sugar or 1 ½ packet Stevia or 3 tsp from the baker's bag
1 Tbsp canola oil
Two eggs, lightly beaten
One 15-ounce can pumpkin
Canola oil or Coconut oil to coat pan with
Instructions
In a large bowl, sift together flour, baking powder, spices, and salt.
In a medium bowl, whisk together milk, brown sugar/Stevia, oil, eggs, and pumpkin. Make a well in the dry ingredients and pour in the wet ingredients. Stir mixture until batter is smooth and thoroughly mixed.
Coat a large nonstick skillet with oil over medium heat. Once pan heats up, pour 1/3 cup batter to form pancakes. Cook pancakes until brown on bottom and some bubbles begin to break around edges. Turn pancake over.
Cook until brown on bottom and firm to touch in the center.
Repeat procedure until all batter is gone.
For more diabetes-friendly foods: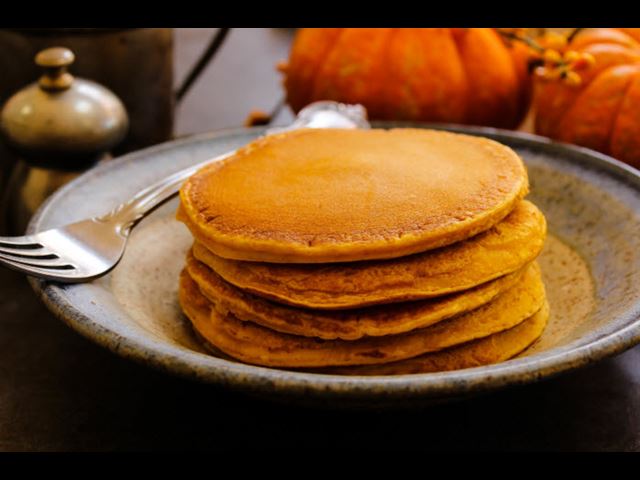 Share Your Story
Sign up for our email newsletter