Legacy Health announces new medical group president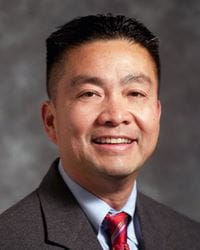 PORTLAND, ORE. – January 4, 2022 – Legacy Health recently hired Dr. Don Tran as president of Legacy Medical Group, Legacy Health's network of medical clinics across the Portland/Vancouver metro area and mid-Willamette Valley. In this role, Tran represents Legacy when working with other health systems and oversees the standard of care and patient experience.
Tran values innovative approaches that improve a patient's experience and believes Legacy Medical Group, along with similar organizations, will be a leader in transforming how people access and receive health care.
"I have always been drawn to high-performing medical groups and believe that Legacy Medical group is poised to be a change leader," said Tran. "I am very excited to join a leadership team that has prioritized care transformation and is taking steps to ensure that they get it right."
Tran is a board-certified family medicine physician. He most recently served as the regional president of SSM Health's St. Louis and Southern Illinois Medical Groups where he oversaw more than 700 providers across over 70 sites. He earned his medical degree and Bachelor of Science degree from the University of Minnesota.

About Legacy Health
Legacy Health is a locally owned, nonprofit health system driven by our mission to improve the health of those around us. We offer a unique blend of health services – from wellness and urgent care to dedicated children's care and advanced medical centers – to care for patients of all ages when and where they need us across the Portland/Vancouver metro area and mid-Willamette Valley. With an eye toward a healthier community, our partnerships tackle vital issues such as housing and mental health. Legacy strives to help everyone live healthier and better lives, with the vision of being essential to the health of the region. For more information, visit www.legacyhealth.org.