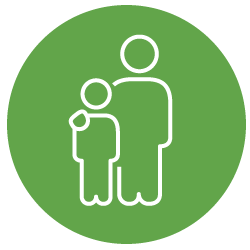 Updated 11/3/21 - The Center for Disease Control and Prevention (CDC) and the Western State Scientific Safety Review have approved Pfizer's pediatric COVID-19 vaccine for children ages 5-11 in both Oregon and Washington. States' supplies will be limited for the first week or two, with more to follow.
Pfizer's COVID-19 vaccine for children 5-11, will be a separate vaccine formula that has one-third the dose given to teens and adults.
Although fewer children have been infected with COVID-19 compared to adults, children can:
• Be infected with the virus that causes COVID-19
• Get sick from COVID-19
• Spread COVID-19 to others
The CDC recommends everyone age 12 and older should get a COVID-19 vaccination to help protect against COVID-19. Widespread vaccination is a life-saving tool to help stop the pandemic. People who are fully vaccinated can resume those activities they enjoyed prior to the pandemic. Learn more about what you and your child or teen can do when you have been fully vaccinated.

Protect Unvaccinated Children
Children between the ages of 2 and 4 years and other unvaccinated children 5 years or older should continue to wear a mask in public spaces and around people they don't live with.

Find a COVID-19 Vaccine for Your Child
Check your local pharmacy's website to see if vaccination walk-ins or appointments are available. Vaccines.gov
If your child is a patient of Randall Children's Pediatric Clinic or one of Randall Children's specialty clinics, call to schedule an appointment for a COVID-19 vaccine for your child 12-18 years of age. Randall Children's Pediatric Clinic