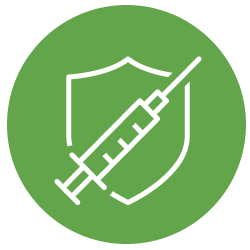 Vaccines continue to be the safest and most effective way to protect against COVID-19 hospitalizations and deaths.
There are currently booster recommendations for all three COVID-19 vaccines available in the United States.
Booster shots are now available for everyone age 16 and older.






Pfizer and Moderna COVID-19 vaccines:
• You can get a booster at least six months after your second shot of the Pfizer or Moderna COVID-19 vaccine.
Johnson & Johnson COVID-19 vaccine:
• You can get a booster at least two months after your shot of the Johnson & Johnson vaccine.
Choosing your COVID-19 booster shot:
You may choose which COVID-19 vaccine you receive as a booster shot. Some people may prefer the vaccine type they originally received; and others may prefer to get a booster from a different vaccine type. The Centers for Disease Control & Prevention's (CDC) recommendations now allow for this type of mix and match dosing for booster shots.
As with other vaccines, a COVID-19 booster shot will strengthen the body's ability to prevent infection from the virus that causes COVID-19.
If you meet the above conditions, contact your local pharmacy to schedule a booster. To find a location, go to vaccines.gov. If you have a visit already scheduled with your primary care provider, you can discuss the booster at that time.
Because the COVID-19 Delta variant is highly contagious, we strongly recommend that you continue to wear a mask indoors and avoid large crowds outdoors. These steps can help avoid serious health issues resulting from COVID-19 infections, including death.
The CDC currently recommends a third, or booster, dose of the COVID-19 vaccine for people with moderately to severely compromised immune systems once they complete their initial two-dose vaccine series.